printer friendly version
High-pin count, low-profile interconnect series
31 May 2023
Interconnection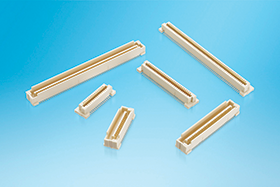 Harwin has expanded its product offering for industrial markets by announcing the Archer .8 series. With a 5 mm stack height, these dual-row 0,8 mm-pitch board-to-board connectors are intended for use where there is very limited available space and cost is an equally important factor.
The Archer .8 connectors have all the attributes necessary for modern industrial equipment. The phosphor bronze contacts can carry a current of 0,5 A each, and mated connections support data rates up to 24 Gb/s or 12 GHz. Available in 30, 40, 60, 80, 100 and 120 pin count versions, these connectors satisfy a broad range of design requirements.
Polarisation helps with orientation and alignment, and prevents mis-mating, while shrouded housings protect contacts from accidental damage. To facilitate automated assembly processes, the connectors are supplied in tape and reel packaging, with locating pegs fitted.
"Archer .8 brings a whole new dimension to our industrial connector offering. These components combine the large pin counts and attractive price points that our industrial clients expect, as well as featuring the high levels of build quality that Harwin has always been well known for," says Ryan Smart, NPI product manager at Harwin.
Operating within a wide temperature range between -40 to 125°C, this newly extended 0,8 mm range of connectors are compact and reliable. Applications of this interconnect series includes factory automation and environmental monitoring equipment, smart meters, point-of-sales units, servers/data centre hardware and battery management systems in electric vehicles.
Credit(s)
Further reading:
Mill-Max expands Omniball family
Spectrum Concepts Interconnection
Mill-Max has announced two new Omniball spring-loaded pins, one for low-profile purposes, and one that provides greater stroke and higher current-carrying capacity.
Read more...
---
Samtec's new 2024 catalogue
Interconnection
Samtec has released its catalogue for the 2024 period, which has over 50 new product series and is categorised into six solution blocks.
Read more...
---
Optical system for max signal density
Spectrum Concepts Interconnection
Samtec FireFly mid-board optical cable systems boast a miniature footprint with maximum signal density, and proven signal integrity over longer distances.
Read more...
---
Miniature connectors allow 18 Gbps data transfer
Spectrum Concepts Interconnection
Fischer Connectors has released new high-speed connectors and cable assemblies for Ultra High Definition (UHD) audio/video data transfer at 18 Gbps in demanding environments, matching the performance speed of HDMI 2.0.
Read more...
---
Isolation transformers for high-speed SPE applications
ASIC Design Services Interconnection
Utilising the UWBX patent pending technology, HALO has been able to achieve the high-speed performance needed to meet insertion loss and return loss required for a fully-compliant 2.5GBASE-T1 Ethernet port over single-pair copper cables.
Read more...
---
Miniature capacitor for automotive applications
Avnet Abacus Passive Components
Murata has released its LLC series of multi-layer ceramic capacitors for automotive applications, that feature a reversed termination for low ESL.
Read more...
---
Ensuring electrical safety in connectors
MANTECH Interconnection
Fischer Connectors has released its First Mate Last Break connectors to its Core series, ensuring electrical safety and mechanical reliability for medical devices.
Read more...
---
Panasonic presents its distribution awards for 2023
Avnet Abacus News
Three award winners were selected recently at Panasonic Industry's European Distribution Conference 2023.
Read more...
---
The challenge of supporting multi-voltage systems
Avnet Abacus Power Electronics / Power Management
Vicor offers several modules for power delivery from 48 V, which include fixed ratio and regulated converter solutions that support both 48 V and 12 V loads.
Read more...
---
Memory comparison: DDR4, DDR5, GDDR6 and HBM
Avnet Abacus Computer/Embedded Technology
DDR5 SDRAM was introduced in 2021 and brings many performance enhancements, but just how much faster is it over DDR4? And how does it compare to other memory types like HBM2e and GDDR6?
Read more...
---