printer friendly version
SMARC module with Intel Gracemont CPU architecture
28 June 2023
Edge Computing & IIoT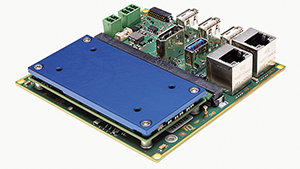 With this credit card-sized module, seven new processor variants have been added to the portfolio of highly integrated embedded modules. These modules cover many application areas such as robotics, industrial automation, AI-capable image processing and video transcoding. Featuring a CPU power range from only 6 to 15 W, they are pin-compatible with previous designs in the range.
The module combines a high CPU and graphics performance with increased AI acceleration and a variety of high-speed interfaces. For the first time in this performance segment, new advanced instruction sets and Intel Deep Learning Boost are supported. Together with the enhanced security features, including TPM 2.0, the module is also particularly well suited for applications in the healthcare, IoT, retail, and video and conferencing sectors.
The new Gracemont CPU microarchitecture, and the integrated Intel UHD Gen12 graphics with up to 32 execution units, have both been adapted from the 12th generation Intel Core processors. Combined, they set new standards in the areas of power efficiency, CPU single-thread/multi-thread performance and multimedia and AI in this particularly small form factor.
The CPU architecture is combined with high-speed interfaces such as dual 2,5 Gigabit Ethernet ports, USB 3.2 ports, and ultra-fast LPDDR5 memory.
Credit(s)
Further reading:
Edge-AI embedded computing
Rugged Interconnect Technologies News
The EMP-510 series from ADLINK is an 11th Gen Intel Core i5-based fanless computer. The system features an 11th Gen BGA SoC processor which is paired with up to 32 GB of DDR4 RAM. Up to four independent 
...
Read more...
---
Powering factory automation into the future
Rugged Interconnect Technologies Computer/Embedded Technology
Powered by the newest 13th Gen Intel processors, ADLINK Technology's COM-HPC-cRLS module is a future-proof edge AI solution.
Read more...
---
Hi-Rel for IIoT applications
Rugged Interconnect Technologies Computer/Embedded Technology
In the increasingly complex world of industrial applications, having industrial-grade solid-state drives (SSDs) with excellent performance and high endurance can ensure stable operation of equipment.
Read more...
---
Rugged 10-port Gigabit switch
Rugged Interconnect Technologies Computer/Embedded Technology
The fanless µMAXBES combines eight 1 Gigabit (1Gbit) ports with two 10 Gigabit (10 Gbit) fibre ports, and an intuitive web interface for easy configuration.
Read more...
---
Touch screen enables wise data visualisation
Rugged Interconnect Technologies Opto-Electronics
ADLINK offers comprehensive industrial-grade touch monitors and smart panels with in-house value-added customisation.
Read more...
---
Game-changing graphics innovations at the Edge
Rugged Interconnect Technologies AI & ML
With an outstanding price-to-performance ratio in its class, ADLINK's MXM-AXe offers competitive pricing that rivals the renowned NVIDIA T1000.
Read more...
---
Edge-AI embedded computer
Rugged Interconnect Technologies Computer/Embedded Technology
Online Teaser: With Intel Iris Xe graphics, ADLINK's edge AI embedded computers and media players support UHD video capabilities for awe-inspiring visual details and up to 40 simultaneous streams of 1080p 30-fps video content.
Read more...
---
Ultra-compact Wi-Fi 6 and Bluetooth 5.1 module
Quectel Wireless Solutions Edge Computing & IIoT
Quectel Wireless Solutions has launched its latest Quectel FCM360W Wi-Fi and Bluetooth module, combining a high-performance processor with Wi-Fi 6 and Bluetooth 5.1 capabilities.
Read more...
---
Industry's most power-efficient mid-range FPGA
ASIC Design Services Edge Computing & IIoT
The additions expand Microchip FPGA's comprehensive suite of tools and services supporting the PolarFire family of devices, and include the only RISC-V SoC FPGA shipping in volume production.
Read more...
---
Secure element IC with advanced ECC capabilities
Future Electronics Edge Computing & IIoT
The ATECC608B by Microchip is a secure element from the Microchip CryptoAuthentication portfolio with advanced Elliptic Curve Cryptography (ECC) capabilities.
Read more...
---