printer friendly version
Next generation eCall testing solutions
26 July 2023
Test & Measurement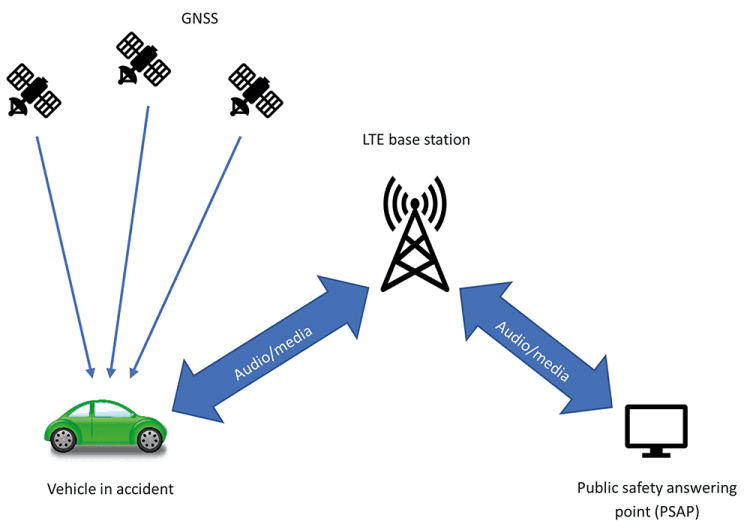 The eCall, an automatic car emergency call system, is becoming a crucial part of the car environment, and since March 2018, it has been mandatory for all new homologated car models in the EU. It has already been a couple of years since the last standardisation and adoption of eCall technology – which is based on 2G and 3G cellular technologies. With the evolution of cellular technologies and wide deployment of 4G and 5G, the Next Generation eCall (NGnbsp;eCall) will ensure a much faster and reliable transfer of Minimum Set of Data (MSD).
NG eCall is built on LTE, which ensures a much faster and more reliable MSD transfer. Speech communications are not interrupted during MSD transmission, and it is easy to add enhancements such as transmitting more than 140nbsp;bytes in an IP network. It would also be possible to transfer additional media such as video from dash cameras, text from speech, or remote control of car features like sounding the horn, flashing the lights, locking/unlocking doors, or disabling the ignition. Therefore, as a safety system, eCall must be highly reliable and correctly transmit MSD data.
As this emergency call provides lifesaving services, it needs to be tested thoroughly. Anritsu's test unit can be used to demonstrate the process of making the emergency call from the In-Vehicle system into the cellular LTE network, with the transfer of MSD over SIP signalling and a bi-directional end-to-end voice call between the passenger and operator of the Public Service Answering Point (PSAP). The In-Vehicle system represents the device under test, a unit developed by one of the market leaders. The PSAP is emulated by Anritsu Signalling Tester/Base Station simulator MD8475B and Anritsu eCall Test solution MX703330E. The process for making emergency calls is based on Voice over LTE (VoLTE) technology, where IP Multimedia Subsystem (IMS) and Session Initialisation Protocol (SIP) are used to establish the voice call. All necessary data is then transferred quickly to help emergency services provide fast and effective intervention.
Fast transfer of data is crucial in the connected car concept and autonomous driving. Multi-access edge computing (MEC) is a key element to achieve necessary communication KPIs in the form of throughput, utilisation, latency, jitter, and packet loss. Solutions from Anritsu can solve these measurement headaches.
Credit(s)
Further reading:
Webinar: The key to smart occupancy
Test & Measurement
This one-hour session will allow the attendee to discover the company's latest infrared sensor with high-sensitivity presence and motion detection capabilities.
Read more...
---
Portable 100 MHz digital oscilloscope
Vepac Electronics Test & Measurement
The PeakTech P1331 is a powerful 100 MHz four-channel portable digital oscilloscope that is ideal for mobile use on a laptop, or for permanent installation in control cabinets.
Read more...
---
OTDR evaluates 20 000 km of submarine cables
Coral-i Solutions Test & Measurement
The MW90010B from Anritsu can evaluate up to 20 000 km of submarine cable, and has an easily selectable wavelength that covers the full C-band.
Read more...
---
Laser shaft alignment tool
Comtest Test & Measurement
The Fluke 831 lets technicians and engineers easily verify shaft alignment, with an intuitive guided user interface that enables quick and complete shaft alignment without advanced training or complicated programs.
Read more...
---
Colour and contrast sensors
Test & Measurement
Detection of colours by a sensor is performed using different approaches, with various types of vision systems and sensors that detect colour and contrast being used, depending on what the outcome needs to be.
Read more...
---
Graphical source measure unit
Conical Technologies Test & Measurement
The IT2800 Series from ITECH are compact and cost-effective bench-top source measure units with the capability to source and measure both voltage and current.
Read more...
---
Sensor board with Doppler shift technology
Dizzy Enterprises Test & Measurement
MIKROE has introduced a new motion sensor Click board, to support the development of intrusion alarms, automatic door openers, and other presence-sensing applications.
Read more...
---
Indoor air-quality monitor
RS South Africa Test & Measurement
Manufactured by ebm-papst, the new indoor air-quality (IAQ) monitor constantly assesses five key factors that can affect people's health, including particulate matter (PM2.5), carbon dioxide (CO
2
), volatile organic compounds (TVOC), temperature, and humidity.
Read more...
---
Temperature monitoring in the metal casting process
Instrotech Test & Measurement
Due to the spectral range and continuous temperature measuring range from 900 to 2450°C, the Optris PI 05M is especially suitable for the temperature measurement of molten metals.
Read more...
---
The importance of interference hunting in 5G network deployment and operation
Lambda Test Editor's Choice Test & Measurement
Identifying the source of interference signals within mobile network deployments and operations, and then mitigating or completely removing them, is an expensive and time-consuming task.
Read more...
---