printer friendly version
Compact mil-grade 4 kW inverter
26 July 2023
Power Electronics / Power Management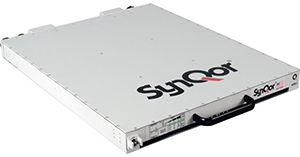 SynQor has announced the new rugged, 270 V DC input, high power, compact, military grade inverter (MINV-4000-1U-270). The new 4000 W 115/230 V AC output inverter combines a low mass with an easy-to-use design for military, airborne, naval, and mobile high-reliability applications, being designed to withstand extreme electrical, shock, vibration, and environmental conditions.
The inverter draws power from a standard 270 V DC power supply and delivers a fully isolated, well-conditioned, pure-sinusoidal AC output. Compliant with a wide range of military standards, this inverter is designed for applications where output power, space, weight, and reliability in harsh environments are a major concern.
The MINV inverter is also flexible and supports parallel and N+M redundant configurations of up to 32 units for high power and/or high-reliability requirements. Multiple MINV units can be arranged to deliver complex multi-phase power schemes like three-phase and split-phase (doubling line-to-line output voltage and total output power).
The new MINV-4000-1U-270 has an SNMP Ethernet base module that allows configuration via a user-friendly web interface and real-time remote monitoring. Other options include the wide range of AC output characteristics (115 or 230 Vrms at 50, 60 or 400 Hz); a floating ground option for aerospace and naval applications; and an electronic AC output breaker that allows users to build fault-tolerant, dependable, redundant, high-output power solutions.
Credit(s)
Further reading:
Converter for industrial control applications
Vepac Electronics Power Electronics / Power Management
MORNSUN has launched a 500 W wide-input DC/DC converter series to meet the increasing demand for high-power supply in industrial control applications.
Read more...
---
Power modules enable 15% weight reduction in race cars
Future Electronics Power Electronics / Power Management
Chosen for their small and lightweight characteristics, the Vicor modules efficiently step down the high-voltage accumulator's power from 400 – 600 V to 27 – 38 V.
Read more...
---
High-precision coreless current sensor
RS South Africa Power Electronics / Power Management
The Infineon XENSIV TLE4971 is a new automotive-qualified pre-programmed 120 A sensor without the saturation or hysteresis effects.
Read more...
---
Insights into design challenges for vehicle electrification
Power Electronics / Power Management
Mouser Electronics has launched a new eBook in collaboration with NXP Semiconductors, which pushes boundaries in the automotive, industrial and IoT, mobile, and communication infrastructure markets.
Read more...
---
Power charger reference design
Power Electronics / Power Management
Infineon has released a reference design for an 84 W AC-DC battery charger, with a 110/230 V AC rated input and constant current output of up to 4 A.
Read more...
---
Pure carbide GaN-on-SiC power amplifier
RFiber Solutions News
MACOM announced an expansion to its power amplifier product portfolio with the MAPC-A1605 7,0 kW power amplifier. This device is suitable for high-power and high-voltage aerospace and defence applications, 
...
Read more...
---
DC/DC converters with ultra-wide input range
Conical Technologies Power Electronics / Power Management
The THN 15UIR and THN 20UIR series from Traco are high-performance DC/DC converters with an ultra-wide 12:1 input voltage range and a power output of 15 and 20 W respectively.
Read more...
---
RF switch modules
RFiber Solutions Telecoms, Datacoms, Wireless, IoT
New switch modules from Withwave are available in various configurations including SP4T, SP10T, and as a 4-port matrix switch.
Read more...
---
EMC filter for enclosed power supply series
Vepac Electronics Power Electronics / Power Management
These EMC filters, based on the second-order filtering scheme, mitigate performance to CM/DM interference up to 60 dB, which can effectively suppress interference.
Read more...
---
Ultra-low noise, ultra-high PSRR µModule regulator
Altron Arrow Power Electronics / Power Management
Analog Devices' LTM8080 is an ultra-low noise dual output DC/DC µModule regulator that operates from up to 40 V at the input.
Read more...
---