printer friendly version
Multi-zone distance sensor with 90° field of view
26 July 2023
Analogue, Mixed Signal, LSI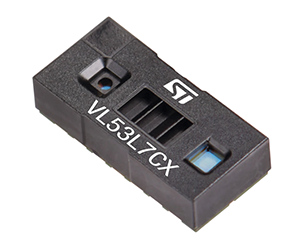 STMicroelectronics has revealed a new FlightSense multi-zone distance sensor with 90° field of view, 33% larger than the previous generation. The optical sensors bring lifelike situational awareness to applications like home automation, domestic appliances, computers, robots, and smart equipment used in stores and factories.
"Our FlightSense technology inside Time-of-Flight multi-zone sensors enables sophisticated scene understanding with low demands on system power and processing," said Alexandre Balmefrezol, executive vice president and general manager of the imaging sub-group within ST's Analog, MEMS and Sensors Group. "Extending the field of view now gives users even greater flexibility while maintaining accuracy, resolution, and simplicity."
Unlike camera sensors, which are sometimes positioned for these tasks, Time-of-Flight (ToF) sensors like ST's new VL53L7CX do not capture images, and thus ensure full privacy for users. The VL53L7CX extends the field of view to an unprecedented 90° (diagonal) for enhanced peripheral sensing, almost equivalent to that of a camera. This enhances the performance of presence detection and system activation, such as activating a screen or waking an appliance like an oven or coffee machine.
FlightSense multi-zone sensors enable powerful capabilities like 3D scene mapping, and simultaneously measure distance to multiple objects in multiple zones. The multi-zone capability and the motion indicator also allow use in applications like people detection and tracking, over-shoulder warning, occupancy detection, and storage/parking management.
Credit(s)
Further reading:
High precision MEMS nano pressure sensor
Avnet Silica DSP, Micros & Memory
The LPS22DF from STMicroelectronics is an ultracompact, piezoresistive, absolute pressure sensor that functions as a digital output barometer.
Read more...
---
Device identification's critical role in IoT protection
Avnet Silica Telecoms, Datacoms, Wireless, IoT
Each IoT device must have a unique identifier assigned during manufacturing or provisioning which serves as the anchor for device identification, authentication, and communication.
Read more...
---
Low pin count MCU with I3C support
Avnet Silica DSP, Micros & Memory
Leading the way in I3C integration, Microchip Technology has released its PIC18-Q20 family of microcontrollers, the industry's first low pin count MCUs with up to two I3C peripherals.
Read more...
---
Analogue front end for sensor measurements
Electrocomp Analogue, Mixed Signal, LSI
The NJU9103 AFE from Nisshinbo is a tiny analogue front end, with a 16-bit resolution ADC and up to 512 x signal amplification from the programmable gain amplifier.
Read more...
---
Single-channel software configurable I/O
Altron Arrow Analogue, Mixed Signal, LSI
These use cases of the AD74115H include analogue output and input, digital output and input, resistance temperature detector (RTD), and thermocouple measurement capability.
Read more...
---
Current-sense amplifier with PWM rejection
Altron Arrow Analogue, Mixed Signal, LSI
Analog Devices' AD8410A is a high voltage, high bandwidth current-sense amplifier that features an initial gain of 20 V/V and a 2,2 MHz bandwidth.
Read more...
---
Securely connect IoT devices to Azure IoT Hub
Avnet Silica DSP, Micros & Memory
New software for STMicroelectronics' STM32H5 MCUs leverages its advanced Secure Manager for protected connection to the Microsoft Azure cloud IoT platform.
Read more...
---
Mesh networks as easy as never before
Avnet Silica Telecoms, Datacoms, Wireless, IoT
Panasonic Industry and Symbiotech have released a new Wirepas Mesh demo kit for BLE flagship module PAN1780, enabling IoT applications to easily setup a mesh network.
Read more...
---
Industry's fastest highest-capacity HBM
Avnet Silica DSP, Micros & Memory
With advanced CMOS technology and 1ß process technology, Micron's HBM3 Gen2 provides bandwidth that exceeds 1,2 TB/s.
Read more...
---
Advancing quality control
Avnet Silica AI & ML
As manufacturing processes continue to become more sophisticated, the importance and effectiveness of advanced DVI solutions escalate, presenting opportunities for improved quality control.
Read more...
---