printer friendly version
Next-gen HVC series
26 July 2023
Circuit & System Protection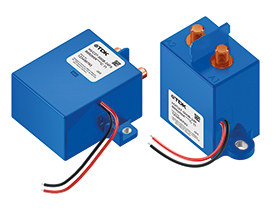 TDK Corporation has announced its new generation of high-voltage contactors that can safely and reliably switch off continuous DC currents of 300 to 500 A, and operating DC voltages up to 1000 V in lithium-ion batteries in 20 ms or less, depending on the type.
This is made possible by the gas-filled ceramic arc chamber which is also used in other HVC types from TDK.
Completely new is the optional Hall-effect sensor for the auxiliary contact. It is used to detect the switching state of the main contacts. The bidirectional design allows only one HVC27 to charge and discharge batteries, and to power motor drive systems and do regenerative braking (recuperation).
There are three mechanical versions of the UL-certified HVC27 series: an upright version (C1) with dimensions of 95 x 44 x 90 mm (L x W x H) and a horizontal version (C5) with 90 x 90 x 46 mm, and a third version as a replacement type (NIL) for the HVC25. The high-current contactors are available with single or double coil, with working voltages of 12 or 24 V. The single-coil version requires 6 W in continuous operation, the dual-coil version only 4 W.
The service life for resistive opening (450 V/300 A) is specified with 1500 operations for the single coil version and 2000 operations for the dual-coil version. At 750 V/300 A, these values are 150 and 1000 opening cycles, respectively.
High-voltage contactors with high continuous current carrying capacity are used, for example, in electric vehicles for fast disconnection of the lithium-ion battery, and in DC charging stations and in stationary battery storage systems such as storage for photovoltaic or UPS systems.
Credit(s)
Further reading:
Power modules enable 15% weight reduction in race cars
Future Electronics Power Electronics / Power Management
Chosen for their small and lightweight characteristics, the Vicor modules efficiently step down the high-voltage accumulator's power from 400 – 600 V to 27 – 38 V.
Read more...
---
Long-range passive infrared motion sensor
Future Electronics Passive Components
Panasonic Industry (PaPIRs) recently introduced he world's most compact long-range passive infrared motion sensor, for installation heights of up to 15 metres.
Read more...
---
Clearing the Static: The significance of cleaning in ESD control
Actum Group Circuit & System Protection
It is essential that ESD-protected workplace areas and equipment (tables, floors, work mats, trays, tools, machine elements) are cleaned with specialised antistatic cleaners.
Read more...
---
Bringing performance and security to BLE applications
Future Electronics Telecoms, Datacoms, Wireless, IoT
STMicroelectronics' STM32WBA 32-bit wireless series brings designers the performance, efficiency, and security required for Bluetooth Low Energy 5.3-enabled applications.
Read more...
---
Double metallised polypropylene capacitors
Future Electronics Passive Components
The Electrocube 985B series offers high-frequency operation, high current and low ESR in a miniature package.
Read more...
---
Clearing the Static: ESD protective packaging
Actum Group Circuit & System Protection
The primary objective of ESD protective packaging is to prevent ESD incidents within the packaging and facilitate the dissipation of charges from the outer surface.
Read more...
---
32-bit MCU with embedded security
Future Electronics DSP, Micros & Memory
The highly configurable PIC32CZ CA microcontrollers are available with a 300 MHz Arm Cortex-M7 processor and an embedded Hardware Security Module.
Read more...
---
NFC controller evaluation kit
Future Electronics DSP, Micros & Memory
Infineon's NGC1081 is an all-in-one controller combining the functions of energy harvesting, NFC, sensing unit, and motor control on a 32-bit Arm Cortex-M0 processor core running at a CPU frequency of 28 MHz.
Read more...
---
New NeoMesh protocol stack version
CST Electronics Circuit & System Protection
NeoCortec has released an updated NeoMesh protocol stack version 1.6 firmware for its NC2400 and NC1000 module series, which now supports the new Sensirion SHT4xA temperature and humidity sensor series.
Read more...
---
NewFeed feeder protection relay
NewElec Pretoria Circuit & System Protection
The NewFeed Feeder Protection Relay has been designed to protect the connection between solar farms and conventional power grids in both low voltage (LV) and medium voltage (MV) distribution settings.
Read more...
---