printer friendly version
Versal HBM series evaluation kit
26 July 2023
Computer/Embedded Technology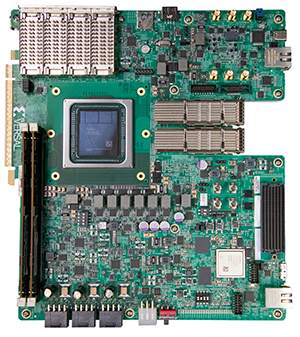 The VHK158 evaluation kit is an evaluation platform for the Versal HBM series VH1582 device, designed to keep up with the higher memory needs of compute-intensive, memory-bound applications. The system provides adaptable acceleration for data centre, wired networking, test & measurement, and aerospace and defence applications.
The VHK158 board's primary focus is to enable demonstration and evaluation of the VH1582 silicon, and to support customer application development. The evaluation kit integrates 32 GB HBM memory, 112 Gb/s PAM4 transceivers, and QSFP28 and QSFP-DD connectors for optical communication. There is support for PCIe Gen5x8 and Gen3/4 x16 add-on cards.
The board contains 32 GB DDR4 RAM in 2x 16 GB modules. The system is controlled using a system controller with BEAM, a web-based GUI application.
Credit(s)
Further reading:
High precision MEMS nano pressure sensor
Avnet Silica DSP, Micros & Memory
The LPS22DF from STMicroelectronics is an ultracompact, piezoresistive, absolute pressure sensor that functions as a digital output barometer.
Read more...
---
Device identification's critical role in IoT protection
Avnet Silica Telecoms, Datacoms, Wireless, IoT
Each IoT device must have a unique identifier assigned during manufacturing or provisioning which serves as the anchor for device identification, authentication, and communication.
Read more...
---
Powering factory automation into the future
Rugged Interconnect Technologies Computer/Embedded Technology
Powered by the newest 13th Gen Intel processors, ADLINK Technology's COM-HPC-cRLS module is a future-proof edge AI solution.
Read more...
---
Low pin count MCU with I3C support
Avnet Silica DSP, Micros & Memory
Leading the way in I3C integration, Microchip Technology has released its PIC18-Q20 family of microcontrollers, the industry's first low pin count MCUs with up to two I3C peripherals.
Read more...
---
Linux OS with immutable file system
Computer/Embedded Technology
What really sets VanillaOS apart from others, however, is in security, where it takes a new approach to computing by using an immutable file system for improved security and stability.
Read more...
---
Securely connect IoT devices to Azure IoT Hub
Avnet Silica DSP, Micros & Memory
New software for STMicroelectronics' STM32H5 MCUs leverages its advanced Secure Manager for protected connection to the Microsoft Azure cloud IoT platform.
Read more...
---
Rugged laptops support the renewable energy sector
Osiris Technical Systems Computer/Embedded Technology
The Durabook S15AB semi-rugged laptop was recommended due to its military-grade durability, powerful functionality and desktop performance, allowing it to keep pace even for intensive tasks such as asset management and maintenance.
Read more...
---
Memory comparison: DDR4, DDR5, GDDR6 and HBM
Avnet Abacus Computer/Embedded Technology
DDR5 SDRAM was introduced in 2021 and brings many performance enhancements, but just how much faster is it over DDR4? And how does it compare to other memory types like HBM2e and GDDR6?
Read more...
---
Industrial networking devices from InHand
Otto Wireless Solutions Computer/Embedded Technology
The InHand routers, edge gateways, and industrial switches are ideal solutions for any scenario in which control of an IIoT Ethernet network is needed.
Read more...
---
Mesh networks as easy as never before
Avnet Silica Telecoms, Datacoms, Wireless, IoT
Panasonic Industry and Symbiotech have released a new Wirepas Mesh demo kit for BLE flagship module PAN1780, enabling IoT applications to easily setup a mesh network.
Read more...
---