printer friendly version
Upgrade to Fluke's acoustic imagers
26 July 2023
Test & Measurement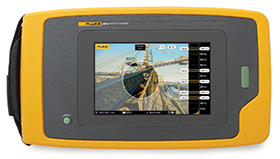 To help users identify and localise mechanical areas of interest within short timeframes, Fluke has added a unique new feature to its ii910 precision acoustic imagers. The Firmware 5.0 update brings a MecQ facility to the ii910, which helps to minimise unplanned downtime and cut repair costs by enabling early identification of potential mechanical problems. Energy savings are also achieved by being able to carry out repairs early and reduce faults.
The update was developed following extensive research involving Fluke customers around the world in which maintenance specialists and technicians said their key focus was identifying issues as early as possible on the potential failure curve.
Looking at various types of conveyor systems, the research showed that non-driven bearings are often the root cause of many mechanical faults. Because these systems are integral to the overall production process, lengthy periods of downtime could have a high impact in the factory and cause major issues along the supply chain. This applies in food and beverage production as much as it does in the logistics, electronics, automotive and mining/raw materials sectors.
Fluke found that around 59% of conveyor belt systems are never inspected, while another 11% are checked manually. The research showed that the least effective way of detecting a problem was human sensing, followed by contact temperature and thermography. Testing using contact vibration or airborne ultrasound also represented a challenge – with ease of use being a significant issue with the latter – but acoustic imaging was found to offer the most effective method of all.
Using the Fluke ii910 acoustic imager with MecQ, the process of carrying out non-contact inspection on conveyor systems is simplified considerably, with the unit identifying immediately through sound pattern comparison the locality of a mechanical area of interest. Once the issue is displayed on-screen, the maintenance professional can make a note of it, share it with their team and address it on their maintenance schedule.
MecQ update was developed to bring an extra layer of detection to the ii910 in addition to taking a picture, taking a video, carrying out leak detection with LeakQ and partial discharge detection in PDQ mode. Although the most common frequency for ultrasound instruments is 30 kHz, the ii910 with MecQ now offers user-selectable frequencies from 2 to 100 kHz and fixed multi-mode frequency bands of 15, 20, 30, 40 and 60 kHz to check various stages of bearing deterioration.
Credit(s)
Further reading:
Webinar: The key to smart occupancy
Test & Measurement
This one-hour session will allow the attendee to discover the company's latest infrared sensor with high-sensitivity presence and motion detection capabilities.
Read more...
---
Converter for industrial control applications
Vepac Electronics Power Electronics / Power Management
MORNSUN has launched a 500 W wide-input DC/DC converter series to meet the increasing demand for high-power supply in industrial control applications.
Read more...
---
Portable 100 MHz digital oscilloscope
Vepac Electronics Test & Measurement
The PeakTech P1331 is a powerful 100 MHz four-channel portable digital oscilloscope that is ideal for mobile use on a laptop, or for permanent installation in control cabinets.
Read more...
---
OTDR evaluates 20 000 km of submarine cables
Coral-i Solutions Test & Measurement
The MW90010B from Anritsu can evaluate up to 20 000 km of submarine cable, and has an easily selectable wavelength that covers the full C-band.
Read more...
---
Laser shaft alignment tool
Comtest Test & Measurement
The Fluke 831 lets technicians and engineers easily verify shaft alignment, with an intuitive guided user interface that enables quick and complete shaft alignment without advanced training or complicated programs.
Read more...
---
EMC filter for enclosed power supply series
Vepac Electronics Power Electronics / Power Management
These EMC filters, based on the second-order filtering scheme, mitigate performance to CM/DM interference up to 60 dB, which can effectively suppress interference.
Read more...
---
Antenna for RF measurements up to 8 GHz
Vepac Electronics Telecoms, Datacoms, Wireless, IoT
The 3D Mobile PRO is an extremely light and small isotropic antenna, compatible with any spectrum analyser, for making X/Y/Z-axis RF measurements up to 8 GHz.
Read more...
---
Colour and contrast sensors
Test & Measurement
Detection of colours by a sensor is performed using different approaches, with various types of vision systems and sensors that detect colour and contrast being used, depending on what the outcome needs to be.
Read more...
---
400 W DC-DC converter
Vepac Electronics Power Electronics / Power Management
The VCB48_EBO-xxWR3-N Series by Mornsun is a new series of DC-DC converters to meet the growing demand for medium- and high-power supplies in various fields including telecommunication, electric power, and industrial control.
Read more...
---
Graphical source measure unit
Conical Technologies Test & Measurement
The IT2800 Series from ITECH are compact and cost-effective bench-top source measure units with the capability to source and measure both voltage and current.
Read more...
---