printer friendly version
Spring-loaded connectors from Mill-Max
30 August 2023
Interconnection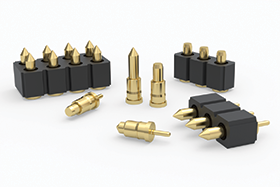 Mill-Max has announced a new lineup of spring-loaded pins available with either pointed or flat tip plungers.
These new pins expand the extensive offering of spring-loaded products, providing solutions for testing and other specialised connection requirements.
The standard full radius plunger tip, found on much of the product line, is an excellent choice for many uses, however, there are applications which require a different solution. The pointed tip plunger design is often used with spring-loaded pins in test environments. The point design concentrates the force, creating greater pressure to penetrate oxides or other contaminants on the surface of the test unit, thereby providing a high-quality, low-resistance connection. Another use for pointed tip plungers is for probing or contacting holes or via holes on printed circuit boards. The point provides a more suitable fit than a radius, and can be used in a variety of hole sizes.
Flat tip plungers provide greater surface area at the point of connection, distributing the electrical charge and delivering more efficient heat dissipation. An example use case would be to reduce the likelihood of arcing in systems that experience power spikes for a short duration, or to decrease the total amount of heat generated in a circuit. Other advantages provided by the flat tip plungers are that they allow for greater tolerance misalignment with mating surfaces, and they are a good choice for applications where the spring pin tip makes contact with round component leads.
Both the flat and pointed tip pins are available in surface mount and through-hole terminations, with six unique initial heights and two options for stroke. These pins are made with precision-machined components and beryllium copper springs, all gold plated to ensure the highest conductivity, corrosion resistance, and durability.
Credit(s)
Further reading:
Mill-Max expands Omniball family
Spectrum Concepts Interconnection
Mill-Max has announced two new Omniball spring-loaded pins, one for low-profile purposes, and one that provides greater stroke and higher current-carrying capacity.
Read more...
---
Samtec's new 2024 catalogue
Interconnection
Samtec has released its catalogue for the 2024 period, which has over 50 new product series and is categorised into six solution blocks.
Read more...
---
Connectors with extreme density and performance
Spectrum Concepts News
Samtec's family of board-to-board and cable assemblies feature extreme density with up to 1000 total I/Os on a 0,635 mm pitch, while still providing incredible 112 Gbps PAM4 performance. The AcceleRate 
...
Read more...
---
Optical system for max signal density
Spectrum Concepts Interconnection
Samtec FireFly mid-board optical cable systems boast a miniature footprint with maximum signal density, and proven signal integrity over longer distances.
Read more...
---
Miniature connectors allow 18 Gbps data transfer
Spectrum Concepts Interconnection
Fischer Connectors has released new high-speed connectors and cable assemblies for Ultra High Definition (UHD) audio/video data transfer at 18 Gbps in demanding environments, matching the performance speed of HDMI 2.0.
Read more...
---
Isolation transformers for high-speed SPE applications
ASIC Design Services Interconnection
Utilising the UWBX patent pending technology, HALO has been able to achieve the high-speed performance needed to meet insertion loss and return loss required for a fully-compliant 2.5GBASE-T1 Ethernet port over single-pair copper cables.
Read more...
---
Ensuring electrical safety in connectors
MANTECH Interconnection
Fischer Connectors has released its First Mate Last Break connectors to its Core series, ensuring electrical safety and mechanical reliability for medical devices.
Read more...
---
Understanding all-weather cables
Helukabel SA Interconnection
By incorporating weather-resistant features, all-weather cables mitigate the risks of cable damage, electrical faults, and subsequent power outages, to ensure a robust electrical infrastructure.
Read more...
---
Hermetically sealed connectors
Hiconnex Interconnection
Invented by Glenair, CODE RED is an innovative sealing encapsulant and application process that provides durable hermetic sealing in a lightweight aluminium package.
Read more...
---
Adding protection to power interconnects
Vepac Electronics Interconnection
APP Saf-D-Grid plugs and receptacles provide for the direct connection of AC and DC electronic devices to a grid powered by either mains power, high-efficiency DC sources, or by renewable energy.
Read more...
---