printer friendly version
Adding protection to power interconnects
30 August 2023
Interconnection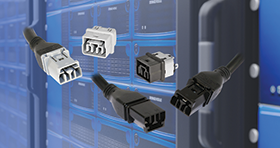 Today our world relies on data centres, servers, networking equipment and cloud computing to store and disseminate data and applications.Because they house some of an organisation's most critical assets, these systems must function reliably and economically. Within these systems even the smallest components, like connectors, can make a big impact by reducing long-term costs, while providing efficient, economical, and sustainable performance.
APP Saf-D-Grid plugs and receptacles provide for the direct connection of AC and DC electronic devices to a grid powered by either mains power, high-efficiency DC sources, or by renewable energy. These connectors meet international safety requirements for hazardous, low-voltage applications including IEC 950 and IEC60950.
One challenge facing the data centre architect is to maximise usage of rack space. The Saf-D-Grid is size-compatible with the IEC 60320 C13 and C14 connection system that is typically limited to 10 A and 250 V AC. However, Saf-D-Grid enables greater power density by allowing up to 30 A and 600 V DC or AC within the same space.
To minimise the risk of personal contact with a hazardous voltage, safety standards require protection against finger access to live parts 50 V and above. Saf-D-Grid plug & receptacle connectors both feature a Touch Safe shell with shock protection, and both pass UL & IEC finger probe (plug & receptacle) and 3 mm probe tests (receptacle). Saf-D-Grid connectors are also rated to safely carry up to 2x more current and 1,6x more voltage than the standard IEC 60320 C20.
Saf-D-Grid utilises contacts that are designed to minimise arcing, along with housing geometries that contain the arc if connectors are mated or unmated while under load. The contacts have twice the spacing needed to extinguish the 400 V DC arc before the housings separate. The rugged polycarbonate housings are UL94 V-0 rated and over-moulded to provide strain relief during both mating and un-mating.
Additional safety features include a first mate, last break contact to provide the safety of an earthing path before engagement of the power contacts. The connectors contain an integral latch to prevent accidental un-mating, preventing accidental power loss to critical equipment. The connectors also offer tactile and audible confirmation of a connection.
Credit(s)
Further reading:
Mill-Max expands Omniball family
Spectrum Concepts Interconnection
Mill-Max has announced two new Omniball spring-loaded pins, one for low-profile purposes, and one that provides greater stroke and higher current-carrying capacity.
Read more...
---
Samtec's new 2024 catalogue
Interconnection
Samtec has released its catalogue for the 2024 period, which has over 50 new product series and is categorised into six solution blocks.
Read more...
---
Converter for industrial control applications
Vepac Electronics Power Electronics / Power Management
MORNSUN has launched a 500 W wide-input DC/DC converter series to meet the increasing demand for high-power supply in industrial control applications.
Read more...
---
Portable 100 MHz digital oscilloscope
Vepac Electronics Test & Measurement
The PeakTech P1331 is a powerful 100 MHz four-channel portable digital oscilloscope that is ideal for mobile use on a laptop, or for permanent installation in control cabinets.
Read more...
---
Optical system for max signal density
Spectrum Concepts Interconnection
Samtec FireFly mid-board optical cable systems boast a miniature footprint with maximum signal density, and proven signal integrity over longer distances.
Read more...
---
Miniature connectors allow 18 Gbps data transfer
Spectrum Concepts Interconnection
Fischer Connectors has released new high-speed connectors and cable assemblies for Ultra High Definition (UHD) audio/video data transfer at 18 Gbps in demanding environments, matching the performance speed of HDMI 2.0.
Read more...
---
Isolation transformers for high-speed SPE applications
ASIC Design Services Interconnection
Utilising the UWBX patent pending technology, HALO has been able to achieve the high-speed performance needed to meet insertion loss and return loss required for a fully-compliant 2.5GBASE-T1 Ethernet port over single-pair copper cables.
Read more...
---
Ensuring electrical safety in connectors
MANTECH Interconnection
Fischer Connectors has released its First Mate Last Break connectors to its Core series, ensuring electrical safety and mechanical reliability for medical devices.
Read more...
---
EMC filter for enclosed power supply series
Vepac Electronics Power Electronics / Power Management
These EMC filters, based on the second-order filtering scheme, mitigate performance to CM/DM interference up to 60 dB, which can effectively suppress interference.
Read more...
---
Antenna for RF measurements up to 8 GHz
Vepac Electronics Telecoms, Datacoms, Wireless, IoT
The 3D Mobile PRO is an extremely light and small isotropic antenna, compatible with any spectrum analyser, for making X/Y/Z-axis RF measurements up to 8 GHz.
Read more...
---