printer friendly version
Flyover cables vs PCB tracks
30 August 2023
Interconnection
Samtec's Flyover cable systems are designed to get signals off the PCB to improve signal integrity, increase design flexibility, and optimise thermal performance. These products route high-speed signals through low-loss, low-skew twinax cable. They operate across distances that can be up to several metres long, while removing the need for clock data recovery circuits (CDRs) or re-timers.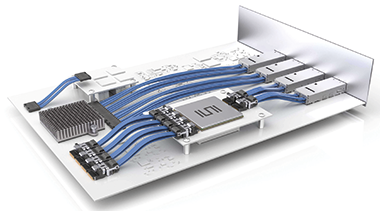 Figure 1. Samtec Flyover cable system.
In a recently published white paper, Samtec Senior Field Applications Engineer, Anthony Fellbaum, provides measured data and examples to explain why a cable solution can be better in a high-speed design than a PCB trace. It also addresses concerns such as cable management and cost.
In the published analysis, Samtec's Flyover cable demonstrated significantly lower loss than and PCB grade material. Figure 1 shows a comparison of the magnitude (in dB) of insertion loss for three typical PCB materials and two gauges (30 and 34 AWG) of Samtec Flyover cable. For easier scaling and comparison, a 10-inch length of cable was used.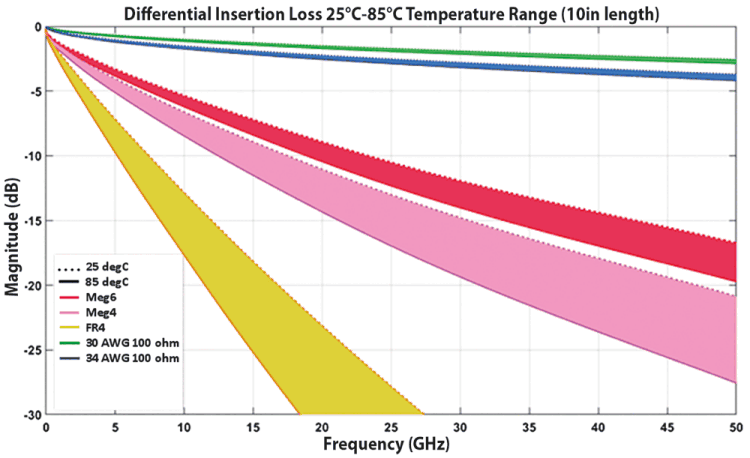 Figure 2. Comparison of differential insertion loss (source Samtec).
The figure shows that for a high-speed signal running at 14 GHz, the traditional PCB material (shown in yellow) is very lossy. As can be seen, even the best PCB performance is well below the Samtec low-skew high-speed twinax cable (30 AWG shown in green, 34 AWG shown in blue).
Specifically, a 30 AWG cable demonstrated an insertion loss of 1,21 dB for 56 Gbps PAM4, or -1,8 dB for 112 Gbps PAM4. The 34 AWG cable exhibited an insertion loss of -1,9 or -2,9 dB for the same data throughput.
Also shown in figure 1 is the affect that temperature has on the stability of the signals. PCB materials have a significant drop in performance over temperature. By comparison, the twinax cable has a very stable performance, which is thanks to the low moisture absorption properties of the dielectric used in the cable.
The full white paper can be freely accessed in the Samtec technical library: www.samtec.com/support/tech-library
Credit(s)
Further reading:
Mill-Max expands Omniball family
Spectrum Concepts Interconnection
Mill-Max has announced two new Omniball spring-loaded pins, one for low-profile purposes, and one that provides greater stroke and higher current-carrying capacity.
Read more...
---
Samtec's new 2024 catalogue
Interconnection
Samtec has released its catalogue for the 2024 period, which has over 50 new product series and is categorised into six solution blocks.
Read more...
---
Connectors with extreme density and performance
Spectrum Concepts News
Samtec's family of board-to-board and cable assemblies feature extreme density with up to 1000 total I/Os on a 0,635 mm pitch, while still providing incredible 112 Gbps PAM4 performance. The AcceleRate 
...
Read more...
---
Optical system for max signal density
Spectrum Concepts Interconnection
Samtec FireFly mid-board optical cable systems boast a miniature footprint with maximum signal density, and proven signal integrity over longer distances.
Read more...
---
Miniature connectors allow 18 Gbps data transfer
Spectrum Concepts Interconnection
Fischer Connectors has released new high-speed connectors and cable assemblies for Ultra High Definition (UHD) audio/video data transfer at 18 Gbps in demanding environments, matching the performance speed of HDMI 2.0.
Read more...
---
Isolation transformers for high-speed SPE applications
ASIC Design Services Interconnection
Utilising the UWBX patent pending technology, HALO has been able to achieve the high-speed performance needed to meet insertion loss and return loss required for a fully-compliant 2.5GBASE-T1 Ethernet port over single-pair copper cables.
Read more...
---
Ensuring electrical safety in connectors
MANTECH Interconnection
Fischer Connectors has released its First Mate Last Break connectors to its Core series, ensuring electrical safety and mechanical reliability for medical devices.
Read more...
---
Understanding all-weather cables
Helukabel SA Interconnection
By incorporating weather-resistant features, all-weather cables mitigate the risks of cable damage, electrical faults, and subsequent power outages, to ensure a robust electrical infrastructure.
Read more...
---
Hermetically sealed connectors
Hiconnex Interconnection
Invented by Glenair, CODE RED is an innovative sealing encapsulant and application process that provides durable hermetic sealing in a lightweight aluminium package.
Read more...
---
Spring-loaded connectors from Mill-Max
Spectrum Concepts Interconnection
Mill-Max has announced a new lineup of spring-loaded pins available with either pointed or flat tip plungers, providing solutions for specialised connection requirements.
Read more...
---