printer friendly version
Upgraded GUIs on STM32 microcontrollers
30 August 2023
Opto-Electronics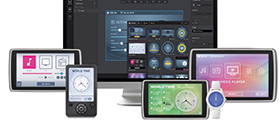 TouchGFX is ST's free-to-use framework that helps create graphical user interfaces on STM32 microcontrollers. Written in C++, the engine takes advantage of optimisations on ST devices.
TouchGFX works under the assumption that interfaces consist of screens users navigate. The framework is intuitive and also extensive, as it handles 2D and 3D objects, videos, animations, and transitions. Additionally, the ability to access the code generated allows for optimisation by experienced engineers. A full set of TouchGFX documentation provides information on the framework's APIs or available development tools.
TouchGFX Designer is a utility with a WYSIWYG interface where designers create exactly what the users will see and interact with. A startup screen helps choose the demo application, an ST development board, and then configures the project. Hence, running example codes and demos takes minutes, which means creating proofs-of-concept faster. UI elements in TouchGFX Designer often take the form of widgets one adds and configures through the utility's interface. TouchGFX Simulator is available as part of the package to help developers preview the graphical user interface before uploading it onto a chosen MCU.
TouchGFX has now been upgraded to version 4.22, which sees many new features. Graphical assets take up a lot of memory space and usually reduce the quality of results in a downgrade of the user interface. The bundled L8 compression can now compress a file by up to 75% with no downgrade, thanks to the Chrom-ART accelerator embedded in the STM32 microcontrollers.
For all L8 images, the user has the option to choose between three compression methods: L4, LZW9 (Lempel-Ziv-Welch), and Run Length Encoding (RLE). There is also an auto option that automatically forces the compiler to choose the most optimised compression method based on its new file size and rendering time on the target processor.
Offline mode has also been introduced into the latest version, which enables users to download demos and examples to run thereafter without an internet connection. A more powerful proxy configuration tool is shipped with the new version to satisfy complex coding environments. It is now easier and more practical to use TouchGFX Designer from behind a corporate firewall or on a limited bandwidth connection.
TouchGFX 4.22 is all about the relationship developers have with their UI-building tools. This update puts an emphasis on how users interact with the framework and aids the overall experience.
Credit(s)
Further reading:
Wireless MCU with 15 years of battery life
Altron Arrow DSP, Micros & Memory
ST has integrated an industry-unique ultra-low-power radio which the MCU can power-down to save energy while listening continuously for a wake-up signal.
Read more...
---
High bandwidth current-sense amplifier
Altron Arrow DSP, Micros & Memory
The AD8410A from Analog Devices is a high voltage, high-bandwidth current-sense amplifier which features an initial gain of 20 V/V.
Read more...
---
Microcontroller with Bluetooth LE 5.3
Altron Arrow News
The STM32WBA 32-bit Wireless series from STMicroelectronics brings designers the performance, efficiency, and security required for Bluetooth Low Energy 5.3-enabled applications. The STM32WBA offers essential 
...
Read more...
---
Comprehensive AI computing solution
Altron Arrow News
Powered by the NVIDIA Jetson AGX Orin, the BOXER-8640AI fanless Box PC from AAEON Technology brings AI capabilities to the edge. The NVIDIA Jetson AGX Orin's Ampere architecture boasts 1792 CUDA and 56 
...
Read more...
---
Isolated solid state relay
Altron Arrow Passive Components
The ISO808, ISO808-1 (PowerSO-36) and ISO808Q, ISO808Q-1 (TFQFPN32) are galvanic isolated eight-channel drivers featuring a low supply current.
Read more...
---
The dream of Edge AI
Altron Arrow Editor's Choice AI & ML
AI technology carries a great promise – the idea that machines can make decisions based on the world around them, processing information like a human might. But the promise of AI is currently only being fulfilled by big machines.
Read more...
---
Programmable BLE 5.3 SoC
Altron Arrow Telecoms, Datacoms, Wireless, IoT
The BlueNRG-LPS is an ultra-low power programmable Bluetooth Low Energy wireless SoC solution from STMicroelectronics that embeds the company's state-of-the-art 2.4 GHz radio IP.
Read more...
---
MAX78000 neural network accelerator chip
Altron Arrow AI & ML
The hardware-based convolutional neural network accelerator enables even battery-powered applications to execute AI inferences.
Read more...
---
Save space and improve efficiency with a 4-switch buck-boost controller
Altron Arrow Editor's Choice Telecoms, Datacoms, Wireless, IoT
A new generation of 4-switch buck-boost controllers enables power system design with very high efficiency and high power density by using inductor DC resistance (DCR) current-sensing techniques.
Read more...
---
Ultra-low noise, ultra-high PSRR µModule regulator
Altron Arrow Power Electronics / Power Management
Analog Devices' LTM8080 is an ultra-low noise dual output DC/DC µModule regulator that operates from up to 40 V at the input.
Read more...
---