printer friendly version
Linux SD-WAN appliance
30 August 2023
Computer/Embedded Technology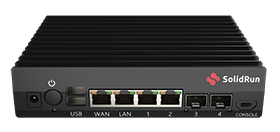 SolidRun, a developer and manufacturer of high-performance System on Module solutions, single board computers, and network edge solutions, has announced the expansion of its SolidWAN line of software-defined network appliances with the introduction of the SolidWAN CN9131. Building on the success of the previously launched SolidWAN system-level solutions for software-defined wide-area networks and network security applications, the SolidWAN CN9131 sets a new standard for small form factor SD-WAN hardware solutions.
"As businesses worldwide embrace the transformative power of software-defined networking, the need for adaptable and cost-effective network hardware becomes increasingly crucial," said Dr. Atai Ziv, CEO at SolidRun. "SolidRun understands that a one-size-fits-all approach doesn't meet the diverse requirements of connecting today's businesses and distributed workforce. That's why we've developed our SolidWAN line of SD-WAN appliances. By making software-defined solutions more affordable and easily deployable across home offices, branch offices, data centres, and beyond, we empower businesses to build agile and scalable networks that drive efficiency, security, and seamless connectivity."
The embedded Marvell OCTEON CN9131 SoC is designed to address the specific networking requirements of small to medium businesses. With its powerful quad-core performance and 12 high-speed SERDES lanes, the SoC delivers exceptional processing power for network data management and security.
It features a configurable packet processor, allowing for flexible parsing and classification of network traffic, and supports I/O virtualisation, enabling efficient resource allocation. It also includes QoS buffer management and a virtual security engine and packet processor for enhanced security measures. Each unit features 8 GB of eMMC storage, 4 GB DDR4 RAM, and 8 MB SPI NOR Flash memory.
For more information contact NuVision Electronics, +27 11 608 0144, sales@nuvisionelec.co.za, www.nuvisionelec.com
Credit(s)
Further reading:
Powering factory automation into the future
Rugged Interconnect Technologies Computer/Embedded Technology
Powered by the newest 13th Gen Intel processors, ADLINK Technology's COM-HPC-cRLS module is a future-proof edge AI solution.
Read more...
---
Matter 1.2 adds new capabilities
NuVision Electronics Editor's Choice Telecoms, Datacoms, Wireless, IoT
This update introduces new device types and expands the reach of Matter into new markets, while also bringing other improvements that enhance interoperability and user experience.
Read more...
---
Linux OS with immutable file system
Computer/Embedded Technology
What really sets VanillaOS apart from others, however, is in security, where it takes a new approach to computing by using an immutable file system for improved security and stability.
Read more...
---
Rugged laptops support the renewable energy sector
Osiris Technical Systems Computer/Embedded Technology
The Durabook S15AB semi-rugged laptop was recommended due to its military-grade durability, powerful functionality and desktop performance, allowing it to keep pace even for intensive tasks such as asset management and maintenance.
Read more...
---
Memory comparison: DDR4, DDR5, GDDR6 and HBM
Avnet Abacus Computer/Embedded Technology
DDR5 SDRAM was introduced in 2021 and brings many performance enhancements, but just how much faster is it over DDR4? And how does it compare to other memory types like HBM2e and GDDR6?
Read more...
---
Industrial networking devices from InHand
Otto Wireless Solutions Computer/Embedded Technology
The InHand routers, edge gateways, and industrial switches are ideal solutions for any scenario in which control of an IIoT Ethernet network is needed.
Read more...
---
Availability of a wireless network
RJ Connect Computer/Embedded Technology
The AWK-3252A Series 3-in-1 industrial wireless AP/bridge/client from Moxa is designed to meet the growing need for faster data transmission speeds through IEEE 802.11ac technology, for aggregated data rates of up to 1,267 Gbps.
Read more...
---
IA-820i with PCIe Gen5 interface
Avnet Abacus Computer/Embedded Technology
Featuring the Intel Agilex 7 I-Series FPGAs, these cards are optimised for applications that are bandwidth intensive and require high-performance processor interfaces.
Read more...
---
Hi-Rel for IIoT applications
Rugged Interconnect Technologies Computer/Embedded Technology
In the increasingly complex world of industrial applications, having industrial-grade solid-state drives (SSDs) with excellent performance and high endurance can ensure stable operation of equipment.
Read more...
---
Compact edge computing system
Altron Arrow Computer/Embedded Technology
The Boxer-8621AI is equipped with the superior edge computing performance of the NVIDIA Jetson Orin Nano, to provide the power to execute all AI applications.
Read more...
---