printer friendly version
Nanometre-precision piezo actuators
30 August 2023
Electronics Technology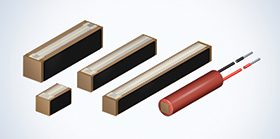 TDK Corporation has announced two new piezo actuators made of RoHS-compatible lead zirconate titanate (PZT), with an internal copper electrode. COM30S5 and COM45S5 are available as unhoused, passivated components. Both devices are characterised by a wide dynamic range, a high force-to-volume ratio, but with precision in the nanometre range. This has been achieved through its patented copper-based High Active Stack (HAS) technology.
The voltage range of these actuators ranges from -10 to 180 V, with their nominal stroke reached at 160 V. The devices operate with a surface temperature range of -40 to 160°C. With either 30 or 45 mm heights, and with a cross-section of 5,2 x 5,2 mm, these actuators reach strokes of 55 and 83 µm respectively at 160 V and 730 N of preload.
Numerous high-end solutions in the field of nano-positioning technology, valve control for liquids and gasses in process engineering, and semiconductor manufacturing, are already relying on piezo actuators from TDK.
Credit(s)
Further reading:
High-precision coreless current sensor
RS South Africa Power Electronics / Power Management
The Infineon XENSIV TLE4971 is a new automotive-qualified pre-programmed 120 A sensor without the saturation or hysteresis effects.
Read more...
---
Low-profile power inductors
RS South Africa Passive Components
TDK Corporation has announced the introduction of its new PLEA85 series of high-efficiency power inductors developed for battery-powered wearables and other devices.
Read more...
---
RS unveils Better World product range
RS South Africa News
RS South Africa recently announced the launch of its Better World product range, which includes products that are supported by trusted certifications and eco-labels.
Read more...
---
Indoor air-quality monitor
RS South Africa Test & Measurement
Manufactured by ebm-papst, the new indoor air-quality (IAQ) monitor constantly assesses five key factors that can affect people's health, including particulate matter (PM2.5), carbon dioxide (CO
2
), volatile organic compounds (TVOC), temperature, and humidity.
Read more...
---
Diversity and inclusion are part of the DNA of RS
RS South Africa News
In celebration of National Women's Day on 9 August, RS South Africa celebrated the role and contribution of three exceptional women at the company.
Read more...
---
Microwave wideband synthesiser
RS South Africa Telecoms, Datacoms, Wireless, IoT
The ADF4368 is a high performance, ultra-low jitter, integer-N and fractional-N phase-locked loop (PLL) with integrated VCO, ideally suited for frequency conversion applications.
Read more...
---
Reference design for a 5,8 GHz LNA receiver
RS South Africa Telecoms, Datacoms, Wireless, IoT
Analogue Devices has released a reference design for a USB-powered 5,8 GHz RF LNA receiver with output power protection.
Read more...
---
Upgraded Uno R4 released
RS South Africa DSP, Micros & Memory
The Arduino Uno R4 is powered by the Renesas RA4M1 32-bit ARM Cortex-M4 processor, providing a major boost in processing power and memory.
Read more...
---
Pi Pico W gets official Bluetooth support
RS South Africa DSP, Micros & Memory
With the release of version 1.5.1 of the C SDK and the latest MicroPython build, the Pico W has now gained the ability to communicate with Bluetooth and BLE devices.
Read more...
---
Upgrade to educational robotics board
RS South Africa DSP, Micros & Memory
The new version of the micro:bit sees an upgrade to the nRF52833 processor and features a 64 MHz Arm Cortex-M4 FPU, which is four times faster than its predecessor.
Read more...
---