printer friendly version
Snap-in capacity series with high capacitance density
30 August 2023
Passive Components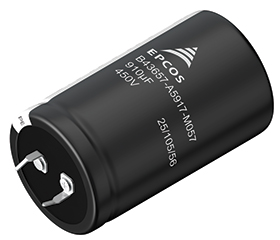 TDK Corporation has released its new EPCOS B43657 aluminium electrolytic capacitor series with snap-in terminals. The capacitors achieve a service life of at least 2000 hours at a maximum operating temperature of 105°C, and cover a rated voltage range from 450 to 475 V DC, with capacitance values from 120 µF to 1,25 mF. An important performance feature is their high ripple current capability of up to 8,54 A at 120 Hz and 60°C.
With case sizes from only 22 x 25 mm to 35 x 60 mm (D x H), the range offers an extremely high capacitance density.
Due to their high reliability, these RoHS-compatible capacitors are optimal for use in high-end switched-mode power supplies and power supply units for industrial and telecommunications applications.
They are also well-suited to UPS systems, photovoltaic inverters, and frequency converters.
Credit(s)
Further reading:
Long-range passive infrared motion sensor
Future Electronics Passive Components
Panasonic Industry (PaPIRs) recently introduced he world's most compact long-range passive infrared motion sensor, for installation heights of up to 15 metres.
Read more...
---
Isolated solid state relay
Altron Arrow Passive Components
The ISO808, ISO808-1 (PowerSO-36) and ISO808Q, ISO808Q-1 (TFQFPN32) are galvanic isolated eight-channel drivers featuring a low supply current.
Read more...
---
Low-profile power inductors
RS South Africa Passive Components
TDK Corporation has announced the introduction of its new PLEA85 series of high-efficiency power inductors developed for battery-powered wearables and other devices.
Read more...
---
Miniature capacitor for automotive applications
Avnet Abacus Passive Components
Murata has released its LLC series of multi-layer ceramic capacitors for automotive applications, that feature a reversed termination for low ESL.
Read more...
---
Sealed tantalum capacitors
Electrocomp Passive Components
With an operating temperature range of -55 to 125°C, with voltage derating, these capacitors have been designed especially for avionics and aerospace applications.
Read more...
---
Double metallised polypropylene capacitors
Future Electronics Passive Components
The Electrocube 985B series offers high-frequency operation, high current and low ESR in a miniature package.
Read more...
---
Analogue front end for sensor measurements
Electrocomp Analogue, Mixed Signal, LSI
The NJU9103 AFE from Nisshinbo is a tiny analogue front end, with a 16-bit resolution ADC and up to 512 x signal amplification from the programmable gain amplifier.
Read more...
---
New series of chip-type capacitors
Electrocomp Passive Components
Panasonic Industries' SMT capacitor series all benefit from the longest lifetime plus the lowest ESR values currently available.
Read more...
---
SMD coupled inductors
Electrocomp Passive Components
TDK Corporation has expanded its family of flat wire inductors with the high-performance EPCOS ERUC23 coupled inductor series.
Read more...
---
Corrosion-resistant GRP enclosures
Electrocomp Enclosures, Racks, Cabinets & Panel Products
The design offers better impact resistance, and all sizes have the additional feature of shelves moulded into the base, fitted with threaded inserts to house a PCB or other electrical equipment.
Read more...
---