printer friendly version
Air sensor module for edge AI
30 August 2023
Test & Measurement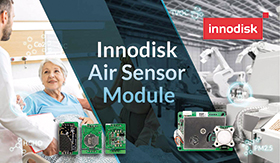 Innodisk is taking proactive strides into edge AI. It has launched a new industrial air sensor module solution with its subsidiary, Sysinno, featuring accurate sensing, easy implementation, and minimal computing power.
The modules offer real-time monitoring of temperature, humidity, and detection of six air quality measures, including particulate matter (PM2.5, PM10), carbon monoxide (CO), carbon dioxide (CO2), formaldehyde (HCHO), total volatile organic compounds (TVOC), and ozone (O3). With its unique algorithm and adoption of original sensor heads from world-leading brands, the modules ensure accurate and reliable sensing values.
The modules can easily integrate with various systems, such as industrial personal computers (IPC), PCs, edge servers, and embedded systems through the I2C interface or USB Sensor Carrier board. The modules' design guarantees minimal computing power consumption and prevents excessive heating during operation. They have passed numerous third-party accuracy tests and can be trusted to be used in diverse fields.
The modules can be integrated into smart poles, EV charging stations, and kiosks, which adds significant value to these devices in the rapid expansion of smart cities. Installing the modules in facilities like hospitals and healthcare centres enhances air and service quality. In the smart factory, businesses can implement the modules to optimise humidity and air quality levels, and safeguard workers' wellbeing.
Credit(s)
Further reading:
Webinar: The key to smart occupancy
Test & Measurement
This one-hour session will allow the attendee to discover the company's latest infrared sensor with high-sensitivity presence and motion detection capabilities.
Read more...
---
Converter for industrial control applications
Vepac Electronics Power Electronics / Power Management
MORNSUN has launched a 500 W wide-input DC/DC converter series to meet the increasing demand for high-power supply in industrial control applications.
Read more...
---
Portable 100 MHz digital oscilloscope
Vepac Electronics Test & Measurement
The PeakTech P1331 is a powerful 100 MHz four-channel portable digital oscilloscope that is ideal for mobile use on a laptop, or for permanent installation in control cabinets.
Read more...
---
OTDR evaluates 20 000 km of submarine cables
Coral-i Solutions Test & Measurement
The MW90010B from Anritsu can evaluate up to 20 000 km of submarine cable, and has an easily selectable wavelength that covers the full C-band.
Read more...
---
Laser shaft alignment tool
Comtest Test & Measurement
The Fluke 831 lets technicians and engineers easily verify shaft alignment, with an intuitive guided user interface that enables quick and complete shaft alignment without advanced training or complicated programs.
Read more...
---
EMC filter for enclosed power supply series
Vepac Electronics Power Electronics / Power Management
These EMC filters, based on the second-order filtering scheme, mitigate performance to CM/DM interference up to 60 dB, which can effectively suppress interference.
Read more...
---
Antenna for RF measurements up to 8 GHz
Vepac Electronics Telecoms, Datacoms, Wireless, IoT
The 3D Mobile PRO is an extremely light and small isotropic antenna, compatible with any spectrum analyser, for making X/Y/Z-axis RF measurements up to 8 GHz.
Read more...
---
Colour and contrast sensors
Test & Measurement
Detection of colours by a sensor is performed using different approaches, with various types of vision systems and sensors that detect colour and contrast being used, depending on what the outcome needs to be.
Read more...
---
400 W DC-DC converter
Vepac Electronics Power Electronics / Power Management
The VCB48_EBO-xxWR3-N Series by Mornsun is a new series of DC-DC converters to meet the growing demand for medium- and high-power supplies in various fields including telecommunication, electric power, and industrial control.
Read more...
---
Graphical source measure unit
Conical Technologies Test & Measurement
The IT2800 Series from ITECH are compact and cost-effective bench-top source measure units with the capability to source and measure both voltage and current.
Read more...
---