printer friendly version
Webinar: Understanding UWB technology
30 August 2023
Telecoms, Datacoms, Wireless, IoT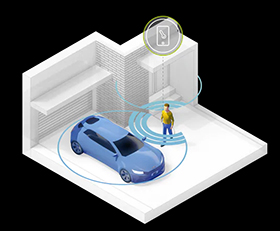 NXP, in partnership with Arrow, is hosting a webinar on UWB technology with the goal that attendees will gain insight and an understanding into this innovation. The webinar will cover how UWB works, standardisation efforts put in place, and NXP's unique UWB Trimension portfolio.
Sunway communication will present its ultra-wideband (UWB) solutions, including modules and development kits based on NXP's Trimension portfolio for consumer and industrial applications, which includes device tracking, real-time locating systems, and access control.
The devices use Time-of-Flight and Angle-of-Arrival measurements to determine relative positions in three dimensions with a high degree of accuracy. Sunway UWB modules, in combination with advanced antenna design, enables the full UWB solution into mobile and IoT devices.
Arrow will present the potential of UWB technology and computer vision in transforming numerous industries, and how to seamlessly integrate UWB into various domains, providing comprehensive solutions and showing some real-world demonstrations. Besides introducing software, they will also speak about AI and end-to-end system development.
Date: 12 September 2023
Time: 10:00 SAST
For more information visit https://register.gotowebinar.com/register/2774313460711191385
Further reading:
Multi-operator cellular coverage solution
Telecoms, Datacoms, Wireless, IoT
Nextivity has expanded its award-winning CEL-FI product family with the CEL-FI GO G43, which complements the existing GO G41 cellular coverage solution.
Read more...
---
Wi-Fi 6/6E module for industrial applications
RF Design Telecoms, Datacoms, Wireless, IoT
The u-blox MAYA-W3 brings the benefits of Wi-Fi 6 and the 6 GHz band to industrial applications, preventing network congestion and ensuring power efficiency.
Read more...
---
Toolkit for services with differentiated 5G connectivity
Telecoms, Datacoms, Wireless, IoT
Ericsson has launched a new software toolkit to strengthen 5G Standalone network capabilities, and enable premium services with differentiated connectivity.
Read more...
---
Device identification's critical role in IoT protection
Avnet Silica Telecoms, Datacoms, Wireless, IoT
Each IoT device must have a unique identifier assigned during manufacturing or provisioning which serves as the anchor for device identification, authentication, and communication.
Read more...
---
Programmable BLE 5.3 SoC
Altron Arrow Telecoms, Datacoms, Wireless, IoT
The BlueNRG-LPS is an ultra-low power programmable Bluetooth Low Energy wireless SoC solution from STMicroelectronics that embeds the company's state-of-the-art 2.4 GHz radio IP.
Read more...
---
RF switch modules
RFiber Solutions Telecoms, Datacoms, Wireless, IoT
New switch modules from Withwave are available in various configurations including SP4T, SP10T, and as a 4-port matrix switch.
Read more...
---
Improved cellular access in remote areas
Telecoms, Datacoms, Wireless, IoT
Nextivity has released its CEL-FI ROAM R41 plug-and-play cellular coverage solution that ensures cellular access for people in remote areas.
Read more...
---
Making Matter provisioning secure and easy
EBV Electrolink Telecoms, Datacoms, Wireless, IoT
Integrated solution of CommScope's PKIWorks platform with STMicroelectronics' STM32WB wireless microcontroller enables IoT security for Matter device development.
Read more...
---
Bringing performance and security to BLE applications
Future Electronics Telecoms, Datacoms, Wireless, IoT
STMicroelectronics' STM32WBA 32-bit wireless series brings designers the performance, efficiency, and security required for Bluetooth Low Energy 5.3-enabled applications.
Read more...
---
WLAN tester supports Wi-Fi 7
Tamashi Technology Investments Telecoms, Datacoms, Wireless, IoT
To meet the need for Wi-Fi 7 testing, Anritsu Corporation has introduced a new Network Mode option for its MT8862A Wireless Connectivity Test Set, allowing the instrument to evaluate the Wi-Fi 7 signal quality of devices under test.
Read more...
---