printer friendly version
NXP i.MX93 module suits AI edge processing
27 September 2023
DSP, Micros & Memory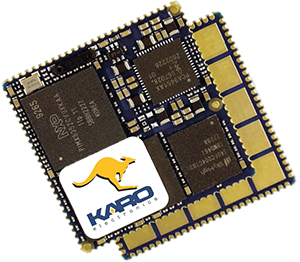 Direct Insight has launched the QS93, a miniature QFN-style system-on-module (SoM) that provides a low-power, cost-optimised 64-bit solution for intelligent edge processing. Based on NXP's dual-core i.MX935 with ARM Cortex-A55 processors, the QS93 measures just 27 x 27 mm2, with a height of only 2,7 mm, and delivers excellent EMC and thermal performance.
The QS93 SoMs are available as cost-effective, solder-down modules on tape and reel packaging, which suits mid- and high-volume production runs because devices are easier to manage and test. However, a socket-ready SODIMM version, TX93, is also available for low run and development purposes.
The QS93 module's i.MX935 processor provides a dual 1,5 GHz ARM Cortex-A55 core and a separate ARM Cortex-M33 running at 250 MHz. There is 1 GB of LPDDR4 RAM and 4 GB eMMC Flash available, and a wide range of interfaces including dual USB and dual Ethernet are integrated. The i.MX935 also includes an Arm Ethos U-65 microNPU, which affords energy-efficient implementation of machine learning (ML) tasks.
The i.MX93 processor delivers powerful multimedia capability, with MIPI-CSI camera, a 2D GPU and LVDS display support. Optimal security features are provided by NXP's Edgelock Secure Enclave. The module supports the full -40 to 85°C industrial operating temperature range, and comes with a dedicated development system (QSBASE93), equipped with Linux BSP.
For more information visit www.directinsight.co.uk
Further reading:
Wireless MCU with 15 years of battery life
Altron Arrow DSP, Micros & Memory
ST has integrated an industry-unique ultra-low-power radio which the MCU can power-down to save energy while listening continuously for a wake-up signal.
Read more...
---
High precision MEMS nano pressure sensor
Avnet Silica DSP, Micros & Memory
The LPS22DF from STMicroelectronics is an ultracompact, piezoresistive, absolute pressure sensor that functions as a digital output barometer.
Read more...
---
High bandwidth current-sense amplifier
Altron Arrow DSP, Micros & Memory
The AD8410A from Analog Devices is a high voltage, high-bandwidth current-sense amplifier which features an initial gain of 20 V/V.
Read more...
---
Build the next generation IoT device
Altron Arrow DSP, Micros & Memory
The STM32H573I-DK Discovery kit is a complete demonstration and development platform for the STM32H573IIK3Q microcontroller, featuring an Arm Cortex-M33 core with Arm TrustZone.
Read more...
---
MPLAB PICkit 5
ASIC Design Services DSP, Micros & Memory
Microchip Technology's MPLAB PICkit 5 in-circuit debugger/programmer enables quick prototyping and portable, production-ready programming for all Microchip components, including PIC, dsPIC, AVR, and SAM devices.
Read more...
---
FPGAs speed up intelligent edge designs
ASIC Design Services Editor's Choice DSP, Micros & Memory
Microchip Technology has added nine new technology- and application-specific solution stacks to its growing collection of mid-range FPGA and SoC support.
Read more...
---
Low pin count MCU with I3C support
Avnet Silica DSP, Micros & Memory
Leading the way in I3C integration, Microchip Technology has released its PIC18-Q20 family of microcontrollers, the industry's first low pin count MCUs with up to two I3C peripherals.
Read more...
---
Raspberry Pi 5 announced
RS Components SA Editor's Choice DSP, Micros & Memory
The R-Pi 5 comes with new features and is over twice as fast as its predecessor, the R-Pi 4, thanks to an upgrade to the main processor.
Read more...
---
Microchip's 28 nm memory in production
EBV Electrolink DSP, Micros & Memory
GlobalFoundries and Microchip have announced that Microchip's 28 nm SuperFlash embedded flash memory solution is in production. The widely deployed non-volatile memory (NVM) solution is optimised for microcontrollers, smart cards and IoT chips.
Read more...
---
32-bit MCU with embedded security
Future Electronics DSP, Micros & Memory
The highly configurable PIC32CZ CA microcontrollers are available with a 300 MHz Arm Cortex-M7 processor and an embedded Hardware Security Module.
Read more...
---