printer friendly version
Industrial networking devices from InHand
27 September 2023
Computer/Embedded Technology
InHand Networks, an industrial IoT, edge computing and fleet management solution provider has appointed Otto Wireless Solutions as a distributor for sub-Saharan Africa.
Are you in the commuter transport industry looking for a fleet management solution? Otto Wireless' range of InHand in-vehicle and edge computing products are the ideal solutions.
Do you want to save space and money by combining your connectivity and edge computing requirements into one compact solution? Look no further than InHand Networks.
The VG814, VG710 and VT300 for transport applications
VG814 – Public Transport
The InVehicle G814 is a series of high-performance vehicle gateways that deliver highly reliable and interoperable vehicle networking in public transport.
With high-speed and stable Internet access and powerful cloud ecosystems, the VG814 helps improve operation and management efficiency for public transport Intelligent Transportation Systems (ITS).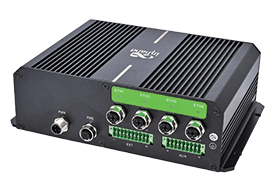 VG710 – Public Transport
The InVehicle G710 is a 5G cellular network vehicle gateway specially for the Internet of Vehicles (IoV). It provides high-speed and secure connectivity for mission critical applications in a wide range of scenarios, such as police cars, heavy equipment, ambulances, and logistics. Equipped with a cloud-based remote fleet management platform, it offers ubiquitous networking and uninterrupted monitoring for logistics management, asset tracking, mobile office, and public security.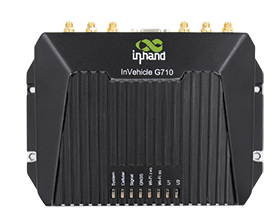 VT300 – Vehicle Telematics – Tracking anytime and anywhere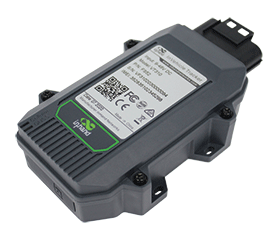 The VT300 is a series of rugged and functionally capable vehicle telematics gateways. Integrating extensive interfaces, multiple diagnostic protocols, and major IoT clouds, it delivers reliable vehicle data in some of the most challenging environments that involve severe cold or scorching heat, and/or water immersion, while remaining budget friendly. With continuous and reliable operation, the VT300 comes with a data cache that can hold over 30 000 location records, freeing you from concerns about data loss when internet connection is unavailable. Featuring lower consumption, the VT300 can maintain stable communication even with insufficient power supply, thanks to a built-in 1200 mAh battery. See table 1 for a technical specification comparison of these three gateways ideal for transport applications.
IoT Edge gateways
InHand Networks' InGateway series IoT edge gateway is designed for edge computing applications in IoT, smart manufacturing, and automation. It supports Docker and Python programming, Modbus, MQTT and various other protocols. With Microsoft Azure IoT and AWS IoT Greengrass Certified, the InGateway can deliver secure and reliable Edge-to-Cloud connectivity for your IIoT applications.
Two IoT Gateways, the InGateway502 and InGateway902, are available.
InGateway502 IoT gateway
The InGateway502 is a new-generation IoT edge gateway designed for industrial IoT. With pre-integrated industrial protocols such as Modbus TCP/RTU and IoT clouds like MS Azure and AWS, the IG502 makes it easy to collect data from different onsite devices, validate data and upload them to the cloud.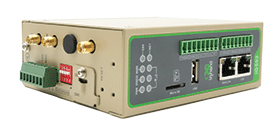 Configuration of the gateway takes only a few minutes without any programming knowledge needed. However, being Python programmable, the IG502 enables users to develop their own applications based on a specific business profile. Extensive interfaces are available offer more choices for different scenarios.
InGateway902 IoT gateway
With high performance, multiple industrial protocols, and fast custom development, the new IoT edge computing gateway from InHand aims to utilise IoT technologies to support the digital transformation of industries. The product features powerful edge computing capabilities to not only reduce cloud-end computing resources, but to realise data optimisation, real-time response, agile connection, and model analysis on the IoT edge, further advancing the development of digital networking in the AI era. The InGateway902 is a certified Microsoft Azure IoT device. See table 2 for a technical specification comparison between these two IoT Edge gateways.
CR200 Series portable 4G router
Is there a concern about non-connectivity when there is no power? Is having a connection while travelling a top priority? If yes, then the InHand Mobile 4G router is the answer.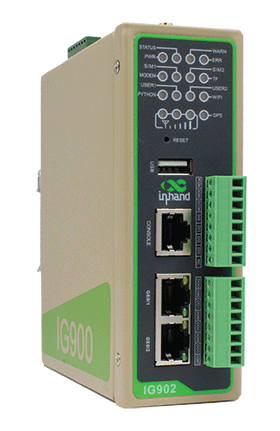 The CR202 is a portable 4G cellular router with both wired/cellular network access modes for any business needs, combined with a free InHand device management cloud platform to provide a more agile, cost-effective, and stable networking solution, without conventional limitations.
The CR200 supports the LTE CAT 6 high-speed cellular network, and offers stable service. The router supports up to 300 Mbps and supports up to 30 devices connected. Equipped with a 5000 mAh battery that can last up to eight hours, the portable router enables a connection anywhere and is ideal for both indoor and outdoor use.
Industrial Ethernet switches
The InSwitch managed and unmanaged industrial Ethernet switches connect mission-critical PLC and HMI in redundant Ethernet rings, providing an innovative RSTP with fast network recovery (less than 5 ms) and Modbus alarm output for efficient fault diagnosis. With multiple port combinations and models, the InSwitch Ethernet switch provides a plug-and-play solution for all industrial Ethernet connection applications.
ISM series managed industrial Ethernet switch
Featuring a rugged industrial design and complete network functions, the ISM series managed industrial Ethernet switch can build advanced and highly reliable industrial Ethernet communication systems in harsh industrial environments. The ISM series managed industrial Ethernet switch supports STP/RSTP/MSTP/ERPS.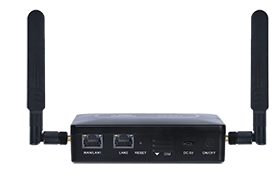 It supports ring networks of dual optical fibre, single optical fibre, twisted pair, or any combination thereof, reliably protecting your core networks.
ISE series unmanaged industrial Ethernet switch
The ISE series unmanaged industrial Ethernet switch is equipped with a reliable industrial design and simple, easy-to-manage features. It enables customers to build highly reliable network communication systems on harsh industrial sites. Built with a rugged metal housing and protective coating, the ISE series industrial Ethernet switch is compression and corrosion resistant.

It features fan-less cooling, has an IP30 protection rating (IP40 for ISE5010), making it dust and dirt proof, and works in a wide temperature range of -40 to 75°C. Its EMC reaches level 3, and it is equipped with industrial-grade redundant power supplies that have a wide range of DC and AC voltage input.
IoT software and services
As the number of deployed IoT devices increases, centralised management and remote maintenance can become a challenge. InHand's cloud-based IoT software and services help administrators easily manage and control all distributed sites.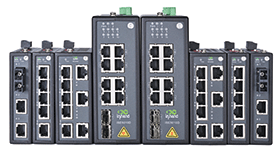 InCloud Manager
InHand offers the InCloud Manager SaaS, which, through insightful graphical interfaces, meets the demand for remote deployment and management in various scenarios, increasing enterprises' competitiveness in digital business. The InCloud Manager provides customers with digital power in every vertical application.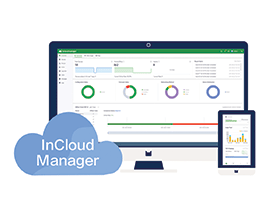 Device Manager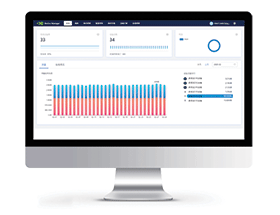 With a visualisation user interface and simple operation steps, the Device Manager platform enables management and monitoring of InHand's hardware devices, such as routers and gateways. It can quickly integrate devices which are managed with just a few clicks. The cloud deployment delivers an easy-to-use experience, allowing administrators to focus on the core business. The free service supports InRouter, InGateway and InVehicle devices.
InConnect
The InConnect is a simple plug & play service which builds secure remote networks for machines including IPCs, servers, IP cameras, PLCs, HMIs, RTUs, and controllers. Featuring user-friendly interfaces and simple operation, the SaaS-based solution enables access to devices at anytime from anywhere, which is especially important now when normal working routines have been disrupted.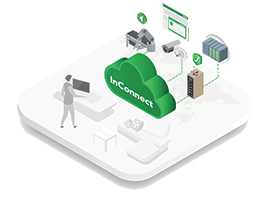 Credit(s)
Further reading:
Powering factory automation into the future
Rugged Interconnect Technologies Computer/Embedded Technology
Powered by the newest 13th Gen Intel processors, ADLINK Technology's COM-HPC-cRLS module is a future-proof edge AI solution.
Read more...
---
Linux OS with immutable file system
Computer/Embedded Technology
What really sets VanillaOS apart from others, however, is in security, where it takes a new approach to computing by using an immutable file system for improved security and stability.
Read more...
---
Rugged laptops support the renewable energy sector
Osiris Technical Systems Computer/Embedded Technology
The Durabook S15AB semi-rugged laptop was recommended due to its military-grade durability, powerful functionality and desktop performance, allowing it to keep pace even for intensive tasks such as asset management and maintenance.
Read more...
---
Memory comparison: DDR4, DDR5, GDDR6 and HBM
Avnet Abacus Computer/Embedded Technology
DDR5 SDRAM was introduced in 2021 and brings many performance enhancements, but just how much faster is it over DDR4? And how does it compare to other memory types like HBM2e and GDDR6?
Read more...
---
Availability of a wireless network
RJ Connect Computer/Embedded Technology
The AWK-3252A Series 3-in-1 industrial wireless AP/bridge/client from Moxa is designed to meet the growing need for faster data transmission speeds through IEEE 802.11ac technology, for aggregated data rates of up to 1,267 Gbps.
Read more...
---
IA-820i with PCIe Gen5 interface
Avnet Abacus Computer/Embedded Technology
Featuring the Intel Agilex 7 I-Series FPGAs, these cards are optimised for applications that are bandwidth intensive and require high-performance processor interfaces.
Read more...
---
Hi-Rel for IIoT applications
Rugged Interconnect Technologies Computer/Embedded Technology
In the increasingly complex world of industrial applications, having industrial-grade solid-state drives (SSDs) with excellent performance and high endurance can ensure stable operation of equipment.
Read more...
---
Compact edge computing system
Altron Arrow Computer/Embedded Technology
The Boxer-8621AI is equipped with the superior edge computing performance of the NVIDIA Jetson Orin Nano, to provide the power to execute all AI applications.
Read more...
---
Otto Wireless Solutions invests in the future
Otto Wireless Solutions Telecoms, Datacoms, Wireless, IoT
Otto Wireless Solutions has recently invested in a new Keysight Vector Network Analyzer with an operating frequency range of 300 kHz to 9 GHz.
Read more...
---
Linux SD-WAN appliance
NuVision Electronics Computer/Embedded Technology
With its powerful quad-core performance and 12 high-speed SERDES lanes, the SoC delivers exceptional processing power for network data management and security.
Read more...
---