printer friendly version
Mesh networks as easy as never before
27 September 2023
Telecoms, Datacoms, Wireless, IoT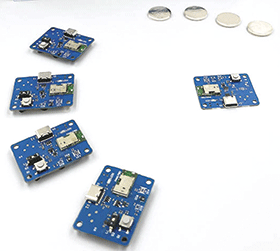 Panasonic Industry recently approached the Finnish mesh firmware innovators from Wirepas to integrate their patented advanced mesh connectivity into the PAN1780, a Bluetooth 5 Low Energy module that is based on Nordic Semiconductor's nRF52840 single-chip controller. Now, the company has further good news for all designers looking for a high performance ready-to-use, low-energy module to set up a Wirepas Mesh network in just a few steps.
The launch of the PAN1780 Wirepas Mesh demo kit springs from Panasonic's collaboration with IoT software consulting firm, Symbiotech. The kit consists of four battery-powered sensor nodes and a sink, allowing you to set up a Wirepas Mesh network at any time and at any place.
Panasonic Industry provides a sensor node with a long wireless transmission range. This is achieved by the optimised chip antenna of the PAN1780. Symbiotech, as Wirepas Mesh experts, developed software that enables an extremely easy set-up of the demonstration, with a user interface that shows sensor data, offers control, and gives insight into the network health.
PAN1780's high-quality hardware design, paired with Wirepas' multi-hop wireless mesh technology, and combined with Symbiotech's tailored software design allows an easy and quick entry into the world of mesh applications.
Credit(s)
Further reading:
Multi-operator cellular coverage solution
Telecoms, Datacoms, Wireless, IoT
Nextivity has expanded its award-winning CEL-FI product family with the CEL-FI GO G43, which complements the existing GO G41 cellular coverage solution.
Read more...
---
High precision MEMS nano pressure sensor
Avnet Silica DSP, Micros & Memory
The LPS22DF from STMicroelectronics is an ultracompact, piezoresistive, absolute pressure sensor that functions as a digital output barometer.
Read more...
---
Wi-Fi 6/6E module for industrial applications
RF Design Telecoms, Datacoms, Wireless, IoT
The u-blox MAYA-W3 brings the benefits of Wi-Fi 6 and the 6 GHz band to industrial applications, preventing network congestion and ensuring power efficiency.
Read more...
---
Toolkit for services with differentiated 5G connectivity
Telecoms, Datacoms, Wireless, IoT
Ericsson has launched a new software toolkit to strengthen 5G Standalone network capabilities, and enable premium services with differentiated connectivity.
Read more...
---
Device identification's critical role in IoT protection
Avnet Silica Telecoms, Datacoms, Wireless, IoT
Each IoT device must have a unique identifier assigned during manufacturing or provisioning which serves as the anchor for device identification, authentication, and communication.
Read more...
---
Programmable BLE 5.3 SoC
Altron Arrow Telecoms, Datacoms, Wireless, IoT
The BlueNRG-LPS is an ultra-low power programmable Bluetooth Low Energy wireless SoC solution from STMicroelectronics that embeds the company's state-of-the-art 2.4 GHz radio IP.
Read more...
---
RF switch modules
RFiber Solutions Telecoms, Datacoms, Wireless, IoT
New switch modules from Withwave are available in various configurations including SP4T, SP10T, and as a 4-port matrix switch.
Read more...
---
Improved cellular access in remote areas
Telecoms, Datacoms, Wireless, IoT
Nextivity has released its CEL-FI ROAM R41 plug-and-play cellular coverage solution that ensures cellular access for people in remote areas.
Read more...
---
Making Matter provisioning secure and easy
EBV Electrolink Telecoms, Datacoms, Wireless, IoT
Integrated solution of CommScope's PKIWorks platform with STMicroelectronics' STM32WB wireless microcontroller enables IoT security for Matter device development.
Read more...
---
Bringing performance and security to BLE applications
Future Electronics Telecoms, Datacoms, Wireless, IoT
STMicroelectronics' STM32WBA 32-bit wireless series brings designers the performance, efficiency, and security required for Bluetooth Low Energy 5.3-enabled applications.
Read more...
---