printer friendly version
Availability of a wireless network
27 September 2023
Computer/Embedded Technology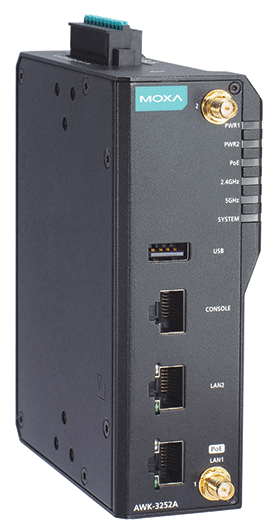 Unlike wired connections, wireless connections are invisible and affected by many different factors, making it difficult to spot abnormalities. Usually, an anomaly would only be discovered when the system operations have already been affected. In addition, it is often hard to find and solve the root cause of wireless connection issues, causing unnecessary downtime. All these factors combined make troubleshooting and managing wireless connections very difficult.
In addition to this, machinery that is moving may not only move through a Wi-Fi dead zone, but the same machinery could itself cause noise interference, affecting the signal for other instruments connected to the same network. This is usually caused by the motors and drives often sharing the same power source as the communication devices.
Vibration of the networking equipment mounted onto moving equipment is also likely to cause a problem if the equipment and cables are not securely fixed as this could also result in electromagnetic noise, and strain relief cable glands and industrial connectors on this cabling would help to reduce this noise.
The AWK-3252A Series 3-in-1 industrial wireless AP/bridge/client from Moxa is designed to meet the growing need for faster data transmission speeds through IEEE 802.11ac technology, for aggregated data rates of up to 1,267 Gbps. The AWK-3252A is compliant with industrial standards and approvals, covering operating temperature, power input voltage, surge, ESD and vibration.
The redundant DC power inputs increase the reliability of the unit, and the AWK-3252A can also be powered via PoE to facilitate flexible deployment. The device can operate concurrently on both the 2,4 and 5 GHz bands, while being backwards-compatible with existing 802.11a/b/g/n Wi-Fi standards.
The AWK-3252A Series is compliant with the IEC 62443-4-2 and IEC 62443-4-1 Industrial Cybersecurity certifications, which cover both product security and secure development lifecycle requirements, helping customers meet the compliance requirements of secure industrial network design.
Features and benefits of the Moxa AWK-3252A Series:
• IEEE 802.11a/b/g/n/ac Wave 2 AP/bridge/client.
• Concurrent dual-band Wi-Fi, with aggregated data rates up to 1,267 Gbps.
• Latest WPA3 encryption for enhanced wireless network security.
• Universal (UN) models with configurable country or region code for more flexible deployment.
• Easy network setup with Network Address Translation (NAT).
• Millisecond-level Client-based Turbo Roaming.
• Built-in 2,4 GHz and 5 GHz band pass filter for more reliable wireless connections.
• 40 to 75°C wide operating temperature range.
• Integrated antenna isolation.
Credit(s)
Further reading:
Powering factory automation into the future
Rugged Interconnect Technologies Computer/Embedded Technology
Powered by the newest 13th Gen Intel processors, ADLINK Technology's COM-HPC-cRLS module is a future-proof edge AI solution.
Read more...
---
Linux OS with immutable file system
Computer/Embedded Technology
What really sets VanillaOS apart from others, however, is in security, where it takes a new approach to computing by using an immutable file system for improved security and stability.
Read more...
---
Rugged laptops support the renewable energy sector
Osiris Technical Systems Computer/Embedded Technology
The Durabook S15AB semi-rugged laptop was recommended due to its military-grade durability, powerful functionality and desktop performance, allowing it to keep pace even for intensive tasks such as asset management and maintenance.
Read more...
---
Memory comparison: DDR4, DDR5, GDDR6 and HBM
Avnet Abacus Computer/Embedded Technology
DDR5 SDRAM was introduced in 2021 and brings many performance enhancements, but just how much faster is it over DDR4? And how does it compare to other memory types like HBM2e and GDDR6?
Read more...
---
Industrial networking devices from InHand
Otto Wireless Solutions Computer/Embedded Technology
The InHand routers, edge gateways, and industrial switches are ideal solutions for any scenario in which control of an IIoT Ethernet network is needed.
Read more...
---
IA-820i with PCIe Gen5 interface
Avnet Abacus Computer/Embedded Technology
Featuring the Intel Agilex 7 I-Series FPGAs, these cards are optimised for applications that are bandwidth intensive and require high-performance processor interfaces.
Read more...
---
Hi-Rel for IIoT applications
Rugged Interconnect Technologies Computer/Embedded Technology
In the increasingly complex world of industrial applications, having industrial-grade solid-state drives (SSDs) with excellent performance and high endurance can ensure stable operation of equipment.
Read more...
---
Compact edge computing system
Altron Arrow Computer/Embedded Technology
The Boxer-8621AI is equipped with the superior edge computing performance of the NVIDIA Jetson Orin Nano, to provide the power to execute all AI applications.
Read more...
---
Linux SD-WAN appliance
NuVision Electronics Computer/Embedded Technology
With its powerful quad-core performance and 12 high-speed SERDES lanes, the SoC delivers exceptional processing power for network data management and security.
Read more...
---
Rugged 10-port Gigabit switch
Rugged Interconnect Technologies Computer/Embedded Technology
The fanless µMAXBES combines eight 1 Gigabit (1Gbit) ports with two 10 Gigabit (10 Gbit) fibre ports, and an intuitive web interface for easy configuration.
Read more...
---