printer friendly version
IA-820i with PCIe Gen5 interface
27 September 2023
Computer/Embedded Technology
BittWare has started development on the next-gen PCIe 5.0 + CXL 400G + M.2 SSDs. Featuring the Intel Agilex 7 I-Series FPGAs, these cards are optimised for applications that are bandwidth intensive and require high-performance processor interfaces.
The 2nd-generation Hyperflex architecture provides up to 40% higher performance, or 40% lower total power, compared with Stratix 10 FPGAs. The configurable networking support provides an interface up to 400G for the most demanding bandwidth requirements, providing hard Ethernet media access control, physical coding sublayer, and forward error correction.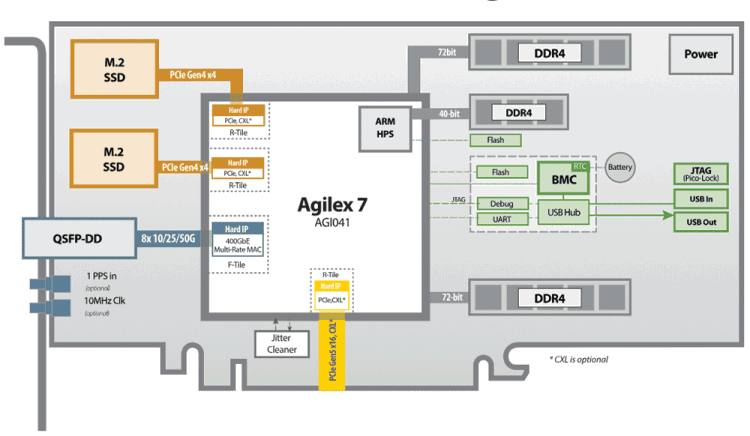 With PCIe Gen5 onboard and Compute Express Link (CXL) support, data transfer speeds are up to 2x faster than Gen4, and high-speed interfaces between CPUs and workload accelerators will be supported. The CXL support enables high-speed, low-latency interfacing to CPUs. These capabilities are of huge interest to developers of PC interconnect, graphics adapters, and chip-level communications.
Credit(s)
Further reading:
Miniature capacitor for automotive applications
Avnet Abacus Passive Components
Murata has released its LLC series of multi-layer ceramic capacitors for automotive applications, that feature a reversed termination for low ESL.
Read more...
---
Powering factory automation into the future
Rugged Interconnect Technologies Computer/Embedded Technology
Powered by the newest 13th Gen Intel processors, ADLINK Technology's COM-HPC-cRLS module is a future-proof edge AI solution.
Read more...
---
Panasonic presents its distribution awards for 2023
Avnet Abacus News
Three award winners were selected recently at Panasonic Industry's European Distribution Conference 2023.
Read more...
---
The challenge of supporting multi-voltage systems
Avnet Abacus Power Electronics / Power Management
Vicor offers several modules for power delivery from 48 V, which include fixed ratio and regulated converter solutions that support both 48 V and 12 V loads.
Read more...
---
Linux OS with immutable file system
Computer/Embedded Technology
What really sets VanillaOS apart from others, however, is in security, where it takes a new approach to computing by using an immutable file system for improved security and stability.
Read more...
---
Rugged laptops support the renewable energy sector
Osiris Technical Systems Computer/Embedded Technology
The Durabook S15AB semi-rugged laptop was recommended due to its military-grade durability, powerful functionality and desktop performance, allowing it to keep pace even for intensive tasks such as asset management and maintenance.
Read more...
---
Memory comparison: DDR4, DDR5, GDDR6 and HBM
Avnet Abacus Computer/Embedded Technology
DDR5 SDRAM was introduced in 2021 and brings many performance enhancements, but just how much faster is it over DDR4? And how does it compare to other memory types like HBM2e and GDDR6?
Read more...
---
Polymer hybrid capacitors
Avnet Abacus Passive Components
ZUU series components feature the highest ripple current handling capability of 6,1 ARMS maximum, which is a 60% increase over the previous series at both 125 and 135°C.
Read more...
---
Industrial networking devices from InHand
Otto Wireless Solutions Computer/Embedded Technology
The InHand routers, edge gateways, and industrial switches are ideal solutions for any scenario in which control of an IIoT Ethernet network is needed.
Read more...
---
Availability of a wireless network
RJ Connect Computer/Embedded Technology
The AWK-3252A Series 3-in-1 industrial wireless AP/bridge/client from Moxa is designed to meet the growing need for faster data transmission speeds through IEEE 802.11ac technology, for aggregated data rates of up to 1,267 Gbps.
Read more...
---