printer friendly version
Corrosion-resistant GRP enclosures
27 September 2023
Enclosures, Racks, Cabinets & Panel Products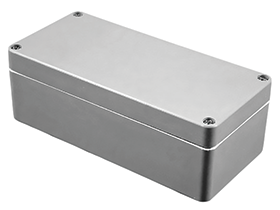 Hammond Manufacturing has a range of glass-reinforced polyester (GRP) enclosures which are both lightweight and corrosion resistant. They are also UV resistant, enabling them to be installed indoors, and in outdoor areas in direct sunlight.
The new black 1590ZGRPBK family offers the same 18 sizes as the well-established and field-proven 1590ZGRP grey family. The design offers better impact resistance, and all sizes have the additional feature of shelves moulded into the base, fitted with threaded inserts to house a PCB or other electrical equipment. The thick-walled design provides good thermal insulation and impact resistance.
The family is designed for use as instrument enclosures, electric, hydraulic or pneumatic control housings, electrical junction boxes, or terminal wiring enclosures. The family of enclosures is ideal for housing equipment that use Wi-Fi, Bluetooth or other non-wired communication technologies, as the antennas can be safely positioned inside the enclosure, without suffering signal attenuation.
Key features of these enclosures are:
• 18 sizes from 81 x 75 x 55 mm to 600 x 250 x 160 mm, including lids.
• Heavy-duty construction with a wall thickness of between 3,7 and 5 mm.
• IP66 sealing.
• Easy to wall mount using through box holes outside the sealing gasket.
• Corrosion resistant.
• Good thermal insulation.
• Optional hinge kits are available for the lids.
Credit(s)
Further reading:
Self-contained micro data centre
Enclosures, Racks, Cabinets & Panel Products
Vertiv has announced the local availability in Africa of the Vertiv SmartCabinet 2, a self-contained micro data centre for edge computing applications.
Read more...
---
Sealed tantalum capacitors
Electrocomp Passive Components
With an operating temperature range of -55 to 125°C, with voltage derating, these capacitors have been designed especially for avionics and aerospace applications.
Read more...
---
Analogue front end for sensor measurements
Electrocomp Analogue, Mixed Signal, LSI
The NJU9103 AFE from Nisshinbo is a tiny analogue front end, with a 16-bit resolution ADC and up to 512 x signal amplification from the programmable gain amplifier.
Read more...
---
New series of chip-type capacitors
Electrocomp Passive Components
Panasonic Industries' SMT capacitor series all benefit from the longest lifetime plus the lowest ESR values currently available.
Read more...
---
SMD coupled inductors
Electrocomp Passive Components
TDK Corporation has expanded its family of flat wire inductors with the high-performance EPCOS ERUC23 coupled inductor series.
Read more...
---
Robust case for sensitive electronics
Actum Electronics Enclosures, Racks, Cabinets & Panel Products
nVent Electric plc announced a new addition to its SCHROFF portfolio of products: a robust case family designed especially for protecting sensitive electronics in harsh environmental conditions.
Read more...
---
Electronic enclosures customisation
Communica Enclosures, Racks, Cabinets & Panel Products
Modifying an enclosure in-house can be tedious and difficult to achieve, and detracts from the main core of your business, which is why Hammond offers the service.
Read more...
---
ETA powder-coating process
Elen Enclosures Enclosures, Racks, Cabinets & Panel Products
The E DUP (double layer protection) treatment includes a first layer of paint using cathode electrophoresis with epoxy resin, and a topcoat of epoxy-polyester thermosetting powder.
Read more...
---
Millimetre-accurate ultrasonic ToF sensor
Electrocomp Telecoms, Datacoms, Wireless, IoT
InvenSense's SmartSonic family of ultrasonic ToF sensors integrate a MEMS piezoelectric micromachined ultrasonic transducer with an ultra-low power SoC in a miniature reflowable package.
Read more...
---
NTC thermistors for laser diode temperature measurement
Electrocomp Opto-Electronics
These bondable NTC thermistors can be mounted with Au wire bonding inside the package for highly accurate temperature detection of laser diodes used for optical communication.
Read more...
---