printer friendly version
Trace electric cables in structures
27 September 2023
Test & Measurement
Fluke has launched two new wire tracers that simplify the process of tracing and troubleshooting of energised and de-energised wires in residential, commercial and industrial environments with a safety rating of CAT IV 600 V.
The Fluke 2052 Advanced Wire Tracer and 2062 Advanced Pro Wire Tracer kits consist of two essential pieces of equipment – receiver and transmitter. Both kits also include the i400 AC current clamp accessory for safely inducing a tracing signal on cables without contact to live wires. Also included in the kits are test leads, alligator clips, outlet adaptors, magnetic hanger and batteries.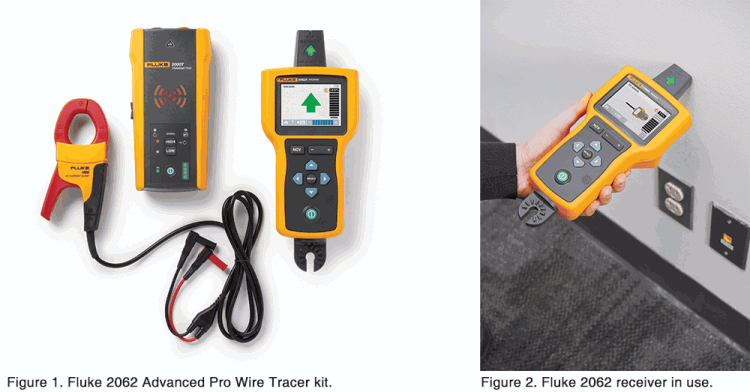 Both kits, which work by detecting signals transmitted via an electromagnetic field rather than locating metal parts or voltage, deliver superior accuracy and safety levels for electricians and technicians who need to locate electric cables quickly in walls, ceilings and floors, find out if there are any opens or shorts, or identify breakers and fuses. The devices can also be used to trace non-metallic pipes and conduits, and low-voltage wires and data cables.
The new Advanced Wire Tracers use two methods to detect the signal in wires and cables: passive tracing without a transmitter for non-contact voltage detection, and active tracing with the Fluke 2000T transmitter for all other modes. The transmitter automatically senses whether the system is energised or de-energised, and accordingly selects a 6,25 kHz or 32,768 kHz output signal frequency.
The Fluke 2062 Pro Wire Tracer features a patented Smart Sensor, which identifies the orientation of located energised wires and displays the information on a 3,5-inch TFT LCD colour display.
Credit(s)
Further reading:
Webinar: The key to smart occupancy
Test & Measurement
This one-hour session will allow the attendee to discover the company's latest infrared sensor with high-sensitivity presence and motion detection capabilities.
Read more...
---
Portable 100 MHz digital oscilloscope
Vepac Electronics Test & Measurement
The PeakTech P1331 is a powerful 100 MHz four-channel portable digital oscilloscope that is ideal for mobile use on a laptop, or for permanent installation in control cabinets.
Read more...
---
OTDR evaluates 20 000 km of submarine cables
Coral-i Solutions Test & Measurement
The MW90010B from Anritsu can evaluate up to 20 000 km of submarine cable, and has an easily selectable wavelength that covers the full C-band.
Read more...
---
Laser shaft alignment tool
Comtest Test & Measurement
The Fluke 831 lets technicians and engineers easily verify shaft alignment, with an intuitive guided user interface that enables quick and complete shaft alignment without advanced training or complicated programs.
Read more...
---
Colour and contrast sensors
Test & Measurement
Detection of colours by a sensor is performed using different approaches, with various types of vision systems and sensors that detect colour and contrast being used, depending on what the outcome needs to be.
Read more...
---
Graphical source measure unit
Conical Technologies Test & Measurement
The IT2800 Series from ITECH are compact and cost-effective bench-top source measure units with the capability to source and measure both voltage and current.
Read more...
---
Sensor board with Doppler shift technology
Dizzy Enterprises Test & Measurement
MIKROE has introduced a new motion sensor Click board, to support the development of intrusion alarms, automatic door openers, and other presence-sensing applications.
Read more...
---
Indoor air-quality monitor
RS South Africa Test & Measurement
Manufactured by ebm-papst, the new indoor air-quality (IAQ) monitor constantly assesses five key factors that can affect people's health, including particulate matter (PM2.5), carbon dioxide (CO
2
), volatile organic compounds (TVOC), temperature, and humidity.
Read more...
---
Temperature monitoring in the metal casting process
Instrotech Test & Measurement
Due to the spectral range and continuous temperature measuring range from 900 to 2450°C, the Optris PI 05M is especially suitable for the temperature measurement of molten metals.
Read more...
---
The importance of interference hunting in 5G network deployment and operation
Lambda Test Editor's Choice Test & Measurement
Identifying the source of interference signals within mobile network deployments and operations, and then mitigating or completely removing them, is an expensive and time-consuming task.
Read more...
---