printer friendly version
MicroBRICK DC-DC regulator
27 September 2023
DSP, Micros & Memory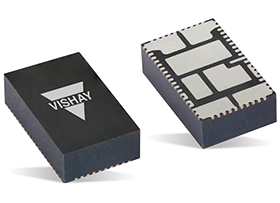 Vishay's new microBRICK DC-DC regulator is is designed for rapid application and cool operation. The new 6, 20 and 25 A synchronous buck regulator modules deliver increased power density and efficiency for point of load (PoL) converters.
The modules are available in a 10,6 x 6,5 x 3 mm package, making them the smallest DC-DC regulators currently on the market. The SiC931, SiC951 feature an input voltage range of 4,5 to 20 V, while the SiC967 features a wider input voltage range of 4,5 to 60 V.
Output voltage and current ranges are 0,6 to 5,5 V @ 20 A for the SiC931, 0,3 to 5,5 V @ 25 A for the SiC951, and 0,8 to 15 V @ 6 A for the SiC967.
Credit(s)
Further reading:
Wireless MCU with 15 years of battery life
Altron Arrow DSP, Micros & Memory
ST has integrated an industry-unique ultra-low-power radio which the MCU can power-down to save energy while listening continuously for a wake-up signal.
Read more...
---
High precision MEMS nano pressure sensor
Avnet Silica DSP, Micros & Memory
The LPS22DF from STMicroelectronics is an ultracompact, piezoresistive, absolute pressure sensor that functions as a digital output barometer.
Read more...
---
High bandwidth current-sense amplifier
Altron Arrow DSP, Micros & Memory
The AD8410A from Analog Devices is a high voltage, high-bandwidth current-sense amplifier which features an initial gain of 20 V/V.
Read more...
---
Microcontroller with Bluetooth LE 5.3
Altron Arrow News
The STM32WBA 32-bit Wireless series from STMicroelectronics brings designers the performance, efficiency, and security required for Bluetooth Low Energy 5.3-enabled applications. The STM32WBA offers essential 
...
Read more...
---
Comprehensive AI computing solution
Altron Arrow News
Powered by the NVIDIA Jetson AGX Orin, the BOXER-8640AI fanless Box PC from AAEON Technology brings AI capabilities to the edge. The NVIDIA Jetson AGX Orin's Ampere architecture boasts 1792 CUDA and 56 
...
Read more...
---
Isolated solid state relay
Altron Arrow Passive Components
The ISO808, ISO808-1 (PowerSO-36) and ISO808Q, ISO808Q-1 (TFQFPN32) are galvanic isolated eight-channel drivers featuring a low supply current.
Read more...
---
The dream of Edge AI
Altron Arrow Editor's Choice AI & ML
AI technology carries a great promise – the idea that machines can make decisions based on the world around them, processing information like a human might. But the promise of AI is currently only being fulfilled by big machines.
Read more...
---
Programmable BLE 5.3 SoC
Altron Arrow Telecoms, Datacoms, Wireless, IoT
The BlueNRG-LPS is an ultra-low power programmable Bluetooth Low Energy wireless SoC solution from STMicroelectronics that embeds the company's state-of-the-art 2.4 GHz radio IP.
Read more...
---
MAX78000 neural network accelerator chip
Altron Arrow AI & ML
The hardware-based convolutional neural network accelerator enables even battery-powered applications to execute AI inferences.
Read more...
---
Save space and improve efficiency with a 4-switch buck-boost controller
Altron Arrow Editor's Choice Telecoms, Datacoms, Wireless, IoT
A new generation of 4-switch buck-boost controllers enables power system design with very high efficiency and high power density by using inductor DC resistance (DCR) current-sensing techniques.
Read more...
---