printer friendly version
Advanced graphite embedding capability for PCB thermal management
25 October 2023 Editor's Choice Manufacturing / Production Technology, Hardware & Services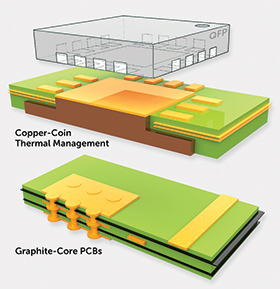 Teledyne Labtech has announced a major new capability allowing the embedding of layers of synthetic graphite within RF and microwave PCBs. This provides weight savings for applications where size, weight, and power (SWaP) are key.
Heat management is a significant concern in many aerospace defence and space applications where SWaP are key attributes. Gallium nitride (GaN) solid state power amplifiers (SSPAs) are examples of increasingly common devices that benefit from careful heat management. This new technique allows efficient conduction of heat away from such devices, saving system weight and increasing their lifetime. Managing waste heat is a significant problem in today's electronic systems, impacting reliability and requiring added expense and weight to control effectively. In the latest consumer mobile phones, it is common to employ sheets of self-adhesive synthetic graphite on top of critical semiconductor devices to conduct waste heat from small areas.
Aerospace, defence, and space applications require more precision, repeatability and area of coverage. To address this, Teledyne Labtech has developed a method of embedding thin layers of synthetic graphite inside the structure of the host PCB reliably, saving size and weight, while increasing the lifetime of active devices by permitting operation at cooler temperatures.
"Synthetic graphite is one quarter the mass of copper, and transfers heat four times more efficiently in the X-Y plane," said John Priday, CTO of Teledyne Labtech. "Replacing PCB ground plane layers with graphite in critical applications such as T/R modules can cause devices to run up to 20°C cooler in our testing."
Labtech has also demonstrated that thermal copper layers can be replaced with the new graphite technique, while experiencing minimal impact on the passage of microwave signals on grounding layers.
For more information contact Conical Technologies, +27 66 231 1900, daniel.haywood@conical.co.za, www.conical.co.za
Credit(s)
Further reading:
Products of the year 2023
Editor's Choice News
A summary of products and technologies from 2023 that are currently shaping the electronic engineering industry.
Read more...
---
DC/DC converters with ultra-wide input range
Conical Technologies Power Electronics / Power Management
The THN 15UIR and THN 20UIR series from Traco are high-performance DC/DC converters with an ultra-wide 12:1 input voltage range and a power output of 15 and 20 W respectively.
Read more...
---
The dream of Edge AI
Altron Arrow Editor's Choice AI & ML
AI technology carries a great promise – the idea that machines can make decisions based on the world around them, processing information like a human might. But the promise of AI is currently only being fulfilled by big machines.
Read more...
---
Save space and improve efficiency with a 4-switch buck-boost controller
Altron Arrow Editor's Choice Telecoms, Datacoms, Wireless, IoT
A new generation of 4-switch buck-boost controllers enables power system design with very high efficiency and high power density by using inductor DC resistance (DCR) current-sensing techniques.
Read more...
---
Matter 1.2 adds new capabilities
NuVision Electronics Editor's Choice Telecoms, Datacoms, Wireless, IoT
This update introduces new device types and expands the reach of Matter into new markets, while also bringing other improvements that enhance interoperability and user experience.
Read more...
---
Personality Profile: Paul Eveleigh
Hiconnex Editor's Choice
With a strong and experienced team behind him, he can put into practice what he has learned during his career and ultimately grow the company towards its strategic objectives.
Read more...
---
FPGAs speed up intelligent edge designs
ASIC Design Services Editor's Choice DSP, Micros & Memory
Microchip Technology has added nine new technology- and application-specific solution stacks to its growing collection of mid-range FPGA and SoC support.
Read more...
---
Raspberry Pi 5 announced
RS Components SA Editor's Choice DSP, Micros & Memory
The R-Pi 5 comes with new features and is over twice as fast as its predecessor, the R-Pi 4, thanks to an upgrade to the main processor.
Read more...
---
Dead-reckoning GNSS module
Altron Arrow Editor's Choice Telecoms, Datacoms, Wireless, IoT
STMicroelectronics' Teseo-VIC3D module is an easy-to-use dead-reckoning global navigation satellite system (GNSS) standalone module, embedding TeseoIII single-die standalone positioning receiver IC.
Read more...
---
Quantum leap in battery technology
Editor's Choice Power Electronics / Power Management
A German start-up has developed a solid-state battery ready for series production with outstanding properties: no cobalt, ten times longer service life, and non-flammable electrolyte.
Read more...
---