printer friendly version
The challenge of supporting multi-voltage systems
25 October 2023
Power Electronics / Power Management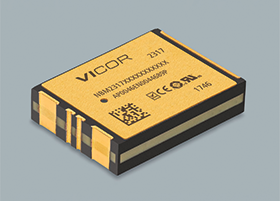 To get to market faster, OEMs continue to use legacy 12 V systems in certain applications.
However, these 12 V systems must work on an xEV's 48 V power delivery network. The challenge of combining 48 V and 12 V systems is further complicated by the considerable increase in overall power required by xEVs, which is up to 20x the electric power of internal combustion engine vehicles. That 20x increase requires a new approach to efficiently distribute power to both 48 V and legacy 12 V systems.
Providing increased power at 48 V with a growing number of loads requires high-density modules instead of larger and bulkier discrete solutions. Vicor offers several modules for power delivery from 48 V. These devices include fixed ratio and regulated converter solutions that support both 48 V and 12 V loads.
These converters can be contained in a single housing or be deployed throughout the vehicle, leveraging a smaller and lighter 48 V power distribution network.
Vicor's DCM modules provide a 12 V regulated output from a 35 to 58 V input, with an overall power rating of 2 kW. The PRM modules provide a 48 to 48 V regulated conversion, with a power rating up to 2,5 kW. Finally, the NBM modules provide either 48 V to 12 V or 12 to 48 V bidirectional, fixed ratio conversion.
Credit(s)
Further reading:
Converter for industrial control applications
Vepac Electronics Power Electronics / Power Management
MORNSUN has launched a 500 W wide-input DC/DC converter series to meet the increasing demand for high-power supply in industrial control applications.
Read more...
---
Power modules enable 15% weight reduction in race cars
Future Electronics Power Electronics / Power Management
Chosen for their small and lightweight characteristics, the Vicor modules efficiently step down the high-voltage accumulator's power from 400 – 600 V to 27 – 38 V.
Read more...
---
High-precision coreless current sensor
RS South Africa Power Electronics / Power Management
The Infineon XENSIV TLE4971 is a new automotive-qualified pre-programmed 120 A sensor without the saturation or hysteresis effects.
Read more...
---
Insights into design challenges for vehicle electrification
Power Electronics / Power Management
Mouser Electronics has launched a new eBook in collaboration with NXP Semiconductors, which pushes boundaries in the automotive, industrial and IoT, mobile, and communication infrastructure markets.
Read more...
---
Power charger reference design
Power Electronics / Power Management
Infineon has released a reference design for an 84 W AC-DC battery charger, with a 110/230 V AC rated input and constant current output of up to 4 A.
Read more...
---
Miniature capacitor for automotive applications
Avnet Abacus Passive Components
Murata has released its LLC series of multi-layer ceramic capacitors for automotive applications, that feature a reversed termination for low ESL.
Read more...
---
DC/DC converters with ultra-wide input range
Conical Technologies Power Electronics / Power Management
The THN 15UIR and THN 20UIR series from Traco are high-performance DC/DC converters with an ultra-wide 12:1 input voltage range and a power output of 15 and 20 W respectively.
Read more...
---
EMC filter for enclosed power supply series
Vepac Electronics Power Electronics / Power Management
These EMC filters, based on the second-order filtering scheme, mitigate performance to CM/DM interference up to 60 dB, which can effectively suppress interference.
Read more...
---
Ultra-low noise, ultra-high PSRR µModule regulator
Altron Arrow Power Electronics / Power Management
Analog Devices' LTM8080 is an ultra-low noise dual output DC/DC µModule regulator that operates from up to 40 V at the input.
Read more...
---
Panasonic presents its distribution awards for 2023
Avnet Abacus News
Three award winners were selected recently at Panasonic Industry's European Distribution Conference 2023.
Read more...
---