printer friendly version
Linux OS with immutable file system
25 October 2023
Computer/Embedded Technology
For those engineers and technicians who prefer a vanilla Linux operating system instead of the more common Windows OS, then a new kid on the block may pique your interest.
Known as VanillaOS (yes, really), this OS promises a lot in terms of security.
Although based on Ubuntu, it does not use any of the niceties making up the Ubuntu experience: the Ubuntu Dock, the Yaru theme and other modifications are all missing. Instead, the default plain Gnome desktop environment is present.
What really sets this project apart from others, however, is in the security stakes. This OS takes a new approach to computing by using an immutable file system. For installations and updates, this system does not use the standard apt package manager. Instead, a new package manager and subsystem has been developed called apx.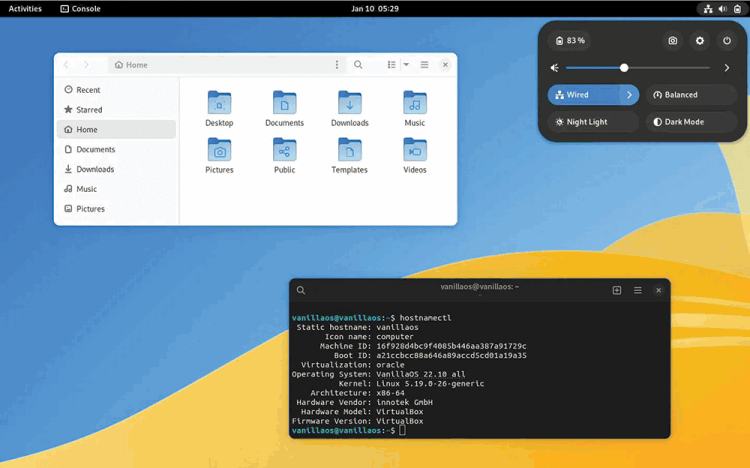 This new subsystem is a wrapper around multiple package managers, which allows one to run commands inside a managed container for security. The benefit of this is that any apps being installed cannot change or affect the core system packages in a bid to improve security, reliability and stability.
OS updates are also handled differently using a custom-written software technology called ABRoot. VanillaOS uses transactions between two root file systems. When a new package is installed, ABRoot will check
which partition is the present root partition (let's say A) and then mount an overlay on top of the partition A and perform the transaction. If the transaction succeeds, the overlay will be merged with the future root partition (B).
On the next boot, the system will automatically use the new root partition unless there is a boot failure. In that case, the overlay will be discarded and the system will boot normally, without any changes to either partition.
Updates have also been made to behave smarter. Instead of installing in the background, regardless of what the machine is doing, VanillaOS updates are installed only if the device is not under load or not running on low battery. If it is, the machine then waits for a reboot to perform the install.
For more information visit www.vanillaos.org
Further reading:
Powering factory automation into the future
Rugged Interconnect Technologies Computer/Embedded Technology
Powered by the newest 13th Gen Intel processors, ADLINK Technology's COM-HPC-cRLS module is a future-proof edge AI solution.
Read more...
---
Rugged laptops support the renewable energy sector
Osiris Technical Systems Computer/Embedded Technology
The Durabook S15AB semi-rugged laptop was recommended due to its military-grade durability, powerful functionality and desktop performance, allowing it to keep pace even for intensive tasks such as asset management and maintenance.
Read more...
---
Memory comparison: DDR4, DDR5, GDDR6 and HBM
Avnet Abacus Computer/Embedded Technology
DDR5 SDRAM was introduced in 2021 and brings many performance enhancements, but just how much faster is it over DDR4? And how does it compare to other memory types like HBM2e and GDDR6?
Read more...
---
Industrial networking devices from InHand
Otto Wireless Solutions Computer/Embedded Technology
The InHand routers, edge gateways, and industrial switches are ideal solutions for any scenario in which control of an IIoT Ethernet network is needed.
Read more...
---
Availability of a wireless network
RJ Connect Computer/Embedded Technology
The AWK-3252A Series 3-in-1 industrial wireless AP/bridge/client from Moxa is designed to meet the growing need for faster data transmission speeds through IEEE 802.11ac technology, for aggregated data rates of up to 1,267 Gbps.
Read more...
---
IA-820i with PCIe Gen5 interface
Avnet Abacus Computer/Embedded Technology
Featuring the Intel Agilex 7 I-Series FPGAs, these cards are optimised for applications that are bandwidth intensive and require high-performance processor interfaces.
Read more...
---
Hi-Rel for IIoT applications
Rugged Interconnect Technologies Computer/Embedded Technology
In the increasingly complex world of industrial applications, having industrial-grade solid-state drives (SSDs) with excellent performance and high endurance can ensure stable operation of equipment.
Read more...
---
Compact edge computing system
Altron Arrow Computer/Embedded Technology
The Boxer-8621AI is equipped with the superior edge computing performance of the NVIDIA Jetson Orin Nano, to provide the power to execute all AI applications.
Read more...
---
Linux SD-WAN appliance
NuVision Electronics Computer/Embedded Technology
With its powerful quad-core performance and 12 high-speed SERDES lanes, the SoC delivers exceptional processing power for network data management and security.
Read more...
---
Rugged 10-port Gigabit switch
Rugged Interconnect Technologies Computer/Embedded Technology
The fanless µMAXBES combines eight 1 Gigabit (1Gbit) ports with two 10 Gigabit (10 Gbit) fibre ports, and an intuitive web interface for easy configuration.
Read more...
---