printer friendly version
Dual-band Wi-Fi 6 and Bluetooth 5.3 module
25 October 2023
Telecoms, Datacoms, Wireless, IoT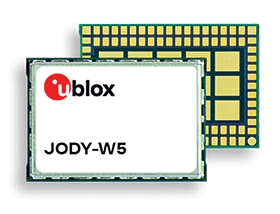 u-blox has announced the u-blox JODY-W5, its newest module tailored for the automotive market. With its dual-band Wi-Fi 6 and dual-mode Bluetooth 5.3 technologies, including LE Audio, the module is ideal for preventing wireless network congestion in the car, and for delivering enhanced audio functionalities.
The new module is available in two operating temperature variants, withstanding up to 85°C or 105°C – meeting automotive grade 2 requirements. In addition, it provides an LTE-coexistence filter and various antenna configurations. Its pin compatibility with other u-blox JODY modules eases migration, enabling flexibility in design and upgradability, while saving time and cost.
The u-blox JODY-W5 supports a wide range of use cases, such as helmet-to-helmet communication for two-wheel vehicles, EV charging solutions like link/device configuration and data charging via an access point, telematics control and head units such as diagnostics and software updates, and infotainment with rear-seat entertainment connectivity, smartphone tethering, and hands-free calling.
For more information contact RF Design, +27 21 555 8400, andrew@rfdesign.co.za, www.rfdesign.co.za
Credit(s)
Further reading:
Multi-operator cellular coverage solution
Telecoms, Datacoms, Wireless, IoT
Nextivity has expanded its award-winning CEL-FI product family with the CEL-FI GO G43, which complements the existing GO G41 cellular coverage solution.
Read more...
---
Wi-Fi 6/6E module for industrial applications
RF Design Telecoms, Datacoms, Wireless, IoT
The u-blox MAYA-W3 brings the benefits of Wi-Fi 6 and the 6 GHz band to industrial applications, preventing network congestion and ensuring power efficiency.
Read more...
---
Toolkit for services with differentiated 5G connectivity
Telecoms, Datacoms, Wireless, IoT
Ericsson has launched a new software toolkit to strengthen 5G Standalone network capabilities, and enable premium services with differentiated connectivity.
Read more...
---
Wideband GNSS testing system
RF Design News
The LabSat 3 Wideband Solution is a GNSS testing system with support for recording and replay in the upper
L-Band (1559-1610 MHz)
and lower
L-Band (1164-1300 MHz).
It has three RF channels, a recording 
...
Read more...
---
Device identification's critical role in IoT protection
Avnet Silica Telecoms, Datacoms, Wireless, IoT
Each IoT device must have a unique identifier assigned during manufacturing or provisioning which serves as the anchor for device identification, authentication, and communication.
Read more...
---
Programmable BLE 5.3 SoC
Altron Arrow Telecoms, Datacoms, Wireless, IoT
The BlueNRG-LPS is an ultra-low power programmable Bluetooth Low Energy wireless SoC solution from STMicroelectronics that embeds the company's state-of-the-art 2.4 GHz radio IP.
Read more...
---
RF switch modules
RFiber Solutions Telecoms, Datacoms, Wireless, IoT
New switch modules from Withwave are available in various configurations including SP4T, SP10T, and as a 4-port matrix switch.
Read more...
---
Improved cellular access in remote areas
Telecoms, Datacoms, Wireless, IoT
Nextivity has released its CEL-FI ROAM R41 plug-and-play cellular coverage solution that ensures cellular access for people in remote areas.
Read more...
---
Making Matter provisioning secure and easy
EBV Electrolink Telecoms, Datacoms, Wireless, IoT
Integrated solution of CommScope's PKIWorks platform with STMicroelectronics' STM32WB wireless microcontroller enables IoT security for Matter device development.
Read more...
---
Bringing performance and security to BLE applications
Future Electronics Telecoms, Datacoms, Wireless, IoT
STMicroelectronics' STM32WBA 32-bit wireless series brings designers the performance, efficiency, and security required for Bluetooth Low Energy 5.3-enabled applications.
Read more...
---