printer friendly version
32-bit MCU with embedded security
25 October 2023
DSP, Micros & Memory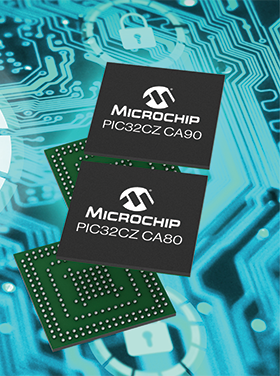 As security threats evolve and become more sophisticated, applications engineers need to consider implementing security functionality into their devices during the development process. To aid this process Microchip Technology has announced a new family of PIC32CZ CA 32-bit microcontrollers with a 300 MHz Arm Cortex-M7 processor, an integrated Hardware Security Module (HSM), and a wide range of connectivity and Flash memory options for added flexibility.
The HSM in the PIC32CZ CA90 is a monolithic solution that provides advanced security for industrial and consumer applications. The HSM operates as a secure subsystem with a separate MCU on board that runs the firmware, and security features including hardware secure boot, key storage, cryptographic acceleration, and true random number generator.
For products that require added security, factory provisioning is available on the PIC32CZ CA90 which, upon completion, provides customers with pre-provisioned devices ready to be deployed.
Credit(s)
Further reading:
Power modules enable 15% weight reduction in race cars
Future Electronics Power Electronics / Power Management
Chosen for their small and lightweight characteristics, the Vicor modules efficiently step down the high-voltage accumulator's power from 400 – 600 V to 27 – 38 V.
Read more...
---
Long-range passive infrared motion sensor
Future Electronics Passive Components
Panasonic Industry (PaPIRs) recently introduced he world's most compact long-range passive infrared motion sensor, for installation heights of up to 15 metres.
Read more...
---
Wireless MCU with 15 years of battery life
Altron Arrow DSP, Micros & Memory
ST has integrated an industry-unique ultra-low-power radio which the MCU can power-down to save energy while listening continuously for a wake-up signal.
Read more...
---
High precision MEMS nano pressure sensor
Avnet Silica DSP, Micros & Memory
The LPS22DF from STMicroelectronics is an ultracompact, piezoresistive, absolute pressure sensor that functions as a digital output barometer.
Read more...
---
High bandwidth current-sense amplifier
Altron Arrow DSP, Micros & Memory
The AD8410A from Analog Devices is a high voltage, high-bandwidth current-sense amplifier which features an initial gain of 20 V/V.
Read more...
---
Bringing performance and security to BLE applications
Future Electronics Telecoms, Datacoms, Wireless, IoT
STMicroelectronics' STM32WBA 32-bit wireless series brings designers the performance, efficiency, and security required for Bluetooth Low Energy 5.3-enabled applications.
Read more...
---
Double metallised polypropylene capacitors
Future Electronics Passive Components
The Electrocube 985B series offers high-frequency operation, high current and low ESR in a miniature package.
Read more...
---
Build the next generation IoT device
Altron Arrow DSP, Micros & Memory
The STM32H573I-DK Discovery kit is a complete demonstration and development platform for the STM32H573IIK3Q microcontroller, featuring an Arm Cortex-M33 core with Arm TrustZone.
Read more...
---
MPLAB PICkit 5
ASIC Design Services DSP, Micros & Memory
Microchip Technology's MPLAB PICkit 5 in-circuit debugger/programmer enables quick prototyping and portable, production-ready programming for all Microchip components, including PIC, dsPIC, AVR, and SAM devices.
Read more...
---
FPGAs speed up intelligent edge designs
ASIC Design Services Editor's Choice DSP, Micros & Memory
Microchip Technology has added nine new technology- and application-specific solution stacks to its growing collection of mid-range FPGA and SoC support.
Read more...
---