printer friendly version
Samtec updates SI/PI resources
25 October 2023
News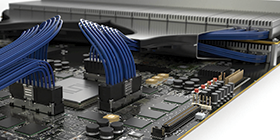 Samtec has a global team of SI/PI experts who are crucial for helping Samtec design, test and manufacture the latest solutions for a new era in high-speed connectivity with 224 Gbps PAM4 performance. Additionally, Samtec's SI/PI engineers provide critical tech support to customers around the world. They advocate the ideal interconnect solution for any specific application and required performance.
The newly updated Signal Integrity Center of Excellence features several solutions helpful to both newly graduated and experienced engineers. All necessary design support – whether engineer-to-engineer consulting, online design tools, technical data, testing platforms, or 3D SI models – are at the customer's fingertips.
Samtec offers a comprehensive set of interconnect evaluation and development tools to simplify the design process and reduce time to market for both hobbyists and professional engineers. The company's PI and thermal engineers offer complete support for testing, evaluating and optimising thermal and power considerations of a system design.
To access the Signal Integrity landing page, visit www.samtec.com/s2s/signal-integrity-group
Further reading:
Africa Online Safety Fund announces grant winners
News
The Africa Online Safety Fund (AOSF) has announced the winners of this year's grants, among them five organisations operating in South Africa.
Read more...
---
RF antenna solutions for IoT devices
News
Mouser Electronics and Amphenol RF have teamed up for a brand-new webinar titled 'RF antenna solutions for IoT devices and smart technology'.
Read more...
---
Wideband GNSS testing system
RF Design News
The LabSat 3 Wideband Solution is a GNSS testing system with support for recording and replay in the upper
L-Band (1559-1610 MHz)
and lower
L-Band (1164-1300 MHz).
It has three RF channels, a recording 
...
Read more...
---
New generation of 5G modules
Quectel Wireless Solutions News
Quectel Wireless Solutions announced the launch of its latest generation 5G New Radio (NR) module series, the RG650E and RG650V, both of which follow the 3GPP Release 17 standard. These industrial-grade 
...
Read more...
---
Microcontroller with Bluetooth LE 5.3
Altron Arrow News
The STM32WBA 32-bit Wireless series from STMicroelectronics brings designers the performance, efficiency, and security required for Bluetooth Low Energy 5.3-enabled applications. The STM32WBA offers essential 
...
Read more...
---
Configurable industrial AI computing
Brandwagon Distribution News
The Tensor-I22 IS from Brandwagon is the second generation in the company's innovative industrial computer line, Tensor. The fanless industrial PC can be customised with a choice of CPU, memory, storage 
...
Read more...
---
Comprehensive AI computing solution
Altron Arrow News
Powered by the NVIDIA Jetson AGX Orin, the BOXER-8640AI fanless Box PC from AAEON Technology brings AI capabilities to the edge. The NVIDIA Jetson AGX Orin's Ampere architecture boasts 1792 CUDA and 56 
...
Read more...
---
Pure carbide GaN-on-SiC power amplifier
RFiber Solutions News
MACOM announced an expansion to its power amplifier product portfolio with the MAPC-A1605 7,0 kW power amplifier. This device is suitable for high-power and high-voltage aerospace and defence applications, 
...
Read more...
---
Connectors with extreme density and performance
Spectrum Concepts News
Samtec's family of board-to-board and cable assemblies feature extreme density with up to 1000 total I/Os on a 0,635 mm pitch, while still providing incredible 112 Gbps PAM4 performance. The AcceleRate 
...
Read more...
---
Power efficient mid-range FPGA
ASIC Design Services News
The new imperatives of the intelligent edge – power efficiency, security and reliability – are forcing system architects and design engineers to find new solutions. For the growing number of system designers 
...
Read more...
---