NORCO, an associate member of the Intel Intelligent Systems Alliance, released a series of new solutions based on the 3rd generation Intel Core processor family and Intel Q77 Express chipset. These solutions are targeted at industrial and embedded applications in digital signage, retail, transportation and industrial automation systems.
Based on an innovative tri-gate transistor design and 22 nm process technology, the 3rd-generation Intel Core processor architecture offers an integrated graphics engine with improved performance, along with high-speed data I/O for enhanced real-time applications.
The so-called Ivy Bridge architecture also supports USB 3.0 when paired with the Intel 7 series chipset family to increase maximum I/O data rates from the current 480 Mbps to 5 Gbps.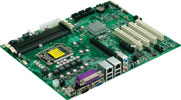 The processor family includes a number of enhanced performance features that are ideal for rugged, industrial applications supporting high-speed, high-definition image analysis and multiple video displays. For example, the newly integrated Intel HD4000 graphics core performs up to 50% better than its predecessors and can control up to three independent displays simultaneously.

Intel Quick Sync video technology uses dedicated hardware on the processor instead of software to accelerate media processing functions such as video encode, decode and transcode operations. In addition, Intel Clear Video HD technology integrates multiple hardware and software image processing technologies to enable jitter-free, 1080p playback with enhanced colour fidelity.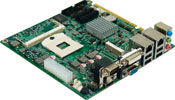 The Ivy Bridge graphics core also supports Intel Turbo Boost technology, allowing clock frequencies to scale up temporarily to handle intense workloads. For enhanced security, the architecture includes a hardware-based random number generator for higher-performance encryption to provide protection against malware attacks.
Currently NORCO's low-power product series based on Intel's Ivy Bridge includes Model SHB-960, ATX-6931, POS-7933, MITX-6922 and FW-1109/2108.
For more information visit www.norco-group.com