ERNI's Power Tap is designed to bring power to printed circuit board applications. It allows for wire-to-board connections with common terminals, and is available in several sizes with 2,54 mm pin spacing.

The parts are supplied in 6-pin and 10-pin dual-inline packages with either solder or press-fit pins, and a choice of screw-mount and angled slip-on terminals. The operating current is determined by characteristics of the PCB and the cable termination.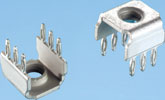 The power supply cable can be connected with a screw-mount terminal accommodating M3, M4, 6-32UNC or 8-32UNC screws. Slip-on terminals are designed for two terminal sizes: 6,3 x 0,8 mm or 2,8 x 0,8 mm, per DIN 46244.