Green Cubed Energy has released a new range of power supplies for the security industry.
The 28350 is a 13,8 V d.c. 7 A power supply with a 7 Ah 12 V battery included. The unit measures 170 x 175 x 70 mm and comes in an anodised finish. It offers voltage adjustment between 11 and 14,4 V d.c. and incorporates a fast battery charger. Battery protection is provided by a low-voltage cutout at approximately 10 V d.c; the unit will charge the battery again when the power returns.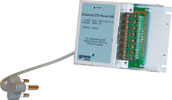 The 29100 is an 8-channel CCTV power supply that also supplies 13,8 V d.c. at 7 A. Individual connections are available and indication is provided for each channel. Short circuit and thermal protection are standard.
For more information contact Jan Heijnen, Green Cubed Energy, +27 (0)11 848 1100.