printer friendly version
Cellular transmitter and receiver
20 February 2013
Telecoms, Datacoms, Wireless, IoT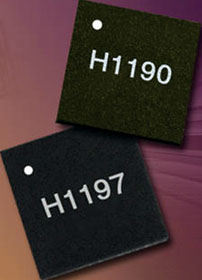 Hittite has released a new receiver (Rx) and transmitter (Tx) radio frequency integrated circuit (RFIC) chipset which is ideal for frequency conversion applications in wireless infrastructure equipment such as base transceiver stations, remote radio units, small cells and repeaters from 700 to 3500 MHz.
The HMC1190LP6GE is a high-linearity, dual-channel down-converter with integrated PLL/VCO which is designed specifically for multi-standard receiver applications that require a compact and low-power solution.
The device delivers 8 dB conversion gain, with IP3 and input P1dB performance of +24 dBm and +11 dBm respectively. In support of high-IF receivers and antenna diversity architectures, 2 x 2 spurious products are typically below -70 dBc.
The chip's RF and LO inputs are single-ended while an enable/disable pin makes it possible to reduce power consumption dynamically as conditions allow. Balanced high-linearity passive mixer cores combined with high-linearity IF amplifiers deliver excellent LO-to-RF, LO-to-IF and RF-to-IF isolation.
For transmit applications, the HMC1197LP7FE is a low-noise, high-linearity direct quadrature modulator with integrated fractional-N PLL/VCO which is rated for operation from 100 to 4000 MHz. This wideband transmitter solution delivers output IP3 of +30 dBm, with up to +10,5 dBm of output power and a very low noise floor of -160 dBm/Hz.
The single-ended RF output port is matched to 50 Ω with no external components while the auxiliary LO output enables the IC to distribute identical frequency and phase signals to multiple destinations within the transmitter or receiver.
An integrated programmable bandwidth low pass filter (LPF) in the LO path ensures little or no LO contribution to modulator sideband rejection. Sixteen programmable LPF bands enable true wideband operation and allow agile LO frequency filtering for different band plans during and after deployment.
Both the HMC1190LP6GE and HMC1197LP7FE incorporate a feature-rich PLL and wideband VCO. The PLL features a very low figure of merit (FOM) of -230 dBm/Hz in integer mode, while the internal VCO section can generate frequencies from 50 to 4100 MHz.
The integrated phase detector and delta-sigma modulator within the devices are capable of operating at up to 100 MHz, permitting wider loop-bandwidths with excellent spectral performance. The PLL/VCOsection can phase adjust and synchronise multiple Hittite Tx and Rx RFICs, enabling scalable MIMO and beam-forming radio architectures.
Additional PLL/VCO features include a configurable output mute function and an exact frequency mode that enables both products to generate fractional frequencies with 0 Hz frequency error and the ability to synchronously change frequencies without changing the phase of the output signal.
For more information contact Andrew Hutton, RF Design, +27 (0)21 555 8400, sales@rfdesign.co.za, www.rfdesign.co.za
Credit(s)
Further reading:
Nordic announces support for Amazon Common Software
25 March 2020, RF Design
Nordic Semiconductor is working with Amazon Common Software (ACS) to help accelerate the development of smart home and other wireless products.
Read more...
---
Bluetooth 5.0 Low Energy module
25 March 2020, Avnet South Africa , Telecoms, Datacoms, Wireless, IoT
An output power of up to +8 dBm and the high sensitivity of the nRF52840, in combination with the LE coded PHY, make the module very attractive for applications that require a long range. The Bluetooth 
...
Read more...
---
Antenna switch with receive limiter
26 February 2020, RFiber Solutions , Telecoms, Datacoms, Wireless, IoT
The MASW-010370, made by Macom Technology Solutions, is a fully integrated 10 W PIN diode antenna switch assembled in a lead-free 3 mm 16-lead PQFN plastic package. This module is designed to handle 10 W 
...
Read more...
---
Wi-Fi 6 modules in automotive grade
25 March 2020, RF Design , Telecoms, Datacoms, Wireless, IoT
u-blox has announced the JODY W3 series, multiradio modules featuring Wi-Fi 6 with 2 x 2 MIMO and dual mode Bluetooth 5.1. Supporting the latest IEEE 802.11ax standard, also known as Wi-Fi 6, JODY W3 
...
Read more...
---
Millimetre-wave waveguide antennas
25 March 2020, RF Design , Telecoms, Datacoms, Wireless, IoT
Pasternack has expanded its offering of mmWave (millimetre-wave) waveguide antennas to address the growing number of 5G and other high-frequency applications. The company's lineup has added 54 new models 
...
Read more...
---
LPWA modules gain security and positioning features
25 March 2020, RF Design , Telecoms, Datacoms, Wireless, IoT
u-blox has extended its SARA R4 family of LTE-M/NB-IoT and EGPRS cellular modules to include variants with the hardware and software features necessary to enable end-to-end security features and services 
...
Read more...
---
Wireless power receiver
25 March 2020, Altron Arrow , Telecoms, Datacoms, Wireless, IoT
The STWLC68 is an integrated wireless power receiver suitable for portable applications and capable of managing up to 5 W of output power. The chip has been designed to support Qi 1.2.4 specifications 
...
Read more...
---
Wireless MCUs with built-in NFC
25 March 2020, Future Electronics , Telecoms, Datacoms, Wireless, IoT
NXP Semiconductors has released the new JN5189 and JN5188 IEEE 802.15.4 wireless microcontrollers (MCUs) that deliver ultra-low power connected intelligence for Zigbee 3.0 and Thread applications. The 
...
Read more...
---
Our 5G world in 2025: what to expect, how to make it happen
26 February 2020, Lambda Test , Telecoms, Datacoms, Wireless, IoT
The complexity of 5G exacerbates known challenges and introduces challenges of a different nature to the network lifecycle approach, while the significance of investment and regulation should not be overlooked either.
Read more...
---
Front end module for RF range extension
26 February 2020, RF Design , Telecoms, Datacoms, Wireless, IoT
The nRF21540 is a 'plug and play' range extender offering enhanced link robustness with an integrated power amplifier (PA)/low noise amplifier (LNA) for use in Nordic Semiconductor's low-power, short-range 
...
Read more...
---