printer friendly version
Tantalum chip capacitors
20 February 2013
Passive Components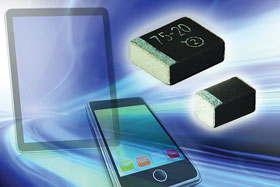 Vishay has introduced a new series of moulded MICROTAN solid tantalum chip capacitors for space-constrained consumer electronics.
TL8 series devices employ a volumetrically efficient packaging solution to enable the industry's highest capacitance-voltage ratings in small case sizes down to 0805 with low profiles from 0,8 to 1,0 mm.
Sprague TL8 capacitors are offered in a variety of compact EIA standard footprints, including the 0805 (2,0 by 1,25 mm), A case (3,2 by 1,60 mm) and B case (3,50 by 2,80 mm). The devices feature high capacitance-voltage ratings from 3,3 μF-35 V to 220 μF-4 V, standard capacitance tolerances of ±10% and ±20%, and an operating temperature range of -55°C to +85°C, or +125°C with voltage derating.
The capacitors' lead-free, L-shaped facedown terminations offer better mechanical and electrical contact to the solder pad than traditional facedown-style terminations. The RoHS-compliant devices are available in 8 mm tape and reel packaging per EIA-481.
For more information contact Marian Ledgerwood, Future Electronics, +27 (0)21 421 8292, marian.ledgerwood@futureelectronics.com, www.futureelectronics.com
Credit(s)
Further reading:
Thick film resistors with wide terminals
26 February 2020, TRX Electronics , Passive Components
High reliability and enhanced terminal strength are essential in power designs. KOA's wide-terminal resistors offer several advantages compared to standard footprints. The 0612 chip size allows a 6 times 
...
Read more...
---
Wireless MCUs with built-in NFC
25 March 2020, Future Electronics , Telecoms, Datacoms, Wireless, IoT
NXP Semiconductors has released the new JN5189 and JN5188 IEEE 802.15.4 wireless microcontrollers (MCUs) that deliver ultra-low power connected intelligence for Zigbee 3.0 and Thread applications. The 
...
Read more...
---
Innovative power capacitor technologies for wide band-gap semiconductors
26 February 2020, Electrocomp , Passive Components
Conventional semiconductors based on silicon are being replaced by wide band-gap (WBG) technologies based on GaN (gallium nitride) and SiC (silicon carbide). These demand a great deal from the passive 
...
Read more...
---
DRAM for memory expansion
26 February 2020, Future Electronics , DSP, Micros & Memory
Cypress Semiconductor's HyperRAM 2.0 is a high-speed, low-pin-count, self-refresh Dynamic RAM (DRAM) for high-performance embedded systems requiring expansion memory. HyperRAM 2.0 offers HyperBus and 
...
Read more...
---
Automotive-compliant power transformers
26 February 2020, Electrocomp , Passive Components
Bourns' inductive components product line is introducing the high clearance/creepage distance isolation power transformer Model HCT Series. These AEC-Q200 compliant high-voltage isolation push-pull transformers 
...
Read more...
---
Halo invests in high-speed data transformers
29 January 2020, ASIC Design Services , Passive Components
Halo Electronics, a leading supplier of Ethernet transformers, has invested in UWB X Limited, a UK based technology company focused on creating a new high-speed transformer technology. As part of Halo's 
...
Read more...
---
LAN transformers with automotive certification
29 January 2020 , Passive Components
Bourns' signal magnetics product line has introduced three new LAN transformers: Model SM91071AL, SM91072AL and SM91073AL. These new products are single-port LAN 10/100 Base-T/isolation transformer modules 
...
Read more...
---
Automotive LED drivers and controllers
29 January 2020, Future Electronics , Opto-Electronics
ON Semiconductor has launched a new family of four devices that facilitate the high levels of performance and innovative functionality that vehicle manufacturers and consumers now expect from automotive 
...
Read more...
---
Selection software for capacitors
29 January 2020, RFiber Solutions , Passive Components
Passive Plus Inc.'s (PPI) brand new Capacitor Application Program (CAP) helps engineers and designers select capacitors according to parameters such as capacitor value and frequency. CAP will provide 
...
Read more...
---
28 GHz bandpass filter for mm-Wave
29 January 2020, RF Design , Passive Components
The B274MB1S from Knowles is a bandpass filter with a passband from 26,5 to 29,5 GHz, ideally suited for 5G mm-Wave applications. It has an insertion loss of less than 3,5 dB and a rejection of 40 dB 
...
Read more...
---