printer friendly version
Noise absorbers reduce SMPS voltage ringing
20 February 2013
Passive Components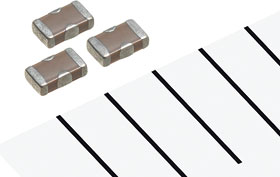 TDK has developed the YNA15 series of noise absorbers in case size 1005 (IEC) to suppress voltage ringing that can be caused by switch-mode power supplies (SMPS).
The new components have a rated voltage of 25 V and a rated capacitance of 0,1 μF. Depending on the type, the YNA15 series features ESR values of between 50 mΩ and 1 Ω. When it is used on the input side of the SMPS, for example, EMI noise caused by voltage ringing can be reduced by 3,5 dB (or approximately by one third).
The YNA15 series thus effectively suppresses voltage ringing without reducing the power efficiency. A further benefit is that it can replace three components: the resistor and capacitor in the snubber circuit and the decoupling capacitor.
Due to their design, SMPS may require capacitors with higher ESR values than offered by standard MLCCs. In order to meet these requirements and to suppress unwanted EMI noise, TDK developed an internal electrode structure that enables the design of noise absorbers with any desired ESR rating. As a result, EMI noise can be suppressed effectively in the frequency range where the voltage ringing occurs.
For more information contact Electrocomp, +27 (0)11 458 9000, andrew@electrocomp.co.za, www.electrocomp.co.za
Credit(s)
Further reading:
Bourns launches new mobile app
25 March 2020, Electrocomp , Design Automation
The new Bourns app is now available free to download for iOS and Android at the Apple App Store and at the Google Play Store. Mobile apps are very popular marketing tools these days with over 50 million 
...
Read more...
---
High-temperature shielded power inductors
29 April 2020 , Passive Components
The Bourns inductive components product line is introducing the Model SRP6030VA and SRP1040VA high-temperature shielded power inductors. These models are built with a new metal alloy powder formulation 
...
Read more...
---
Passive components and subsystems for demanding applications
29 April 2020, Actum Group , Passive Components
Represented locally by Actum Group, Exxelia is a specialised manufacturer of high-quality Hi-Rel passive components and precision subsystems. Exxelia products meet complex specifications and cater for 
...
Read more...
---
Storage choke for audio amplifiers
29 April 2020, Würth Elektronik eiSos , Passive Components
With WE-HIDA, Würth Elektronik offers a storage choke optimised for Class D amplifiers. The high-current inductor is characterised by low core losses, very low DC resistances from 2,5 mΩ to 14,8 mΩ and 
...
Read more...
---
Radio interference suppression choke
29 April 2020, Würth Elektronik eiSos , Passive Components
Würth Elektronik is complementing its AEC-Q200 product group of qualified radio interference suppression chokes with an SMT-mountable model, the WE-RCIS. The rod core choke, available in four versions, 
...
Read more...
---
Bypass capacitor kit for MMIC amplifiers
29 April 2020, RF Design , Passive Components
High-frequency MMIC amplifiers with broadband gain need to be protected from RF noise on the supply lines, particularly RF energy coupled back into the device from its output. Supply noise creates challenges 
...
Read more...
---
Automotive grade aluminium capacitors
29 April 2020, Altron Arrow , Passive Components
Vishay introduced two new series of automotive grade, surface-mount aluminium electrolytic capacitors that combine high voltages up to 450 V with operating temperatures up to +125°C and useful life up 
...
Read more...
---
Electrocomp launches new website
25 March 2020, Electrocomp , News
Electrocomp is inviting visitors to explore its new website, which has been designed to offer a user-friendly experience with improved navigation and functionality while allowing customers to see their 
...
Read more...
---
Elegant and functional handheld enclosures
25 March 2020, Electrocomp , Enclosures, Racks, Cabinets & Panel Products
Hammond Electronics has launched its new 1552 family of handheld enclosures. Initially available in six sizes, the IP54 rated UL94-V0 flame-retardant ABS enclosure features an ergonomic design that fits 
...
Read more...
---
Thick film resistors with wide terminals
26 February 2020, TRX Electronics , Passive Components
High reliability and enhanced terminal strength are essential in power designs. KOA's wide-terminal resistors offer several advantages compared to standard footprints. The 0612 chip size allows a 6 times 
...
Read more...
---