printer friendly version
Rugged 19" transit rack
6 March 2013
Enclosures, Racks, Cabinets & Panel Products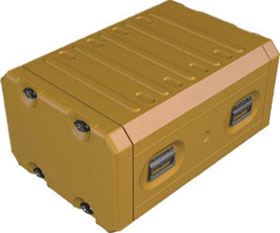 ERACK is a lightweight, 19" ruggedised aluminium electronic transit rack made by CP Cases, specifically designed for commercial and military applications when protection against physical, climatic and electromagnetic hazards are required, and where weight, strength and portability are critical issues.
ERACK benefits from patented new technology. The external container has an innovative folded rim design, which eliminates the edge extrusion and makes the case stronger, lighter and more resistant to ingress by water and dust. The internal chassis frame is supported by special mounts which protect against shock. ERACK is up to 30% lighter than other rack cases in its class, according to its manufacturer.
The system provides access to the front and rear 19" chassis via precision manufactured interchangeable lids. Each lid is secured to the rack body by front mounted quarter turn latches (allowing front and rear access when stacked). Positive location between lids and body is achieved by unique male/female extrusions which incorporate a silicon seal giving all-weather protection to IP66.
ERACK's 19" chassis is constructed from alochromed aluminium alloy, punched with 'burst holes' giving enhanced lightness and rigidity. The chassis is mounted on eight elastomeric mounts, fixed to the outer casing by robust anchor plates, which are focused towards the centre of mass of the case, ensuring the electronic equipment is protected against vibration and impact.
The suspended inner chassis can move up to 50 mm independently of the outer container, and in any direction. An earthing/grounding strap is fitted to maintain conductivity between the equipment and the outer container.
For more information contact Conical Technologies, +27 (0)12 345 1545, info@conical.co.za, www.conical.co.za
Credit(s)
Further reading:
Optional inner panels for IP68/66 plastic enclosures
Electrocomp Enclosures, Racks, Cabinets & Panel Products
Hammond Manufacturing's 1557 family has proved to be very popular since it was launched some two years ago and is increasingly being used as a housing for electromechanical components as well as PCB-mounted 
...
Read more...
---
4-channel programmable attenuator
Conical Technologies Telecoms, Datacoms, Wireless, IoT
Mini-Circuits' RC4DAT-8G-120H is a 4-channel programmable attenuator suitable for a wide range of signal-level control applications from 200 MHz to 8 GHz. Each independently controlled channel provides 
...
Read more...
---
Multi-coax quick-turn microwave connectors
Conical Technologies Interconnection
Chinese RF and microwave connector, cable and adaptor manufacturer, Anoison, announced the release of the latest addition to its selection of RF and microwave products with the release of the PA-5 range 
...
Read more...
---
Thermal management in high-performance RF and microwave PCBs
Conical Technologies Editor's Choice Manufacturing / Production Technology, Hardware & Services
One of the many roles that a PCB has to perform is to channel heat from the underside of semiconductor devices through to the chosen heatsinking scheme as efficiently and effectively as possible.
Read more...
---
Railway certified DC/DC converters
Conical Technologies Power Electronics / Power Management
The THN 30WIR is a series of DC/DC converters designed for the highest reliability in harsh environments. With an output power of 30 W, this series expands Traco Power's portfolio of EN 50155 railway 
...
Read more...
---
No need for custom enclosures thanks to rugged subrack system
Vepac Electronics Enclosures, Racks, Cabinets & Panel Products
The KM6-HD subrack range from Verotec meets the requirements of IEEE 1101.10 and 11, which expand on IEC60297 to add functionality required for modern industrial computing applications. This includes 
...
Read more...
---
New EC centrifugal fans for more power and efficiency
Ebmpapst South Africa Enclosures, Racks, Cabinets & Panel Products
Ventilation and air conditioning fans are constantly being developed, as users' demand for control options and energy efficiency in particular are increasing rapidly. Legal requirements, increasing awareness 
...
Read more...
---
High-current feedthrough filters
Conical Technologies Circuit & System Protection
HPR Series feedthrough filters from NexTek are designed and built to provide rugged EMI filtering for high-current lines, no matter the application details or environmental requirements. These feedthrough 
...
Read more...
---
RF-over-fibre transceiver for C- and X-band
Conical Technologies Telecoms, Datacoms, Wireless, IoT
Emcore has released the latest in its range of RF-over-fibre transceivers covering C-band through to X-Band. The MAKO-X C/X-Band transceiver is designed for high-speed fibre-optic communication applications 
...
Read more...
---
Small rectangular plastic enclosures
Electrocomp Enclosures, Racks, Cabinets & Panel Products
Owing to its versatility, Hammond Manufacturing's 1591 family is the company's best-selling plastic enclosure range, with a wide choice of sizes and features. The 1591 family is available in five small 
...
Read more...
---