printer friendly version
100 GbE test module
3 April 2013
Test & Measurement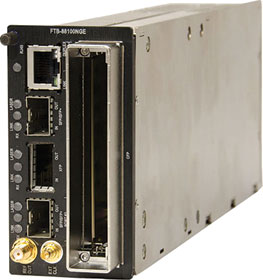 The new FTB-88100NGE Power Blazer Multiservice Test Module from EXFO addresses 40G/100G field deployments and upgrades, as well as lower-rate client service turn-ups, covering a wide range of technologies including SONET/SDH, OTN and Ethernet, from 10M to 100G data rates.
Today, carriers are facing multiple challenges. They need to support both legacy and packet-based services up to 100G on the same network and ensure service-level agreements for each of these services. Carriers are pressured to reduce the cost per transported bit, and minimise equipment costs, truck rolls and technician dispatches.
What is more, 40G/100G technology is complex: new pluggable optics (CFPs) are still in their nascent stage, in short supply and are expensive. In addition to all these challenges, carriers are still looking to reduce time-to-service without compromising quality.
The FTB-88100NGE is optimised for field testing with its easy-to-use GUI, remote management, battery operation and integrated optical tools. Carriers can combine it with EXFO's optical modules, such as an optical spectrum analyser, for field commissioning and turn-up. Furthermore, the FTB-88100NGE is compatible with EXFO Connect, so users can benefit from EXFO's cloud-based services, including centralised management of test units and data.
The module is future-proof in that it can easily adapt to future requirements up to 100G, but carriers can immediately leverage its FLEX configuration to enable any testing capabilities to match their current needs at an economical price. Upgrading and remote rates and interfaces can easily be enabled with a simple software key in the field, providing flexibility with minimum downtime and eliminating the need for multiple test units.
For more information contact Chris Nel, Lambda Test Equipment, +27 (0)12 349 1341, chris@lambdatest.co.za, www.lambdatest.co.za
Credit(s)
Further reading:
New range of Tektronix DSOs
30 June 2020, Comtest , Test & Measurement
Comtest has released Tektronix's new TBS2000B series of digital storage oscilloscopes (DSOs) that was developed to meet the performance, usability and affordability needs of both engineers and educators. 
...
Read more...
---
Contactless ESD testing and access control unit
30 June 2020, Actum Group , Test & Measurement
In the electronics manufacturing industry, an electrostatic discharge (ESD) can cause irreparable damage to electronic components. This micro-lightning bolt can burn holes through insulating layers and 
...
Read more...
---
How are IR cameras calibrated and how does ambient temperature affect readings?
30 June 2020, Instrotech , Test & Measurement
Infrared thermometers are calibrated with the help of reference radiation sources, so-called 'black bodies'. These radiant sources are able to produce different temperatures with a high stability.  
...
Read more...
---
Thermal monitor for fever screening
30 June 2020, Actum Group , Test & Measurement
The TCSF256 thermal monitor from Actum Group is a fully automated, plug-and-play fever screening unit. It adopts an infrared radiation measurement technique that can measure body temperature by non-contact 
...
Read more...
---
Uncover EMI issues early with simple pre-compliance tests
30 June 2020, Concilium Technologies , Test & Measurement
An effective pre-compliance testing methodology will reduce test cycle times, which ultimately impacts a company's bottom line.
Read more...
---
The promise of 5G wireless communications
30 June 2020, Lambda Test , Test & Measurement
The deployment of 5G services worldwide is driving a massive increase in fibre densification for the required fronthaul and backhaul links interconnecting radio base stations and web-scale core packet networks.
Read more...
---
Phase noise analyser for precision oscillator characterisation
29 April 2020, Altron Arrow , Test & Measurement
To help research and manufacturing engineers make precise and accurate measurement of frequency signals, including those generated by atomic clocks and other high-performance frequency reference modules 
...
Read more...
---
Ethernet tap for IO Ninja
25 March 2020, RF Design , Test & Measurement
Monitoring network communications of your PC can be accomplished without any specialised hardware – just use the Pcap Sniffer plugin of IO Ninja. The task of tapping into the Ethernet traffic of a non-PC 
...
Read more...
---
Bench-top vector signal generator
29 April 2020, RFiber Solutions , Test & Measurement
The T3267E series bench-top vector signal generator from Transcom Instruments has excellent radio frequency performance and rich signal generating function. It can provide arbitrary wave, continuous 
...
Read more...
---
Tektronix and Coherent Solutions partner for fully integrated optical comms
25 March 2020, Comtest , Test & Measurement
Comtest has announced that technology companies Tektronix and Coherent Solutions have an exclusive partnership agreement to provide fully integrated optical communications platforms to new and existing 
...
Read more...
---