printer friendly version
Bidirectional testing for fibre characterisation
17 April 2013 News Test & Measurement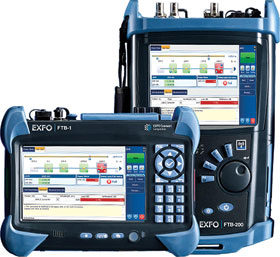 EXFO announced the addition of bidirectional testing capabilities to its innovative intelligent Optical Link Mapper (iOLM) fibre characterisation technology.
The new, patent-pending functionality simplifies the time-consuming task of performing bidirectional measurements at multiple wavelengths and pulse widths, presenting clear pass/fail results in a single link view. This latest iOLM enhancement further speeds up in-field testing and reporting for frontline technicians, increasing overall field operations efficiency.
The OTDR-based iOLM software application uses an automated multi-pulse acquisition approach and advanced algorithms to deliver detailed information on every element on the link. Powered by Link-Aware technology, the EXFO proprietary iOLM self-manages the setting of all test parameters, requiring virtually no training for technicians of any skill level.
With EXFO's FastReporter 2 post-processing software, iOLM users can now obtain true splice-loss values at multiple wavelengths, multiple pulse widths and in both directions combined – all in an easy-to-read, icon-based linear view. This removes the complexity of interpreting OTDR traces and matching the data gathered from bidirectional tests, saving post-processing time and providing much clearer reports.
FastReporter 2 brings many enhancements and new features, and can be taken into the field, as it is compatible with the rugged, handheld FTB-1 platform, which offers various connectivity options (USB, 3G, Wi-Fi, VPN and Bluetooth) that enable technicians and contractors to send their reports as soon as the tests are done and close jobs faster. It allows users to customise reports according to their customers' requirements, and supports the HTML, PDF and Excel formats.
The FTB-730 PON iOLM model can identify a 2xN splitter and apply the proper pass/fail thresholds. This allows technicians to characterise 2xN networks by performing a single-ended test from the ONT, rather than the three separate acquisitions required when using a standard OTDR.
For more information contact Chris Nel, Lambda Test Equipment, +27 (0)12 349 1341, chris@lambdatest.co.za, www.lambdatest.co.za
Credit(s)
Further reading:
The promise of 5G wireless communications
30 June 2020, Lambda Test , Test & Measurement
The deployment of 5G services worldwide is driving a massive increase in fibre densification for the required fronthaul and backhaul links interconnecting radio base stations and web-scale core packet networks.
Read more...
---
From the editor's desk: Are electromagnetic waves culpable in making us sick?
30 June 2020, Technews Publishing , News
When I started writing my column for this issue, I was determined to come up with a topic and a way to avoid mentioning the 'C' word. I came close – you will only find 'COVID-19' mentioned once or twice 
...
Read more...
---
To fake or not to fake
30 June 2020 , News
Prof. Johan Meyer explores the complex and controversial topic of the potential link between the global rollout of 5G networks and the COVID-19 pandemic.
Read more...
---
Clearing the Static: Curb the spread of COVID-19 with stringent floor hygiene
30 June 2020, Actum Electronics , News
According to the World Health Organisation (WHO), COVID-19 is primarily transmitted from person to person through respiratory droplets that emerge from the nose and mouth when an infected person speaks, 
...
Read more...
---
Personality profile: Warren Mande
30 June 2020, Altron Arrow , News
"It is said that "culture eats strategy for breakfast". Look to join companies whose culture fits your personal belief system."
Read more...
---
Not the end, but a journey
30 June 2020, ExecuKit , News
ExecuKit's Renita Fleischer and Elizna Classen offer local companies a route to help them navigate their way through what has become the 'new normal.'
Read more...
---
Elmatica CEO to vice chair IPC cybersecurity task group
30 June 2020, Elmatica , News
Didrik Bech, CEO of printed circuit broker Elmatica, has been appointed to serve as vice chair for IPC's new cybersecurity task group. The 2-12c Task Group leadership is a representation of IPC as an 
...
Read more...
---
From the editor's desk: Making and sending things to space
29 May 2020, Technews Publishing , News
In this issue, one of the topics we are featuring is the aerospace and military/defence sector. The feature includes an analysis of what it takes to successfully design and manufacture products in this 
...
Read more...
---
Electronics news digest
29 May 2020, Technews Publishing , News
South Africa
• Acting minister of communications and digital technologies, Jackson Mthembu, joined the world in observing World Telecommunication and Information Society Day (WTISD). Proclaimed by the 
...
Read more...
---
Personality profile: David Power
29 May 2020, Cadshop , News
"Aspire to work for a company that you admire, and for a boss that you want to serve, that shares your passion and motivation."
Read more...
---