printer friendly version
High definition oscilloscopes
29 May 2013
Test & Measurement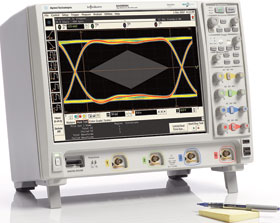 Agilent Technologies has introduced the Infiniium 9000 H-Series high definition oscilloscopes. The four new models come in bandwidths of 250 MHz, 500 MHz, 1 GHz and 2 GHz, and offer up to 12-bit vertical resolution, which represents 16 times the quantisation levels of traditional oscilloscopes with 8 bits of resolution. These scopes also include deep standard memory up to 100 Mpts per channel.
With small signals, noise is often the biggest impediment to getting an accurate measurement. The 9000 H-Series uses a combination of hypersampling and linear noise reduction technology to provide noise levels three times lower than traditional 8-bit oscilloscopes. This reduced noise enables users to view and resolve small signals that 8-bit oscilloscopes simply cannot measure.
As probing systems also induce measurement noise, Agilent has developed a new series of low noise probes specifically designed to allow engineers to view and analyse small-current signals. The new N2820A and N2821A AC/DC current probes offer sensitivity all the way down to 50 µA, with a maximum current range of 5 A.
These probes work in cooperation with the new oscilloscopes to offer the industry's most sensitive current measurements. The higher sensitivity is especially useful for measuring current consumption of battery-powered mobile devices or integrated circuits.
The proliferation of mobile devices and 'green' products has created a growing need to make low power, high dynamic range measurements. As products get smarter and more feature rich, all components need to be more energy efficient. The 9000 H-Series oscilloscope with the N2820A and N2821A current probes are specially engineered to make high dynamic range, high sensitivity measurements to meet today's challenging current measurement needs.
The N2820A current probe interface uses a make-before-break connector, offering easy and reliable connecting and disconnecting without interrupting the circuit under test across multiple locations on the target board.
The Agilent 9000 H-Series' standard memory of up to 100 million points per channel can be upgraded to 500 million points per channel to acquire longer windows of time while retaining fast sample rates. The probes are also compatible with other oscilloscopes besides the 9000 H-Series, including Agilent's Infiniium 9000A and InfiniiVision 3000 X- and 4000 X-Series oscilloscopes.
Credit(s)
Further reading:
Vector network analyser training kit
26 February 2020, Comtest , Test & Measurement
Pico Technology has added significant functionality and value to its low-cost, high-performance vector network analyser (VNA), by joining the NI/AWR Connected Partner community. The PicoVNA interface 
...
Read more...
---
Better phase noise measurement for Infiniium UXR scopes
26 February 2020, Concilium Technologies , Test & Measurement
Keysight Technologies and Silicon Labs announced a collaboration that streamlines the validation of timing solutions critical in the development of system-level designs for wireless communications, high-speed 
...
Read more...
---
Eliminate risk with proper calibration
26 February 2020, Concilium Technologies , Test & Measurement
Proper calibration lowers cost of test by reducing the number of incorrect decisions made, by improving instrument performance.
Read more...
---
Double pulse test software for Tektronix AFG
29 January 2020, Comtest , Test & Measurement
Comtest announced the availability of Tektronix' new software plugin for its AFG31000 arbitrary function generator (AFG), making it possible to perform crucial double pulse testing in less than a minute, 
...
Read more...
---
Battery charge/discharge test system
29 January 2020, Conical Technologies , Test & Measurement
The ITS5300 battery charge and discharge test system from ITECH is designed for a variety of power batteries including lead acid, nickel hydrogen, lithium batteries, supercapacitors, hydrogen fuel cells 
...
Read more...
---
DIN-rail programmable transmitter
23 October 2019, Instrotech , Test & Measurement
Calog Instrument's versatile DPM9000 series – a miniature DIN-rail mount programmable isolated transmitter range – boasts high reliability and a versatile, wide range of programmable inputs. With dimensions 
...
Read more...
---
Hands-on learning module
23 October 2019, Altron Arrow , Test & Measurement
The ADALM2000 (M2K) active learning module is an affordable, USB-powered, software-defined instrument that exceeds the capabilities of its predecessor ADALM1000 (M1K). With 12-bit ADCs (analog-to-digital 
...
Read more...
---
Digital multimeter with thermal imager
23 October 2019, RS Components (SA) , Test & Measurement
A digital multimeter (DMM) with a built-in thermal imager has been added to RS Components' RS PRO product range. The RS-9889 allows engineers to identify thermal overload issues in electrical equipment 
...
Read more...
---
Project-based learning for the modern engineer
23 October 2019 , Test & Measurement
Projects that inherently challenge students to use innovative design thinking often involve interacting with an unknown process or device. Students are encouraged to understand the unknown through theory, 
...
Read more...
---
EMI compliance testing vs. pre-compliance testing
25 September 2019, Concilium Technologies , Circuit & System Protection
Electromagnetic interference (EMI) is caused by unintentional emissions from electronic equipment. Compared to natural sources of EMI, such as lightning and solar storms, engineers are more concerned 
...
Read more...
---