printer friendly version
RF analysers can be remotely controlled by iOS devices
24 July 2013 News Test & Measurement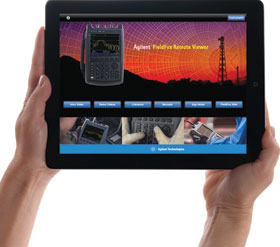 Agilent Technologies has announced that its FieldFox handheld RF and microwave analysers can now be remotely controlled via an iOS device such as an iPad or iPhone. Also new are a spectrum analysis time-gating option and support for Agilent's USB peak-power sensors.
FieldFox's remote control capability, Option 030, enables viewing and control of the instrument via the Remote Viewer iOS application. With a wireless LAN or cellular broadband data connection using an iOS device, the analysers can now be placed in areas where users do not wish to stay long due to extremely harsh or unsafe conditions. Additionally, if one technician or engineer has trouble making a measurement or determining the source of a problem, another can step in to remotely troubleshoot and solve the problem.
Once users launch the Remote Viewer, they can access FieldFox demo videos and technical literature such as user guides, application notes and datasheets. This enables engineers and technicians in the field to quickly find the data they need to resolve network issues as they arise. Access to this information also makes the app ideal for training and educational purposes.
FieldFox's new spectrum analysis time-gating function, Option 238, is specifically geared toward engineers testing the pulse characteristics of their radar systems. Unlike competing solutions, it allows users to view both frequency and time domain at the same time, and it can measure very narrow pulses (less than 1 µs wide) with sweep time as short as 8 μs. Enhanced trigger functions (burst trigger and pre-trigger, for example) further ease the signal measurement challenge.
Peak power measurements are necessary to test pulsed transmissions. FieldFox's power meter, Option 302, now supports Agilent's USB peak-power sensors, enabling engineers to measure peak and average power to 18 or 40 GHz. This offers the same accuracy as measurements obtained using traditional peak-power meters.
By extending FieldFox's frequency to tackle measurements in the 40 GHz range, the power meter option is well suited for radar engineers maintaining and troubleshooting radar communications equipment and networks.
Credit(s)
Further reading:
Coalition calls on European Commission to postpone SCIP deadline
30 September 2020 , News
A coalition of 40 industry organisations has written a letter to European Commission President Ursula von der Leyen calling for decisive action to solve implementation issues within the EU Waste Framework 
...
Read more...
---
Follow this engineering journey of a 3D-printed boat
30 September 2020, RS Components (SA) , News
RS Components is releasing a 10-episode documentary series – titled SeaQuest – featuring members of its DesignSpark engineering community who embarked on a first-of-its-kind challenge to design, test 
...
Read more...
---
Mouser revamps technical resource centre
30 September 2020, TRX Electronics , News
Mouser Electronics has redesigned its Technical Resource Centre, which contains the global distributor's ever-expanding collection of technical articles, blogs, eBooks, and Methods technology and solutions 
...
Read more...
---
IPC teams up with PSMA on standards and more
30 September 2020 , News
IPC and the Power Sources Manufacturers Association (PSMA) have signed a memorandum of understanding (MoU) pledging to build a strong complementary relationship between the two entities with a focus on 
...
Read more...
---
Battery Technologies Conference goes virtual
30 September 2020 , News
Vukani Communications is back again with the 6th edition of the Battery Technologies Conference, and this time around the gathering is virtual. Topics to be discussed include, but are not limited to:
...
Read more...
---
A journey into the automation unknown
31 August 2020 , News
From small-town specialised machine builder to global technology company, Jendamark Automation's business journey has been characterised by calculated leaps into the unknown. And, as South African manufacturers 
...
Read more...
---
Resources for home and building automation
31 August 2020, TRX Electronics , News
Mouser Electronics is expanding its comprehensive range of building automation solutions from Silicon Labs, TE Connectivity (TE), and Littelfuse for the rapidly growing smart home and building automation 
...
Read more...
---
From the editor's desk: Enough of 2020 already
31 August 2020, Technews Publishing , News
Forgive me, but I don't think I'm alone in being a bit all over the place mentally at the moment. So far, two of my colleagues have been diagnosed positive for COVID-19 and have fortunately recovered. 
...
Read more...
---
Tribute to Paul Soteriou
31 August 2020 , News
Paul Soteriou, a man always willing to share what he had with a smile and with a deep-found love for South Africa, passed away earlier this year.
Read more...
---
Personality profile: Brian Andrew
31 August 2020, RS Components (SA) , News
With a father who is a civil engineer and an older brother who is a chemical engineer, you could say engineering was in the DNA of Brian Andrew.
Read more...
---