printer friendly version
Fixed attenuators extending to 18 GHz
7 August 2013
Analogue, Mixed Signal, LSI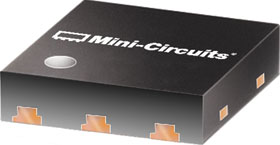 Attenuation has saved many systems and circuit designs, especially when it can be added in precise, consistent amounts. Attenuation comes in many forms and sizes, but perhaps few packages that are smaller than the new 2 x 2 mm chip-sized YAT-Series fixed attenuators from Mini-Circuits. They are available in 1 dB increments from 0 through 10 dB, and with as much as 30 dB attenuation packed into the housing.
With a frequency range of DC to 18 GHz, the YAT series can serve a wide range of commercial, industrial and military applications, including cellular and wireless communications systems and in radar and electronic warfare (EW) equipment. In spite of their diminutive size, the attenuators can handle as much as 2 W (+33 dBm) while still effectively dissipating any heat generated as a result of the RF/microwave power.
The devices are miniature 50 Ω passive components that can be added to a design to reduce signal levels, to increase isolation between different sections, or to improve impedance-match and return-loss performance. They are available in attenuation values through 30 dB, with minimal attenuation above and beyond their rated attenuation values.
Credit(s)
Further reading:
maXTouch touchscreen controller for various aspect ratios
EBV Electrolink Analogue, Mixed Signal, LSI
As the automotive market continues to demand larger touchscreens with more flexibility in size and shape, Microchip Technology is announcing a new maXTouch touchscreen controller that allows automotive 
...
Read more...
---
Precision wideband ADC advances data-acquisition performance
Analogue, Mixed Signal, LSI
Texas Instruments (TI) has introduced a very small 24-bit wideband analog-to-digital converter (ADC) that delivers tight signal-measurement precision. The ADS127L11 achieves ultra-precise data acquisition 
...
Read more...
---
K-band passivated VCO
RF Design Analogue, Mixed Signal, LSI
The K-VCO-2324 from Arralis is a GaAs PHEMT MMIC voltage-controlled oscillator (VCO) that operates from 23,25 to 24,25 GHz. It provides 15 dBm output power over tuning voltages between 0 V and 1 V and 
...
Read more...
---
QFN-packaged gain blocks covering various frequency ranges
RFiber Solutions Analogue, Mixed Signal, LSI
Four new gain blocks have been introduced by Atlanta Micro to serve the requirements of various applications, each covering a different range of frequencies. The AM1127 is a high dynamic range, cascadable 
...
Read more...
---
Digital humidity sensor withstands harsh conditions
Electrocomp Analogue, Mixed Signal, LSI
Sensirion is expanding its series of fourth-generation humidity sensors to include the SHT4xI-Digital sensor platform, which has been designed specifically for challenging industrial applications. The 
...
Read more...
---
Signal chain implementation for condition monitoring systems
Altron Arrow Editor's Choice Analogue, Mixed Signal, LSI
Like all system designs, there are many choices to be made when it comes to designing a condition monitoring system, each of which comes with various trade-offs and can drastically alter the DAQ signal chain design.
Read more...
---
High-speed SAR ADC family
Analogue, Mixed Signal, LSI
Texas Instruments expanded its portfolio of high-speed data converters with a broad family of successive-approximation register (SAR) analog-to-digital converters (ADCs) that enable high-precision data 
...
Read more...
---
Digital flow sensor for respiratory devices
Electrocomp Analogue, Mixed Signal, LSI
The compact SFM3119 digital flow meter is the successor to Sensirion's SFM3100 mass flow meter. Compared to its predecessor, the SFM3119 comes with a digital I
2
C output as well as improved specifications.  
...
Read more...
---
Liquid flow sensor in small planar package
Electrocomp Analogue, Mixed Signal, LSI
With a tiny footprint of only
10 x 10 mm
, Sensirion's LPG10-1000 liquid flow sensor provides optimal performance and speed in measuring liquid flow in a planar microfluidic glass substrate, with down-mount 
...
Read more...
---
Wide range of sensor technologies for innovative designs
TRX Electronics Analogue, Mixed Signal, LSI
Mouser Electronics has created a sensor technology content stream on its website that highlights the latest in innovative sensor solutions and resources from the world's top manufacturers. With the 
...
Read more...
---