printer friendly version
2012 World PCB Production Report
23 October 2013
News
The world market for PCBs reached nearly $60 billion in 2012, with 1,7% real growth over 2011, according to IPC's latest World PCB Production Report.
Published annually, the report contains estimates of 2012 PCB production value by product category and by country, as well as commentary on PCB industry trends in each region and worldwide. It also includes special reports on specialty laminates contributed by Prismark Partners and metal core boards from BPA Consulting. Historical trends and data on PCB production by major PCB-producing countries and regions from 1980 to the present are also included.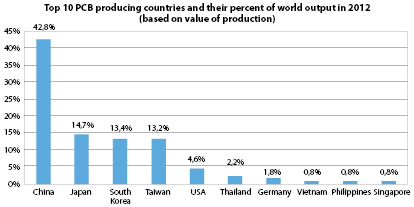 "The report's estimates are developed through a consensus process involving leading analysts worldwide and the data is trusted within the industry," says Sharon Starr, IPC director of market research. "If you need to know what kinds of PCBs are being made where, the World PCB Production Report will tell you, in detail."
The report shows Asia with 90% of world PCB production. China's share of world production is now 42,8% and Japan is now a distant second with 16%. South Korea surpassed Taiwan in 2012 to move into third place. The United States held onto its fifth place rank with just under a 5% share. Vietnam is the newest addition to the top-10 list of PCB producing countries, with just under 1%.
This year's report takes a technology-based approach to estimating PCB production, detailing PCB production in each country of single-sided, double-sided, standard multilayer, high-performance, IC package substrates, flexible circuits and rigid flex. Among the PCB categories covered, rigid flex saw the highest growth in 2012.
High growth was also seen in the market for high density-interconnect (HDI) microvia boards and Asian PCB manufacturers are the main beneficiaries. Ninety-seven percent of HDI/microvia PCB production is done in Asia, while only 1,4% is made in North America. This year's report provides more detail on HDI/microvias than in the past, with data in the standard multilayer and IC package substrate categories both broken down by boards with and without HDI/microvia structures.
For more information visit www.ipc.org/world-pcb-report-2012
Further reading:
From the editor's desk: Making and sending things to space
29 May 2020, Technews Publishing , News
In this issue, one of the topics we are featuring is the aerospace and military/defence sector. The feature includes an analysis of what it takes to successfully design and manufacture products in this 
...
Read more...
---
Electronics news digest
29 May 2020, Technews Publishing , News
South Africa
• Acting minister of communications and digital technologies, Jackson Mthembu, joined the world in observing World Telecommunication and Information Society Day (WTISD). Proclaimed by the 
...
Read more...
---
Personality profile: David Power
29 May 2020, Cadshop , News
"Aspire to work for a company that you admire, and for a boss that you want to serve, that shares your passion and motivation."
Read more...
---
Designing for military and defence applications
29 May 2020, Omnigo, Kreon Technology , News
No business can stand on its own without strong partnerships and stakeholder relationships. In this regard the military and defence industry is no exception.
Read more...
---
Why 'new space' satellites demand a new approach to components
29 May 2020, Avnet South Africa , News
New space is opening up exciting opportunities for businesses, which can create completely new products, services and capabilities that were, until recently, impossible or impractical.
Read more...
---
Clearing the Static: Safe storage and transportation of components
29 May 2020, Altico Static Control Solutions , News
During product transportation or storage, humidity can lead to excessive moisture inside of packaging, which can potentially damage electronic components by causing corrosion and mould-attack. Apart from 
...
Read more...
---
Elmatica's SA seminars on PCB design a success
29 May 2020, Elmatica , News
During March, just weeks before COVID-19 resulted in South Africa going into lockdown, Elmatica held several seminars in the country, to get closer to and educate the local industry on printed circuit 
...
Read more...
---
Vepac launches new website
29 May 2020, Vepac Electronics , News
Vepac Electronics has recently launched its new and optimised website to enable its customers to navigate effortlessly, with a host of new products and related datasheets. Visitors to the site are also 
...
Read more...
---
Comtest trading for 15 years
29 May 2020, Comtest , News
Comtest, one of South Africa's leading providers of test, measurement and communications equipment, is proud to mark its 15-year trading milestone in 2020. CEO Barend Niemand says, "Comtest has representation 
...
Read more...
---
Locked down but not knocked out
25 March 2020, ExecuKit , News
As a business, we are facing extremely hard times with the current worldwide pandemic and isolation. We are all maintaining social distancing and must learn how to do business with an enforced lockdown 
...
Read more...
---