printer friendly version
2012 World PCB Production Report
23 October 2013
News
The world market for PCBs reached nearly $60 billion in 2012, with 1,7% real growth over 2011, according to IPC's latest World PCB Production Report.
Published annually, the report contains estimates of 2012 PCB production value by product category and by country, as well as commentary on PCB industry trends in each region and worldwide. It also includes special reports on specialty laminates contributed by Prismark Partners and metal core boards from BPA Consulting. Historical trends and data on PCB production by major PCB-producing countries and regions from 1980 to the present are also included.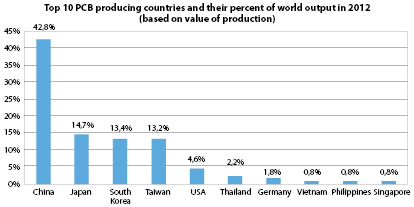 "The report's estimates are developed through a consensus process involving leading analysts worldwide and the data is trusted within the industry," says Sharon Starr, IPC director of market research. "If you need to know what kinds of PCBs are being made where, the World PCB Production Report will tell you, in detail."
The report shows Asia with 90% of world PCB production. China's share of world production is now 42,8% and Japan is now a distant second with 16%. South Korea surpassed Taiwan in 2012 to move into third place. The United States held onto its fifth place rank with just under a 5% share. Vietnam is the newest addition to the top-10 list of PCB producing countries, with just under 1%.
This year's report takes a technology-based approach to estimating PCB production, detailing PCB production in each country of single-sided, double-sided, standard multilayer, high-performance, IC package substrates, flexible circuits and rigid flex. Among the PCB categories covered, rigid flex saw the highest growth in 2012.
High growth was also seen in the market for high density-interconnect (HDI) microvia boards and Asian PCB manufacturers are the main beneficiaries. Ninety-seven percent of HDI/microvia PCB production is done in Asia, while only 1,4% is made in North America. This year's report provides more detail on HDI/microvias than in the past, with data in the standard multilayer and IC package substrate categories both broken down by boards with and without HDI/microvia structures.
For more information visit www.ipc.org/world-pcb-report-2012
Further reading:
From the editor's desk: Yes, it's that thing everyone's talking about
25 March 2020, Technews Publishing , News
Call me a pessimist, but I'm absolutely, 100% certain that I'm going to catch COVID-19 (or the 'novel coronavirus' if you prefer to call it that) – if I haven't done so already. At least the mortality 
...
Read more...
---
Electronics news digest
25 March 2020 , News
Overseas
Business
• ams reported record revenues and results for full year 2019, with revenues up 32% year-on-year, and fourth quarter revenues exceeding expectations with strong adjusted operating 
...
Read more...
---
XinaBox – Reaching for the stars
25 March 2020, RS Components (SA) , News
From collecting data in sub-zero Antarctica to rapid circuit prototyping on the International Space Station this South African company is reinventing the way we approach IoT while inspiring students to follow STEM careers.
Read more...
---
Electrocomp launches new website
25 March 2020, Electrocomp , News
Electrocomp is inviting visitors to explore its new website, which has been designed to offer a user-friendly experience with improved navigation and functionality while allowing customers to see their 
...
Read more...
---
Looking beyond radar, the car's virtual eye
25 March 2020, Altron Arrow , News
Faster, higher-resolution radar sensors have enabled the next generation of driver assistance technologies through improvements in vehicle safety and comfort in view.
Read more...
---
Disposing of e-waste in space
26 February 2020 , News
According to BBC, there are over half a million pieces of debris floating around the Earth's orbit. Most debris within the atmosphere are lost parts from space crafts, disused rocket stages or waste from 
...
Read more...
---
IPC revises five standards
26 February 2020 , News
IPC announced the release of five newly revised standards covering several areas of the supply chain:      
· IPC/WHMA-A-620D, Requirements and Acceptance for Cable and Wire Harness Assemblies. · IPC-2223E, 
...
Read more...
---
Testerion to represent ITW EAE in SA
26 February 2020, Testerion , News
ITW EAE announced a new extended partnership agreement with Testerion South Africa to represent and distribute all ITW EAE equipment including MPM printers, Camalot dispensers, Electrovert soldering systems, 
...
Read more...
---
From the editor's desk: Interesting people, politicians, and viruses
26 February 2020, Technews Publishing , News
In this edition, in the first of a new regular highlight in Dataweek, we go behind the scenes with Peet Smit, the founder and owner of Centurion Micro Electronics, a well-known specialist embedded and 
...
Read more...
---
Electronics news digest
26 February 2020 , News
Overseas
Business
• Maxim Integrated Products reported net revenue of $551 million for its second quarter of fiscal 2020 ended 28 December 2019, a 3% increase from the $533 million revenue recorded 
...
Read more...
---