printer friendly version
2012 World PCB Production Report
23 October 2013
News
The world market for PCBs reached nearly $60 billion in 2012, with 1,7% real growth over 2011, according to IPC's latest World PCB Production Report.
Published annually, the report contains estimates of 2012 PCB production value by product category and by country, as well as commentary on PCB industry trends in each region and worldwide. It also includes special reports on specialty laminates contributed by Prismark Partners and metal core boards from BPA Consulting. Historical trends and data on PCB production by major PCB-producing countries and regions from 1980 to the present are also included.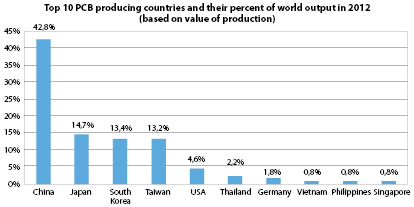 "The report's estimates are developed through a consensus process involving leading analysts worldwide and the data is trusted within the industry," says Sharon Starr, IPC director of market research. "If you need to know what kinds of PCBs are being made where, the World PCB Production Report will tell you, in detail."
The report shows Asia with 90% of world PCB production. China's share of world production is now 42,8% and Japan is now a distant second with 16%. South Korea surpassed Taiwan in 2012 to move into third place. The United States held onto its fifth place rank with just under a 5% share. Vietnam is the newest addition to the top-10 list of PCB producing countries, with just under 1%.
This year's report takes a technology-based approach to estimating PCB production, detailing PCB production in each country of single-sided, double-sided, standard multilayer, high-performance, IC package substrates, flexible circuits and rigid flex. Among the PCB categories covered, rigid flex saw the highest growth in 2012.
High growth was also seen in the market for high density-interconnect (HDI) microvia boards and Asian PCB manufacturers are the main beneficiaries. Ninety-seven percent of HDI/microvia PCB production is done in Asia, while only 1,4% is made in North America. This year's report provides more detail on HDI/microvias than in the past, with data in the standard multilayer and IC package substrate categories both broken down by boards with and without HDI/microvia structures.
For more information visit www.ipc.org/world-pcb-report-2012
Further reading:
SAAB Avionics approves Elmatica auditor for PCB subcontractors
29 January 2020, Elmatica , News
Expanding on its international relationship with SAAB Avionics, printed circuit board supplier Elmatica's Jan Pedersen successfully completed the Part 21, Subpart G training, regarding auditing of printed 
...
Read more...
---
Electronics news digest
29 January 2020 , News
South Africa
• More than 2400 people braved pouring rain in Gauteng to attend the 5th Science Forum South Africa (SFSA) at the CSIR International Convention Centre in December. The annual Department 
...
Read more...
---
Appointment: ExecuKit
29 January 2020, ExecuKit , News
ExecuKit has appointed Marshant Benadie in a technical support role.    His duties will include developing business with clients within the electronics distribution and manufacturing industry; managing 
...
Read more...
---
Repro installs new SMT production line
29 January 2020 , News
The company is actively seeking business for this new assembly line, which promises extensive flexibility and high accuracy, and can easily be expanded for higher production volumes.
Read more...
---
AREI's plans for 2020
29 January 2020 , Editor's Choice, News
Erich Nast, chairman of AREI, discusses what the association's plans are to tackle the challenges and opportunities that lie ahead.
Read more...
---
Check out Dataweek's new-look website
29 January 2020, Technews Publishing , Editor's Choice, News
Our technical design elves have been locked away in our basement for months, improving the visual design and functionality of the Dataweek website.
Read more...
---
From the editor's desk: A fresh start, but a sad farewell?
29 January 2020, Technews Publishing , News
A couple of years ago, not many people had heard of Yekani. The company bought a stake in the well-known East London-based satellite decoder maker, Vektronix, and subsequently acquired it in its entirety. When 
...
Read more...
---
Actum Group merges its brands under one roof
29 January 2020, Actum Electronics , News
Over the years, Actum Group has been built through partnerships, collaborations and acquisitions of leading companies with a long history and rich legacy in the industry. These companies include Actum 
...
Read more...
---
Company profile: ETION Create
EMP 2020 Electronics Manufacturing & Production Handbook, ETION Create , News
ETION Create is an original design manufacturer (ODM) that has been in operation for more than 25 years. Originally known as Parsec, the company was founded in 1993, focusing on the design, development 
...
Read more...
---
Company profile: Laser Stencil Technology
EMP 2020 Electronics Manufacturing & Production Handbook, Laser Stencil Technology , News
Since its inception in 2004, Laser Stencil Technology has grown into a prominent figure in the South African electronics manufacturing industry. Having been involved in circuit board manufacturing using 
...
Read more...
---