Comtest played host to Fluke's Herman Warnshuis, vice president Europe, Middle East & Africa (EMEA) regions, and Steve Hood, general manager, EMEA, towards the end of last year. As it was Warnshuis' first visit to South Africa, Comtest arranged a number of visits, spending time with several Fluke value-added resellers, dealers and customers to see for themselves how Fluke is marketed, distributed and used locally.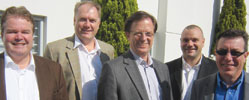 From left: Herman Warnshuis, Barend Niemand, Peter Verwer, Francesco Pagin, Steve Hood.
"I was impressed with the knowledge and enthusiasm for Fluke of all the people I met during the few days I was here," said Warnshuis. "I also had the opportunity of discussing some of the recently launched products, particularly the new range of advanced performance Ti400/Ti300/Ti200 thermal imagers, and have no doubt that this new generation of thermal imagers will be perfect for South African applications."
Warnshuis' visit came just a few weeks after the Fluke Champion training programme, headed up by a number of technical specialists from Fluke. The week-long programme was well attended by Fluke dealers throughout Africa and highlighted Fluke's commitment to supporting Comtest and other African distributors in skilling-up their product specialists and dealers to better market and sell Fluke's products throughout the region.
Peter Verwer and Barend Niemand, Comtest's managing director and financial director respectively, said they were extremely happy that Warnshuis had taken the time to visit South Africa and expressed their sincere thanks for the ongoing assistance that Fluke offers Comtest in terms of technical support, training, marketing and new product development. Francesco Pagin, Fluke's southern African country manager, accompanied them on the visits.
For more information contact Comtest, +27 (0)11 608 8520, info@comtest.co.za, www.comtest.co.za