printer friendly version
Expanding the dynamic range of current measurement
29 January 2014
Test & Measurement
In power electronics, the accuracy with which electrical current is measured is not solely based on the selection of a suitable transducer. Level-shifting and intermediate scaling in the circuit between the microcontroller and the transducer can introduce offset and gain whilst, in closed-loop designs, the use of burden resistors can affect the accuracy of the current measurement.
The conversion of analog current measurement into a digitised format is another area in which accuracy can be compromised.
These factors often mean that the measuring device needs to operate over an expanded range. This range typically combines the normal operating range (of between 80% to 125% of the nominal current) and an additional 300% of the nominal current to provide protection against over-current events. The result of measuring this expanded range is that a limit is placed on the dynamic range which can be used for control.
Externalising over-current detection
The challenge of expanding the dynamic range can be addressed by using open-loop Hall-effect current transducers which use an ASIC-based approach to current detection. Figure 1 shows the placement of the ASIC in the gap in the core of an open-loop Hall-effect current transducer.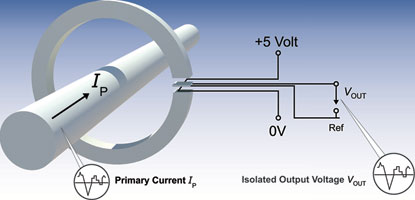 Figure 1. Open-loop, Hall-effect current transducers using an ASIC in the gap of the core.
This construction enables techniques such as Hall-cell spinning, as shown in Figure 2, which is used to reduce offset. In addition, it also provides programmable sensitivity and over-current detection (OCD) as a separate, programmable output.

Figure 2. Hall-cell spinning reduces offset.
By externalising OCD, the transducer is freed from measuring the peaks which are required for protection and enables its full measuring range to be used to measure the application's dynamic operating range.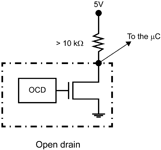 Figure 3. Over-current detection.
Typically, the OCD can be programmed to set trip thresholds of 250% or 300%; however the LEM HO series of open-loop Hall-effect current transducers allows a trip threshold of 570% of the nominal rating of the transducer. This means that the externalised OCD can detect currents which are higher than the transducer's rated measurement range, enabling a transducer rated at 8 A to be programmed for an OCD threshold of 45,6 A.
A further benefit of the OCD pin is that it can be used to replace a dedicated over-current detection crowbar circuit which usually consists of a comparator and a number of resistors. By eliminating these discrete components, the OCD pin offers the additional benefit of reducing component count and board space.
Expanding dynamic range measurement

Figure 4. Transducers incorporating multiple bus bars and an OCD pin.
ASIC-based current transducers are available in 5 V or 3,3 V versions. For 5 V transducers, the dynamic range is typically 0,625 V/nominal current. This allows for a bidirectional transducer, measuring AC, to have a zero current point of 2,5 V out.
Current in either direction of flow increases or decreases the output voltage of the transducer from the 2,5 V start point, or zero primary current. This means that for a 10 A application, where 10 A is equal to a 100% load, the transducer would have a nominal rating of 10 A and provide protection with a peak rating of 30 A.
However, with a rating of 0,625 V/10 A the sensitivity of a transducer such as the LEM HXS 10-NP/SP4 provides a 300% reading of 30 A which equates to a 4,375 V output.
The availability of 5 V or 3,3 V current transducers also minimises the need for level shifters or scaling between the transducer and the analog-to-digital converters which typically operate on a 5 V or 3,3 V supply.
Magnetic multiplication
A technique called 'magnetic multiplication' is used in transducer construction so that multiple wraps of conductor material are applied, in series, around bus bars inside the transducer. The conductor's magnetic fields are therefore defined by the number of wraps.
This is useful when the rating of the current transducer is higher than that of the application's primary current, because using more of the transducer's dynamic range helps to minimise offset and linearity errors. The following examples show how this works in an AC and a DC application.
Bidirectional AC measurement
With the OCD pin externalising the task of over-current detection, the transducer's entire dynamic range can be used for control. The example used in the previous 10 A application can also be applied to a 15 A transducer such as the LEM HO 15-NP.
The current is wrapped, in series, around three separate bus bars. With a rating of 125% at the upper end of the nominal range, a maximum current of 37,5 A.t would be achieved. At 100%, or 10 A duty, the transducer detects 30 A.t.
The original sensitivity of 53,33 mV/A for the LEM HO 15-NP will result in a sensitivity of 160 mV/A. This provides a sensitivity which is greater, by a factor of 2,56, compared to the 62,5 mV/A sensitivity of a standard transducer with a nominal 10 A rating.
The lower currents are lifted out of the noise floor, allowing more of the available dynamic range to be used. In this example of AC measurement, both sides of the 2,5 V zero current point are used by the application.
Unidirectional DC measurement
In a unidirectional DC application, the dynamic measuring range can be expanded significantly by using the reference voltage, Vref. Starting with a LEM HO 8-NP ASIC-based transducer, the primary current is wrapped three times, in series, to provide a maximum of 37,5 A.t, or 125% of the current's application.
When the Vref is pulled or programmed to 0,5 V, or 0 A, the application can use the transducer's full sensitivity of 100 mV/A. At 37,5 A.t, the peak voltage output is 4,250 V, giving a range of 3,75 V for an adjustment of 12,5 A or 300 mV/A. This means that a DC application which would typically have operated at 62,5 mV/A can now operate at 300 mV/A.
The combination of Vref shifting and the externalised OCD enables significantly finer current control. Take the example of a 5 V application operating with 12-bit resolution, in which a bit represents 1,22 mV. The output voltage range would be between 0,50 V and 4,250 V, with a current of 0 A to 12,5 A and a range of 3072 bits.
In a 10 A application, without Vref and OCD, the 0 to 12,5 A operating range would be represented by a voltage of 2,5 V to 3,28 V, with a range of 0,781 V which represents 640 bits. The Vref shifted/OCD method provides bit resolution of 4,1 mA or 19,5 mA without the ASIC-based features.
Typically, ASIC-based transducers at the lower-current end of the series, such as the LEM HO 8-NP, have a broader range available than higher-current versions. In contrast, the higher-current LEM HO 25-NP does not support such a broad range of measurement when the Vref is pulled to 0,50 V.
Thermal management
As an ambient temperature of 85°C could possibly result in desoldering of a transducer, the final design should be thoroughly checked for the operating temperature at the core, solder joint and bus bars.
When a smaller transducer is operating over the full dynamic range, the conductors will generate heat in the single-digit Watt range and the bus bars will have sub-mΩ resistance. However, when currents approach 150 A, even the 200 μΩ of the LEM HLSR 50-P will begin to generate 4,5 Watts.
The operating temperature range of ASIC-based transducers is typically rated at 105°C to 125°C. In ASIC-based transducers with integral bus bars, the maximum temperature of the bus bars may be slightly lower, at 120°C. Taking heat dissipation into account when designing the board layout enables the heat generated by the transducers to be managed.
To assist in heat dissipation, the PCB traces and copper surrounding the transducer pins should be maximised rather than minimised, to allow sufficient heat to be dissipated; air movement can also be considered as part of the thermal management of the design.
Conclusion
The benefits offered by ASIC-based transducers with OCD are not limited to enabling an expanded dynamic range. Transducers such as the LEM HO series can also help to reduce component count and, as a result, deliver higher reliability. They can also enable higher resolution from the analog-to-digital converter and improve the signal-to-noise ratio as well as providing higher sensitivity which increases the gain as the volts-per-amp increase.
Credit(s)
Further reading:
ESD testing equipment and calibration
28 October 2020, Actum Group , Test & Measurement
ESD stands for electrostatic discharge, and describes the transfer of electrostatic charge between two objects. The resulting discharge from an electron imbalance may be so small that the human body cannot 
...
Read more...
---
Full-featured Ethernet test solution
28 October 2020, Lambda Test , Test & Measurement
VeEX recently announced the MTX150x Dual 10G Ethernet installation and maintenance handheld test set. This packet switched networks (PSN) tester covers all data rates from 10 Mbps to 10 Gbps and is the 
...
Read more...
---
Real-time dashboards for remote test data access
30 September 2020, Comtest , Test & Measurement
Tektronix announced the availability of a native integration between the Keithley DAQ6510 and DMM6500 instruments with Initial State, an loT dashboard for data streaming and visualisation for world-class, 
...
Read more...
---
Miniature SMT noise sources
31 August 2020, RF Design , Test & Measurement
Pasternack has released a new series of miniature SMT packaged noise sources that are ideal for built-in test equipment, dithering for increased dynamic range of A/D converters and as a source for bit 
...
Read more...
---
New digital storage oscilloscope
31 August 2020, RS Components (SA) , Test & Measurement
RS Components is now stocking the Tektronix TBS1000C digital storage oscilloscope. Affordable, compact and easy-to-use, the TBS1000C comes with enhanced user interface and courseware, proving a great 
...
Read more...
---
High-spec, low-cost oscilloscope for industry and education
31 August 2020, RS Components (SA) , Test & Measurement
RS Components has introduced the Tektronix TBS2000B digital storage oscilloscope, aimed at industrial design and maintenance engineers and the educational sector. A higher-specification but low-cost drop-in 
...
Read more...
---
Personality profile: Mervyn Stocks
30 September 2020, Denver Technical Products , Editor's Choice
Mervyn Stocks, the founder and MD of Denver Technical Products, started his career as a learner technician, worked at some well-known companies in the industry before setting out on his own.
Read more...
---
Digital storage oscilloscope for STEM learning
30 September 2020, RS Components (SA) , Test & Measurement
RS Components is now stocking the Tektronix TBS1000C digital storage oscilloscope. Affordable, compact and easy to use, the TBS1000C comes with enhanced user interface and courseware, proving a great 
...
Read more...
---
Rigol extends RF portfolio
30 September 2020, Coral-i Solutions , Test & Measurement
Rigol Technologies has announced the new RSA3000N and RSA5000N Spectrum Analysers, which extend the flexibility and capability of the UltraReal platform with a new Vector Network Analyser measurement 
...
Read more...
---
RS PRO queue management system
31 August 2020, RS Components (SA) , Test & Measurement
The RS PRO SMART-Q queue management system is a high-quality and robust configurable beacon tower that manages the flow of customers and staff, by helping them to move around safely and efficiently in 
...
Read more...
---