printer friendly version
RS secures 3D printer agency
19 February 2014
News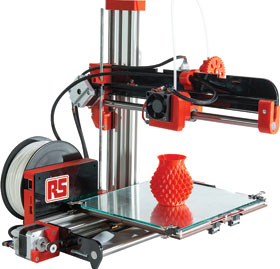 RS Components has signed a distribution agreement with RepRapPro that it believes will deliver affordable, open-source, self-replicating 3D printing technology to engineers. The completion of the deal coincides with the launch of the RepRapPro Ormerod low-cost 3D printer, which is available first from RS.
3D printing is fast becoming an essential part of the electronic and mechanical design process. Increasing numbers of companies are beginning to see the benefits of using this technology to create quick-turnaround prototypes and save months in the design cycle. Barriers to adoption have been the cost of hardware and a lack of easy-to-use design software for non-CAD specialists.
When used in conjunction with the free DesignSpark Mechanical 3D modelling software co-developed by RS and SpaceClaim, the Ormerod complete 3D printing kit will enable design engineers to develop sophisticated concepts and products very quickly and inexpensively. As one of the most versatile 3D printers available, the Ormerod is easy to expand in functionality, fast to replicate and fast to assemble.
The printer uses the FFF (fused filament fabrication) process to build 3D objects in a range of plastics and in a variety of colours. This process enables the user to create almost any shape that can be modelled on a computer, including some that cannot be produced by traditional manufacturing techniques at all.
While the Ormerod is a monochrome 3D printer that has been configured to work with one type of plastic at a time, it is fundamentally designed to work with three-colour deposition; an upgrade kit is to be made available soon.
In addition, the Ormerod's electronics have been redesigned and now enable connectivity via a web browser. Its construction is also far simpler compared to its predecessor, the RepRapPro Mendel, which took two days to put together, on average; the Ormerod only takes two hours, making it significantly more accessible to non-engineers.
All RepRapPro printers are capable of self-replicating their own plastic components. RS says hardware-only Ormerod kits, without the 3D printed parts, will be available soon for those wanting to use their Ormerod to make Ormerod printers for others.
The printer is shipped as a kit of parts containing all the required components, ready for assembly. The complete kit includes: all printed parts; all hardware, including threaded and smooth rods, screws, nuts, washers, belts and bearings; pre-soldered and programmed electronics; MicroSD card and adaptor; heated PCB build surface; motors; nozzle assembly and extruder drive mechanism; 100 m of 1,75 mm diameter PLA (polylactic acid) filament material (approximately 300 g); power supply (for EU, UK, US and Australia); and finally, the open-source software to run the machine, including firmware for the electronics.
Specifications include accuracy of 0,1 mm, resolution of 0,0125 mm, build speed of 1,8 mm per minute and deposition rate of 33 cm³ per hour.
But who can afford a 3D printer?
According to Brian Andrew, general manager of RS Components South Africa, the Ormerod is a potential game changer as its price point of R9000 makes it little more expensive than a quality laser printer. He says the perception that 3D printers are prohibitively expensive (a perception that has largely been accurate up until now) is being challenged by the RepRap community and the concept of open source printers that can self-replicate.
He believes the Ormerod's cost makes it affordable for relatively small engineering firms, and indeed this is the primary market as the process that these companies currently go through to get their prototypes takes longer and is more costly in terms of lost time. It also gives those that adopt the technology an advantage due to significantly reducing their prototyping turnaround times.
He points out that, although the 3D printer is not designed for high-volume production runs, the breakeven point would depend on many factors, including turnaround times, volumes required, the alternative cost if injection moulds would be required etc. This type of printing is focused more towards prototyping, and specialised once-off designs, or for designs that other technologies are not capable of producing.
For more information contact RS Components, +27 (0)11 691 9300, sales.za@rscomponents.com, www.rsonline.co.za
Credit(s)
Further reading:
Locked down but not knocked out
25 March 2020, ExecuKit , News
As a business, we are facing extremely hard times with the current worldwide pandemic and isolation. We are all maintaining social distancing and must learn how to do business with an enforced lockdown 
...
Read more...
---
From the editor's desk: A new era – after mourning comes rebuilding
29 April 2020, Technews Publishing , News
When I sit down to write these columns once a month, even if the topic I decide to write about is not all sunshine and roses, I always try and look for a silver lining. I'm simply not able to do that 
...
Read more...
---
Personality profile: Chris Viveiros
29 April 2020, Otto Wireless , News
The operations director of Otto Wireless Solutions shares his background, experience, advice and thoughts on the future.
Read more...
---
Locked down but not knocked out
29 April 2020, ExecuKit , News
We as a company salute the component suppliers who have supported us and are there to assist during this time even if the requests we pose are not always realistic.
Read more...
---
Electronics industry tackling the coronavirus
29 April 2020 , News
2020 has been a crazy year already. From Australian bushfires to climate emergencies to US trade tariffs, the start of the decade hasn't been very positive. Not only this, within the last few months there 
...
Read more...
---
SqwidNet becomes first Sigfox-accredited lab in southern hemisphere
29 April 2020, iSERT , News
iSERT (Safety, EMC, RF, Testing), a leader in the provision of turnkey testing solutions for EMC, RF and safety testing, has collaborated with SqwidNet, the only licenced Sigfox operator in South Africa, 
...
Read more...
---
Clearing the Static: ESD cleaning and hygiene products
29 April 2020, Altico Static Control Solutions , News
In light of the current COVID-19 pandemic, Actum Group would like to remind electronics manufacturers of our range of antistatic cleaning agents, cleanroom materials and PPE.      
Cleanroom garments and 
...
Read more...
---
Jemstech continuing its growth path
29 April 2020, Jemstech , News
Since its inception in 2005 and especially during the past five years, Jemstech has grown from a medium-sized electronic manufacturing services (EMS) provider into one of the major players for electronics 
...
Read more...
---
Company profile: Phoenix Contact
29 April 2020, Phoenix Contact , News
Phoenix Contact was founded in 1923 in Essen, Germany, by Hugo Knümann. It entered the South African market in 1969 through a local distributor, and was later established as a wholly owned subsidiary 
...
Read more...
---
In memoriam: Vivienne Caroline Dorrington - 19 June 1958 – 21 April 2020
29 April 2020, Technews Publishing , News
It is with great sadness that we announce the death of our CEO, Vivienne Dorrington, after a long and brave battle with cancer. Like her father, Ray Beaumont, who founded Technews Publishing in 1985, 
...
Read more...
---