printer friendly version
Transient voltage suppressors
14 May 2014
Circuit & System Protection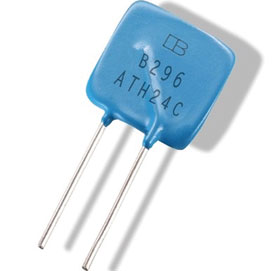 Brightking has released five new over-voltage transient voltage suppressors specifically designed to protect sensitive circuits against inductive load switching and load dump transients, occurring in the event of a discharged battery being disconnected while the alternator is generating charging current and with other loads remaining on the alternator circuit.
The ATH series caters for 12 V and 24 V systems, protecting against transients from 65 V to 87 V on 12 V supplies and 123 V to 174 V on 24 V supply lines.
For more information contact Willem Arnold, iCORP Group, +27 (0)11 781 2029, [email protected], www.icorpgroup.co.za
Credit(s)
Further reading:
Quectel masterclass: IoT device application development
iCorp Technologies News
Quectel has announced the latest masterclass in a series of technical webinars titled "Accelerate wireless IoT device application development with Azure RTOS on STM32 MCUs".
Read more...
---
Compact varistors offer surge capability of 6000 A
Electrocomp Circuit & System Protection
TDK has released the new EPCOS B72314S2* series of leaded disk varistors which cover a wide operating voltage range of 175 V
RMS
to 625 V
RMS
.
Read more...
---
Clearing the Static: ESD wrist straps
Actum Electronics Circuit & System Protection
The human body is the primary source of electrostatic charge generation. In order to control and reduce static charge build-up and prevent electrostatic discharges (ESD) at an electronic equipment facility, we use grounding systems to ensure that all components are at the same electrical potential.
Read more...
---
GNSS receiver module to extend runtime by 500%
iCorp Technologies Telecoms, Datacoms, Wireless, IoT
Antenova has announced the GNSSNOVA M20071 GNSS receiver module with power consumption reduced five-fold to enable smaller tracker designs, and trackers that could run five times longer.
Read more...
---
New Espressif MCU embeds Wi-Fi 6
iCorp Technologies DSP, Micros & Memory
Espressif Systems has introduced the ESP32-C5, their first dual-band 2,4 and 5 GHz Wi-Fi 6 and Bluetooth 5 low-energy microcontroller unit.
Read more...
---
SONOFF POW smart power meter switch
iCorp Technologies Power Electronics / Power Management
The SONOFF POW Elite is a smart switch with power monitoring built in and capable of handling a maximum load of 20 A.
Read more...
---
Quectel masterclass: iSIM implementation
iCorp Technologies News
Online Teaser: The latest masterclass webinar offered by Quectel covers the technology and capability of the iSIM and its use in the development of scalable high-volume IoT applications.
Read more...
---
Clearing the Static: ESD Flooring
Actum Group Circuit & System Protection
Altico's ESD flooring has been specially engineered to facilitate a uniform flow of static electricity directly to a ground point.
Read more...
---
Quectel announces high-performance 5G smart module
iCorp Technologies Computer/Embedded Technology
The SG560D, an Android smart module that combines 5G and artificial intelligence, is suitable for complex applications such as in-vehicle infotainment and industrial handheld devices.
Read more...
---
Positioning module with quick TTFF
iCorp Technologies Telecoms, Datacoms, Wireless, IoT
The LC76G GNSS positioning module features fast and accurate position location performance as well as ultra-low power consumption.
Read more...
---