printer friendly version
14-slot AXIe chassis
4 June 2014
Test & Measurement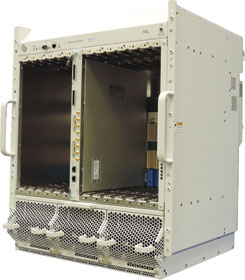 Agilent Technologies has introduced a high-performance 14-slot AXIe chassis and system module. This technology enables multi-module system capabilities that allow test engineers working in radar, antennae, high-energy physics and digital to set up large systems with all modules in a single chassis, providing better module-to-module synchronisation and performance.
The new M9514A AXIe chassis and M9521A system module provide a high-performance platform for large channel count systems with a single connection to the host computer. A test engineer can connect multiple AXIe and PXIe chassis for enhanced system design flexibility.
The chassis and system module meet AXIe 1,0 and 2,0 specifications and provide front-panel Gen 2 PCIe x8 for connecting multiple chassis and gigabit LAN interfaces to connect to the host computer; 62 differential local bus lines with very large data paths between adjacent modules; and a cooling design enabling high power with 200 W cooling per slot.
Instrument control is enabled through a soft front panel and programmatic interfaces tuned to the user's choice of application development environment. Using Agilent's IO Libraries Suite allows fast and easy integration into existing test environments.
Credit(s)
Further reading:
DIN-rail programmable transmitter
23 October 2019, Instrotech , Test & Measurement
Calog Instrument's versatile DPM9000 series – a miniature DIN-rail mount programmable isolated transmitter range – boasts high reliability and a versatile, wide range of programmable inputs. With dimensions 
...
Read more...
---
Hands-on learning module
23 October 2019, Altron Arrow , Test & Measurement
The ADALM2000 (M2K) active learning module is an affordable, USB-powered, software-defined instrument that exceeds the capabilities of its predecessor ADALM1000 (M1K). With 12-bit ADCs (analog-to-digital 
...
Read more...
---
Digital multimeter with thermal imager
23 October 2019, RS Components (SA) , Test & Measurement
A digital multimeter (DMM) with a built-in thermal imager has been added to RS Components' RS PRO product range. The RS-9889 allows engineers to identify thermal overload issues in electrical equipment 
...
Read more...
---
Project-based learning for the modern engineer
23 October 2019 , Test & Measurement
Projects that inherently challenge students to use innovative design thinking often involve interacting with an unknown process or device. Students are encouraged to understand the unknown through theory, 
...
Read more...
---
EMI compliance testing vs. pre-compliance testing
25 September 2019, Concilium Technologies , Circuit & System Protection
Electromagnetic interference (EMI) is caused by unintentional emissions from electronic equipment. Compared to natural sources of EMI, such as lightning and solar storms, engineers are more concerned 
...
Read more...
---
Automotive Ethernet testing software
25 September 2019, Comtest , Test & Measurement
Tektronix has released two new software packages that greatly simplify Automotive Ethernet testing, debug and protocol decode for use with its 5 and 6 Series mixed-signal oscilloscopes (MSO). Using 
...
Read more...
---
4-channel PC-based oscilloscope
28 August 2019, Vepac Electronics , Test & Measurement
The newly developed Model 1330 from Peaktech is a 4-channel PC oscilloscope with 100 MHz bandwidth and 1 GSps sample rate, which is suitable for mobile use on a laptop, and permanent installation in control 
...
Read more...
---
Handheld PoE tester
26 June 2019, Coral-i Solutions , Test & Measurement
Ideal Networks has launched a new handheld tester that eliminates guesswork when installing, maintaining and troubleshooting PoE devices and data cabling. PoE Pro measures and reports PoE class, voltage/voltage 
...
Read more...
---
Debugging probe for STM32 MCUs
31 July 2019, Altron Arrow , Test & Measurement
The STLINK-V3MINI probe, new from STMicroelectronics, combines the features of the STLINK-V3SET with standalone simplicity for faster programming and ease of use. The compact, portable probe can be 
...
Read more...
---
Digitiser for advanced applications
31 July 2019, Comtest , Test & Measurement
Tektronix, Inc. has unveiled the 6 Series low-profile digitiser, a 4-channel instrument offering up to 8 GHz bandwidth, 25 GSps sampling rate and a 12-bit ADC (analog-to-digital converter) on every channel, 
...
Read more...
---