printer friendly version
Connectors provide environmental sealing
25 June 2014
Interconnection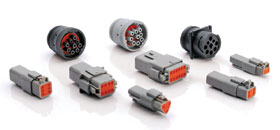 Amphenol's new A Series environmentally-sealed connectors are suitable for heavy-duty applications in harsh environments, including agricultural, alternative energy, automotive, marine and military equipment. They represent a balanced price-performance option and are fully compatible with existing industry-standard products. The A Series is field-serviceable, enabling fast diagnostics and saving down time.
The interconnects feature Amphenol Sine Systems RockSolid contact technology and their design incorporates an integral latching system to ensure definitive electrical and mechanical connection. The RoHS-compliant thermoplastic housings have excellent dielectric/mechanical properties and are highly durable, with extended UV resistance. Protection against environmental ingress is provided by an advanced sealing system consisting of a front and rear silicon multi-sealing perimeter.
Four different ranges are available within the A Series product line: the AT, ATP, AHD and ATM series, which together offer a wide choice of plug and receptacle styles, number of positions, contact sizes, AWG sizes and voltages. A number of optional modifications are available to meet special application requirements, including the AT strain relief series which offers specially designed wire cavities to protect each individual wire seal, eliminating stress on the rear seal and meeting IP67 sealing requirements.
For more information contact TRX Electronics, 0861 112 844, [email protected], www.trxe.com
Credit(s)
Further reading:
Phase-stable cable assemblies operate up to 50 GHz
RF Design Interconnection
The Lab-Flex T series from Smiths Interconnect are low-loss high-frequency cables that have minimal phase change with changing temperature and flexure.
Read more...
---
Samtec has reorganised its AcceleRate products online
Spectrum Concepts Interconnection
Samtec recently reorganised its family of AcceleRate products into one webpage to enable easier browsing and comparison of products when trying to find the best high-performance solution for the given application.
Read more...
---
Samtec high-speed interconnects in next-gen UAS
Spectrum Concepts Interconnection
The unmanned aircraft system framework 2.0 autopilot platform utilises several of Samtec's high-speed board-to-board interconnects for the transfer of data between various add-on boards.
Read more...
---
Precision interconnects for DC to 90 GHz
Spectrum Concepts Interconnection
Samtec has released its 1,35 mm family of products including board and cable connectors suitable for millimetre wave applications to 90 GHz.
Read more...
---
16-port USB 3.0 SuperSpeed controller
Rugged Interconnect Technologies Interconnection
The SBX-DUB is a peripheral slot board for CompactPCI and is equipped with four individual USB 3.0 ports on the front panel and another 12 USB 3.0 ports via a connector on the backplane.
Read more...
---
Mouser stocks wide product selection from Renesas companies
TRX Electronics News
The products on offer include embedded solutions, semiconductors, optoelectronics, sensors and passive components.
Read more...
---
Double-row connectors for quick-connect applications
Spectrum Concepts Interconnection
Mill-Max announced a new range of double-row, gold-plated connectors in either spring-loaded or target versions.
Read more...
---
Samtec site's search function gets a UX upgrade
Spectrum Concepts Interconnection
Samtec announced a major upgrade to its on-site user search experience, including improvements in both performance and mobile compatibility.
Read more...
---
Spring-loaded connectors with rolling ball interface
Spectrum Concepts Interconnection
Omniball spring-loaded connectors feature a unique rolling ball interface, enabling contact to be made in both axial and non-axial alignments.
Read more...
---
Mouser stocks wide selection of the latest Phoenix Contact products
TRX Electronics Interconnection
The offering covers a vast selection of sensors, controllers, terminal blocks, connectors and wireless Ethernet products.
Read more...
---